Infrastructure: Are We Safe?
Infrastructure: Water, Transportation, Energy
We've spent most of 2020 thinking about personal safety, the safety of those we love, and whether our community is safe.
In March, we were all told to 'stay home to save lives.' But we weren't assured of safety at home. The CZU Lightning Complex Fires set off by an August thunderstorm drove us from our houses. For our safety we evacuated to campsites, shelters, hotels, and to friends and family. Hundreds of our neighbors are still displaced from homes they lost during that disaster.
As we finish out this slog of a year, safety is again under discussion. Anyone who passes through the intersection of Graham Hill and Mt. Hermon roads is reminded by digital signage that debris flows could lead to more hazards. As the winter storm season gets underway, debris flowing off fire-scarred hillsides could present new flooding and water quality threats throughout the San Lorenzo Valley (SLV) watershed.
In December, the SLV Water District Board of Directors sent a clear message about its priorities as they appointed Mark Smolley to replace outgoing board member Stephen Swan. One of the reasons all four board members pointed to for Smolley's selection was his extensive background in construction management as they address the water system's backlog of capital needs and post-fire recovery.
Smolley cited his experience overseeing the installation of water pipeline projects as part of his rationale for appointment to the seat. Infrastructure investment will play a critical role in our community's ongoing recovery from this summer's wildfires and for the long-term health and safety of our neighborhoods.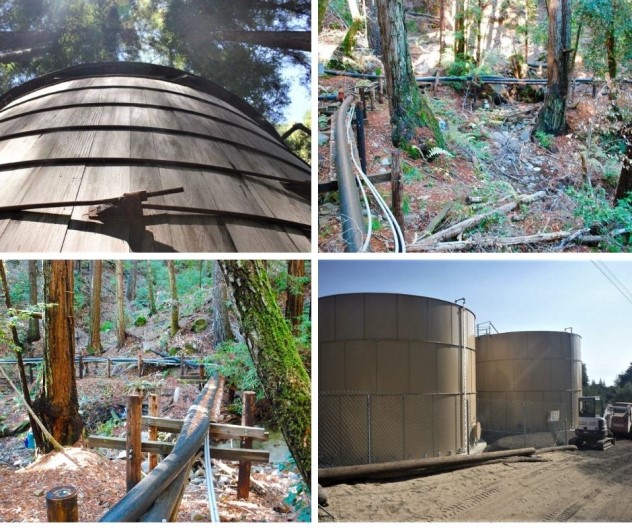 The American Society of Civil Engineers gives our nation's infrastructure a D+. The fact that everything from roads to reservoirs are in a state of disrepair will be a problem for the next presidential administration to address. The incoming Biden administration is already emphasizing its goals to support infrastructure investment by nominating South Bend, Indiana Mayor Pete Buttigieg as Secretary of Transportation. Buttigieg caught the President-Elect's attention by proposing an ambitious $1 billion infrastructure package as part of his earlier presidential bid. But he'll have a serious learning curve and many competing demands for attention making advocacy at the state and federal level.
I've spent nearly two decades working in public transportation, and water industry operations and planning. Understanding the health of these systems, their interconnectedness to the quality of our individual lives, and how we can more effectively organize to maximize our local tax dollars and pay for these investments has been the focus of my career.
SLV has some impediments to attracting infrastructure investment. We're a large unincorporated, geographically isolated, independent mountain community. In the exurban mountains, we don't have new development revenue streams to invest in upgrading and improving our outdated pipelines and water-treatment facilities. This means we must be more creative and strategic about the investments we do make.
We also have to make more noise. As an unincorporated community, we lack visibility in our region. We don't have as many elected representatives networking and advocating on our behalf. Instead, it will take all our voices to bring attention to our needs.
What's Next for Water and Transportation?
The SLV Water District has assessed wildfire repair costs in excess of $2 million. The District will work with its state and federal partners to recover as much of that as possible through federal emergency management programs. But time and labor aren't infinite resources, other capital investment needs will be delayed.
Pipes, like roads, have an expiration date. When I worked at San Jose Water we estimated that a thousand feet of new pipe cost about $1 million. Pipes in the best conditions can last about 100 years but then they start to break down, leak, and erode. Already aging, delays to water infrastructure investments have implications for our ability to conserve water and maintain water quality, maintenance costs, and eventually customers' rates.
This means delays and barriers to upgrading our system could actually cost us more in the long term.
Meanwhile, the Santa Cruz County Regional Transportation Commission also held a special meeting in December to discuss its proposed 'Complete Streets' investments between Graham Hill Road and the SLV tri-campus. Measure D promised to invest $10 million in Highway 9 corridor improvements that include new crosswalks, bicycle infrastructure, roadway improvements, and other work that is ultimately about making us safer.
Going forward, this column will bring attention to local water, transportation, and energy infrastructure projects, and needs; and the policies and leaders who are responsible for safeguarding these assets. Our safety relies on the decisions they make.
Jayme Ackemann is a public affairs consultant and freelance writer. During her career, Ackemann has worked on major capital investments including BART to Silicon Valley, Caltrain electrification, and San Jose Water's billion-dollar water infrastructure capital construction program. Jayme has been a resident of Ben Lomond for more than 15 years.