Reopening Business | Economic Recovery Roadmap
Staff report
There is hope in sight for our Santa Cruz Mountains main street business communities. On May 26, County Health Office Dr. Gail Newel, following guidance from Governor Gavin Newsom, issued a new health order to allow increased commercial activities. The new order expanded on Newel's May 8 order allowing over-the-counter retailers and dining establishments to offer curbside pickup and now provides for in-store shopping, cultural and religious services, limited personal services, office workspaces, and small-gathering outdoor events to resume. Social distancing and face masks continue to be required. Hotels, motels, and vacation rentals continue to be restricted with requirements for reporting the purpose for visitor stays.
"As we move forward with these changes, I want to caution everyone that COVID-19 is still present in our community. Anyone who is 65 years old or older, as well as those who are medically vulnerable, should continue sheltering in place," Newel said. "I urge all members of our community to help those who need to shelter by continuing to offer help and check in."
The news is just a start for local businesses concerned about the economic harm of the shutdown and a prolonged reopening rollout. And a multi-stage rollout it is, based on Governor Newsom's Resilience Roadmap – a 4-stage plan for counties to use to guide their gradual reopenings.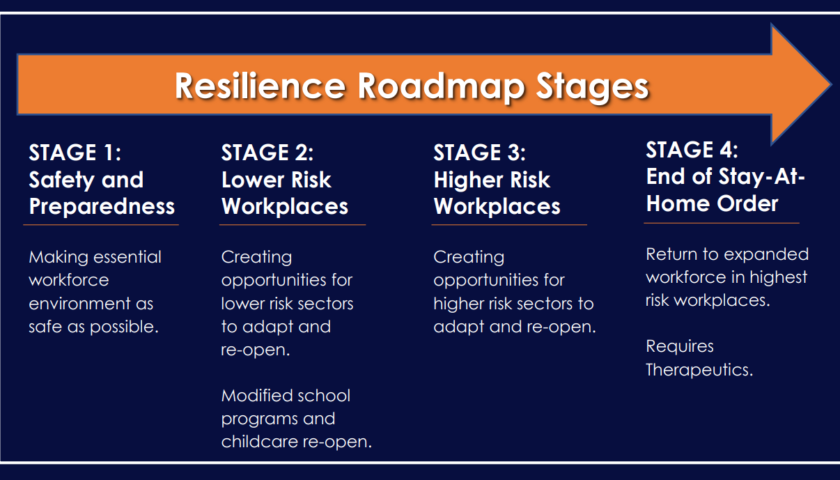 Movement through the four stages are predicated upon six indicators:
The ability to monitor and protect our communities through testing, contact tracing, isolating, and supporting those who are positive or exposed
The ability to prevent infection in people who are at risk for more severe COVID-19
The ability of the hospital and health systems to handle surges
The ability to develop therapeutics to meet the demand
The ability for businesses, schools, and childcare facilities to support physical distancing
The ability to determine when to reinstitute certain measures, such as the stay-at-home orders, if necessary.
Newel and county officials are navigating communication with the business community on reopening stages via their Economic Recovery Team formed earlier in May due to pressure from business groups countywide. Members include directors from the six Chambers of Commerce, city and county liaisons, and representatives of various industries including restaurant, retail, banking, lodging, childcare, and entertainment. Locally, Justin Acton, owner at Boulder Creek Pizza & Pub is a participant along with Mary Andersen from the San Lorenzo Valley Chamber of Commerce.
Here in the valley business owners are adapting to the crisis with Facebook groups and Instagram popups designed to spur support for merchants. The BCBA created the Shop & Dine Boulder Creek Facebook group to highlight local storefront and home-based businesses. The team at Santa Cruz Makers Market have hosted virtual marketplaces on Instagram. Visit Felton is keeping businesses apprised of the goings on in downtown Felton. The Chamber has initiated a free membership program and has been conducting outreach to valley businesses in need of funding resources and marketing strategies.
Resources:
Governor Newsom's 4-Stage Resilience Roadmap covid19.ca.gov/roadmap
Statewide Industry Guidelines covid19.ca.gov/industry-guidance
Governor Newsom's Criteria for Counties covid19.ca.gov/roadmap-counties
San Lorenzo Valley Chamber of Commerce funding sources and marketing strategies slvchamber.org