The Wrinkly Beat: Older Folks in San Lorenzo Valley
by Brenda Laurel
Howdy. I want to get and tell the stories of older folks in our community. Since this is my first column, I guess I'm Wrinkly Zero.
A little background on me: I was originally an actor and director studying for my PhD in theatre when computer games entered my life. Interactive theatre was hot on Broadway in the early 70s. I had written and produced an interactive outdoor version of Robin Hood. So, when a friend who was starting one of the first interactive computer software businesses invited me to script some interactive fairy tales in 1976, it seemed completely natural.
I continued acting, but my interactive theatre bone took me to Atari in 1979 and kept me in the interaction design business for 30-odd years. I worked at Atari, Apple, and Interval Research, and many other companies. I also wrote some books about interaction design.
In 1996 I co-founded Purple Moon, an interactive media company exclusively for girls. Our work was based on research with over 1000 girls and 500 adults. The initial goal back then was to make games that would make girls want to put their hands on a computer. But after all the interviews, we began to see girls better with our hearts. Our focus changed to giving girls tools for thriving in their tween years through games based on their own lives, problems, and dreams. Three years, nine games and a website later, the company lost a vicious takeover battle with Mattel (Barbie) and was acquired in 1999, but not before we had made two titles that lived in the top 100 games the years they were released. And I still get email at least once a week from a woman who played those games and attributes their wholeness and courage to their influence.
After an angry year of retirement, I wrote a book about it (Utopian Entrepreneur) and moved on to academia as a second life. I founded and chaired two graduate design programs in 2000 and 2006. I eventually moved to U. C. Santa Cruz in 2013. Worn out by academic politics, in 2015 at the age of 65 I "retired."
But what a beautiful life had been waiting for me! I've lived in the Santa Cruz Mountains since 1986, but I began to see this place with new eyes. I didn't have to burn gas and rush through a long commute to a stress-o-genic job anymore. Suddenly, with more time, the pace and beauty of the place captured me and slowed me down. Despite fire danger and predatory home insurance companies, my place is more Home now even than when I raised my kids in it. I know most of the trees, trails, critters, and birds. On a clear evening I go outside to celebrate Golden Hour. What a gift!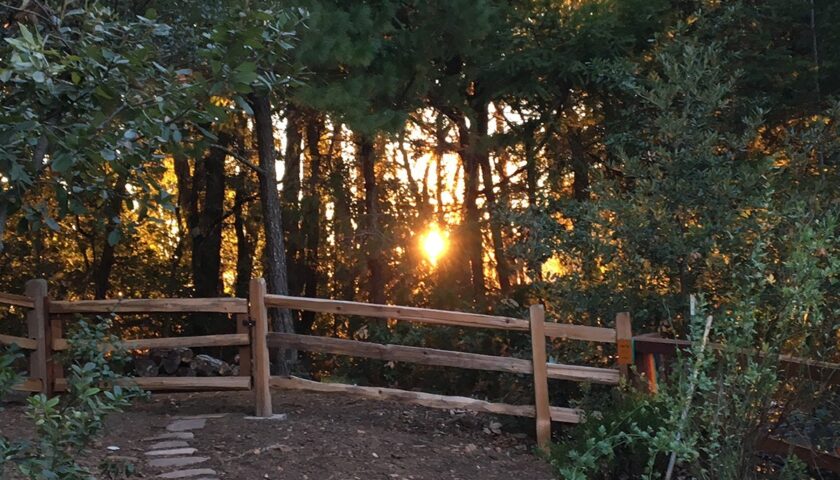 I found myself with time to do some of the things I'd wanted to do when I was a kid. I took up photography and art again. When my grandson was born, my knitting gene expressed, and I've never put the needles down. Despite two spinal fusions, my husband Rob Tow and I kept kayaking, and we became regular gym rats to stay tuned up for adventures to come. I hiked with my kids in New Mexico and by myself in Ireland.
Over the years, Rob and I have grown what we think of as an "accidental" organic vegetable garden. Here's how it happened. One of our neighbors (who owns 7 acres) had become upset that our driveway was 77 inches over his property line. He tried to sue us, so we just moved the driveway. In the process, we took a look to the west of our house – a thicket of scrawny oaks and underbrush. We paced out the property line and discovered that we had room to make terraces and raised beds. The garden has grown and prospered, and we have a new space to share with our friends and family. Kneeling and digging get a little harder every year, but it's the deepest kind of pleasure for me to put my hands in the dirt and pull a fresh potato, even if it looks a little odd.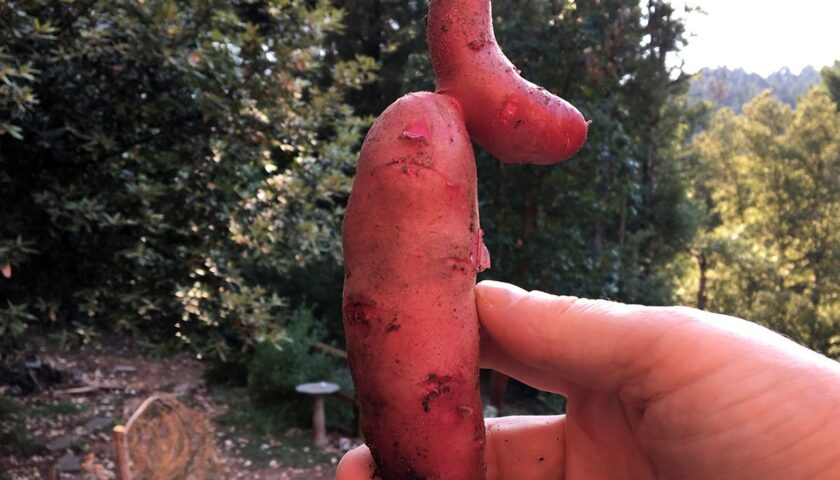 Although times are tough for us all right now, my advice to myself is: Breathe. Slow down. Look at the clouds. Watch light play on the water. And keep getting back to your heart's desire.
Are you a Wrinkly too (65 or older)? In this column I want to share stories and pictures of the lives of elders in our wonderful part of the world. If you are interested in being interviewed, please send me an email with a few sentences about yourself to blaurel@tauzero.com.