Going With the Flow: Local Band Love Creek Releases First Album
By Julie Horner
"We have some exciting news!!" Malakai Lawton messaged. "We are so happy to announce that we are going to be releasing a live album in the next few weeks!" Recorded on location at the Farmer and the Flea festival at Skypark in Scotts Valley this summer, Love Creek's EP of originals and covers called "Redwood Grove," recorded by Eric Muller at Renegade Sound and mixed by Santa Cruz musician Andy "Pankakes" Fairley, will be available on all streaming platforms on October 14, 2023.
Malakai is a Santa Cruz Mountains based guitar player and singer-songwriter. He and guitar player Alex Bahler met in middle school and earned their diplomas at San Lorenzo Valley High in 2019. "We've been playing music since we graduated," Malakai said. The two started thinking about putting together a band. Alex introduced Malakai to Scotts Valley fretman Ryan Jensen who joined them on bass guitar. Malakai met percussionist John Burton while participating in the Boulder Creek Parks and Recreation District Community Relief program to assist neighbors affected by the CZU fire. John brought keyboardist Ed Levy into the group. Officially choosing the name "Love Creek," their first show together with all five of them was at the annual 4th of July BBQ at Junction Park in Boulder Creek in 2021 along with Sheri Ross on fiddle. They were asked back to the Junction Park celebration the following year. Now the band is well established in the busy local music scene with a pedigree of performances at venues such as Henflings, Brookdale Lodge, Joe's Bar, Apple Jack's in La Honda, Cork and Fork and Discretion Brewing, and the Hop N' Barley Festival in Scotts Valley, among many others.
Musical Headwaters
Love Creek pulls from a musical headwaters of jam band and folk rock influences. Ed and John, who are both seasoned professionals, bring decades of experience to the effort. John said, "The music's handed down, and it's a good surprise that a generation later, there's a big percentage that loves the same music that we do, Van Morrison, Grateful Dead." Malakai brings his originals and usually sings the leads; on Redwood Grove Ryan steps in to do a version of That's What Love Will Make You Do, a Little Milton song that the Jerry Garcia Band frequently covered. Malakai calls Ryan their Paul McCartney for his multifaceted contributions to the band's sound.
One of the things they love to do in live performance is slip into improvisation mode. A featured song they cover on the new EP is an 'extended play' version of Send Me on My Way by Rusted Root. Alex sets the coordinates on lead guitar, then the band launches into one of their signature space-jams. "He kind of paves the way for us, he's a pioneer," Malakai said. "He took jazz classes with Ray Brown out at Cabrillo. Alex knows his stuff really well. He's got that Jerry Garcia tone down for sure!" Every performance is different, Alex said. "Part of what keeps it interesting is that you never know what's going to happen on a given night. We're always improvising. It all depends on the mood, the band, and the vibe together. It's spontaneous."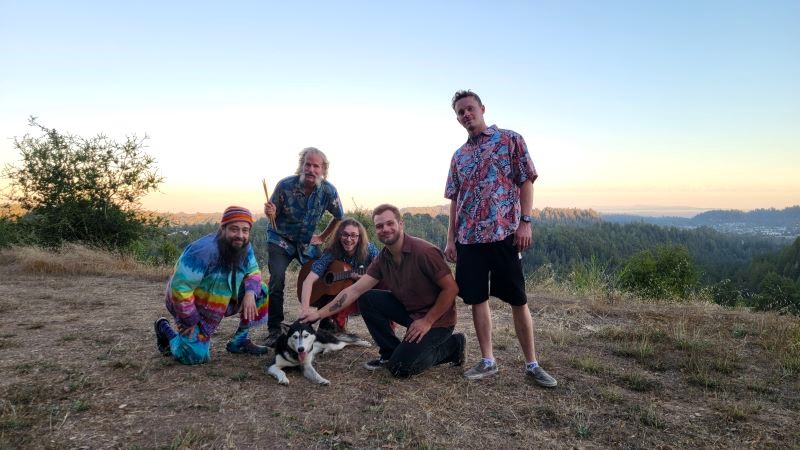 Deep in the Zone
"In Deadspeak," Ed said, "they talk about 'getting into the zone' musically." He describes it as an ever upward moving spiral. "There's no end to how much juicier we can get," he said, "and the more we play, the juicier it feels." Love Creek is, at the heart of it, a live performing band that hits stride on Redwood Grove. Pure sound, fearless invention, and you can envision the audience dancing in the warm summer sun. "We feel that we have something kind of unique to provide, not like the same thing you hear at every bar," Malakai said. "It's like this bigger thing, there's something there."
Love Creek performs at Cork and Fork on Saturday, October 14, and Henflings on Friday, October 27. On Spotify: distrokid.com/hyperfollow/lovecreek/redwood-grove
Julie Horner writes about the live music scene in the Santa Cruz Mountains
Photos by Julie Horner
Have something to contribute? The San Lorenzo Valley Post welcomes your Santa Cruz Mountains story ideas, photos, and letters. Send us an email.