Beeline Blooms: Born of Pirate Gardeners
Karla DeLong and Beeline Blooms Dahlia Farm in Ben Lomond
By Julie Horner
"I was born a gardener, it's in my DNA." Karla DeLong, homesteader, beekeeper, and dedicated organic gardener said, "I grew up on a pot farm, born of pirate gardeners." Karla is well loved in the valley, part of the energetic team of horticulture experts at Mountain Feed and Farm Supply in Ben Lomond. Her dahlia farm rose from the ashes of the CZU Fire as a way to heal and spread joy.
"Living in a disaster zone is really hard," she said. "Our community has had to restart again with new rules and parameters. This project is literally just about me claiming this space and making it beautiful and to share it with everyone else who's in the same position."
The fire burned most of the nearly 10 acres she shares with her husband, Daniel and their two young daughters, Shaelyn and Adaira on upper Alba Road in Ben Lomond when the CZU Fire raged along the ridges of the Santa Cruz Mountains in August of 2020. They lost the barn and about half of their beehives. The fire licked the chicken coop but stopped short of overtaking it. "My husband is a retired firefighter so we were very well prepared," she said. "He stayed behind to save our house and the house next door." The DeLongs consider themselves extremely fortunate. More than half of the homes in this tiny, secluded mountain top neighborhood were lost. "For the first year and a half, we were the only two families who lived here. We were on this deserted island," she said.
Formerly a land of cool shade under dense forest canopy that allowed only a five-hour window of midday summer sun, the parcel is now sun-drenched all day.
The idea to create a flower farm started at Thanksgiving, Karla said, when so many people were out of their homes. "It was just so sad, wherever they were staying it still wasn't home. We started thinking about what you can do for someone to help them work through the worry." A professionally trained florist, DeLong had long loved the science of dahlias and delighted in their extreme diversity in size, shape, and color. The concept of a healing garden where the community could gather suddenly seemed like the right thing to manifest. Daniel showed her a satellite image of their section of the mountains and she said, "I decided right there that I'm going to create something you can see from space."
They started turning the soil on the generous eighth-plus acre of garden space in January. Using the insurance money from the barn, she invested in more than 300 named dahlia varieties. Part of the healing process involved inviting friends and neighbors to get in the dirt, to get dirty, knowing that they were helping create something alive and new. The DeLongs and their friends planted the dahlia tubers in sections representing all the hues of the rainbow. The plants were organized by height, shorter in front, taller in the back, and were put into the soil at different times with the intention that all varieties bloom at once for a popping sensory experience. Now at its seasonal peak, the garden envelopes visitors in a joyous flush of color.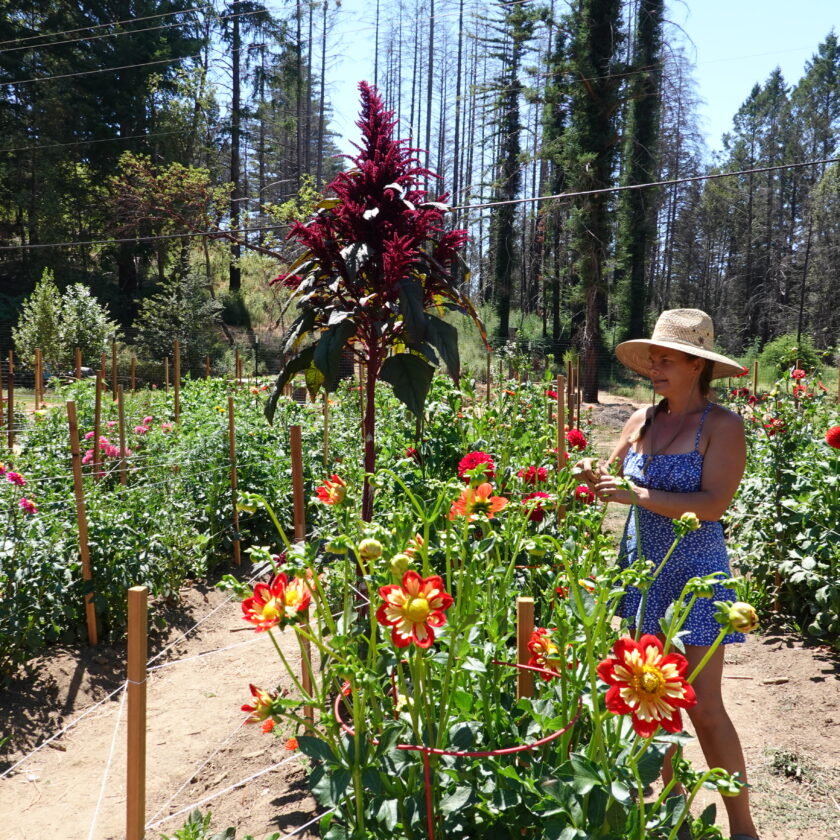 "It really is just an art project where people can come get stoked, take pictures. That's the goal," she said. "It's a gift to the community more than anything else. If we can make just a few people happy with what we've done, I'll be so happy." 
Karla and Beeline Blooms are hosting their last Open Field Event of the season. Visit the farm on Saturday, October 8 from 10:00 am to noon. Event information: https://www.facebook.com/events/654349146038799
Learn more about Beeline Blooms at beelineblooms.com.
Photos by Julie Horner