Trout Farm Inn Nears Opening
Bringing Back the Glory of the Old Days
By Julie Horner
Summertime and most anyone is happy to take a dip in the pool. So says Kym DeWitt, co-owner of the Trout Farm Inn, which has been opening in phases this summer. The newly refurbished saltwater pool is already being enjoyed by those with memberships and those who sign up for the morning yoga classes. The Snack Shack opened on August 1, and they hope to have the restaurant open by September 1 under the direction of a highly coveted Ben Lomond chef whose name for now remains a guarded secret. 
"The focus is on the pool, the gorgeous saltwater pool," DeWitt said. They had hoped to be open in July, but there was trouble with the pool heater plumbing pressure. "A part is on order," DeWitt said, "we just have to be patient." Once all parts are in place, the swimming pool will be heated year-round. "We think people are going to be really really really happy," DeWitt added.
Pool hours are 7:00 am to 10:00 pm daily.
The expansive new deck surrounding the pool overlooks Zayante Creek and is complemented by 12 cabanas custom painted by local artist Jeremiah Kille. DeWitt said, "Guests can soak up the sun on a beautiful chaise lounge or rent a furnished cabana and enjoy some dappled shade." Access to lockers and outdoor showers at the sparkling new bathhouse and changing room located near the saltwater soaking pool is an added bonus.
Swimmers and sunbathers will enjoy "keeping it light" with a simple, fun menu from the Snack Shack featuring fresh seasonal salads, smash burgers, and hot dogs. They'll have Frosé, a frozen rosé wine slushie, and signature beverages in cans.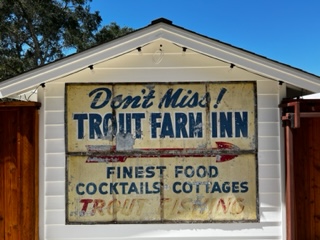 Inside the Trout Farm Inn, wide open ceilings entice visitors to lounge with their drinks overlooking the pool or snuggled up to the fireplace in colder months. Known in previous years as a hotspot for live music, DeWitt said that there is more planning to do before they can bring in entertainment. Expectations are high. "The neighbors are excited," DeWitt said. "They used to sit in their backyards and listen."
A highlight this midsummer as construction projects are completed has been the outdoor all-levels yoga flow class hosted by expert instructor Tara Murphy of Estrella Collective salon in Santa Cruz. "The classes are open to everybody," DeWitt said. Space can be reserved on the Trout Farm Inn website for the 9:00 am sessions on Wednesdays and Sundays, or you can drop in. DeWitt said, "Several people have commented that it's the best yoga class they've ever taken."
The Glory of the Old Days
DeWitt said the Trout Farm Inn continues to grow based on customer requests; she and her business partners think of this endeavor as a service to the community. Much further in the future, DeWitt said, they will bring back the Trout Pond. "We are thinking historically about how this property was utilized." Another nod to the old days, a vintage two-piece metal sign was recently discovered on the property and it is being refurbished for installation.
The Trout Farm was purchased by real estate professional Jessyka Soto, her husband Tachu Soto, and partners Olive Moredock and Craig Renfroe, co-owners of Beer Mule Bottle Shop and Pour House, and Kym and Shawd DeWitt, co-owners of Beer Thirty in Soquel. There's a misconception that the Trout Farm is now Beer Thirty. DeWitt said, "Yes, we're owners of Beer Thirty, but this is and always will be the Trout Farm Inn."
Trout Farm and Inn
7701 E Zayante Rd, Felton
thetroutfarm.com
FB | @TroutFarmInnFelton
IG | @troutfarminn
Featured photo: The pool is open at Trout Farm Inn – 7:00 am to 10:00 pm daily. Photo by Julie Horner