Public Places Open at Last
By Chris Finnie
On June 15 Santa Cruz County moves back to usual operations. Parks, beaches, museums, and libraries are reopening after a long absence. Here's a roundup of some of our favorite San Lorenzo Valley public places.
Parks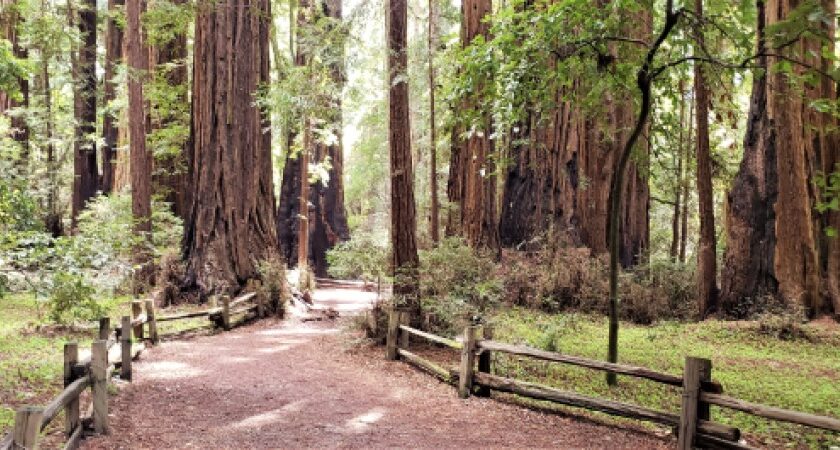 All county parks, beaches, and trails are open, including playgrounds and restrooms. Visit scparks.com for health guidelines and access updates.
Enjoy a day at Loch Lomond, which is open for boat rentals, fishing, hiking, and picnicking. Pets on a leash are welcome on trails and in picnic areas but not on rental boats or in the reservoir. June hours are 7:00 am to 8:30 pm.
Henry Cowell Redwoods State Park has opened parking and campsites by reservation. Visit reservecalifornia.com or call (800) 444-7275 to reserve a site. The Visitor Center is open and tours are operating.
While the CZU fire closed some of the trails at Fall Creek, you can still hike Lost Empire, Pine Flat, Sunlit, Tan Oak, Big Ben, Ridge, S-Cape, North Fall Creek (between Cape Horn Trail and Big Ben Trail), and Buckeye. Visit parks.ca.gov for guidelines.
Libraries
County libraries will restore services in phases throughout the summer.
In-person browsing is now available in Felton and Scotts Valley. And you can also use these services:
Computer use, up to 45 minutes each day
WiFi use outside the library
Free wireless printing
Copiers for a fee
Visit santacruzpl.org for updates as operations are restored.
Roaring Camp
Rail excursions are by advanced reservation only. Hiking trails are open.
The Roaring Camp Summer Music Series, presented by Felton Music Hall will be going on all summer long. See the schedule at feltonmusichall.com/calendar.
Santa Cruz Mountains Art Center
Members can now sign up for ceramic studio hours and clay workshops in the beautiful riverside yard. In addition, June will see the first in-gallery exhibit of 2021, featuring works in both ceramic and glass. Plus, Life Drawing is back! Informal life drawing sessions feature a different model each week, in both short and long poses. This class takes place indoors and class size is currently limited to 5. Visit mountainartcenter.org for details.
San Lorenzo Valley Museum
The Faye G. Belardi Memorial Gallery in Felton and the Grace Episcopal Gallery are open. Visit slvmuseum.com for more updated hours.
Public Pools
SLV High Pool
The San Lorenzo Valley High School public pool has updated their days and hours of operation as follows:
1. 18 swimmers allowed in the pool at any given time. No advance reservations. Swimmers wait to enter as swimmers leave.
2. Monday, Tuesday, Wednesday & Thursday afternoons 1:35 to 4:20. Friday, Saturday, and Sunday afternoons 1:30 to 4:30. Monday, Tuesday, Wednesday, & Thursday evenings 6:35 to 8:30 pm.
3. $40 annual fee for SLV residents. $80.00 per person for non-residents. Memberships are sold only at the pool with cash or check. Daily fee is $5 per person per swim session.
For details and signups, visit cougarswimschool.com.
Boulder Creek Rec and Park Pool
The Bear Creek pool opened on June 8 for swimming Tuesday through Sunday from 2:00 to 5:30 pm. Adults $10 drop in, adult Swim 1 hour $5, kids 2 and under free. Visit bcrpd.org/bear-creek for details.
Chris Finnie has lived in the Santa Cruz Mountains for 25 years. She has contributed articles and columns to several local newspapers before happily landing at the San Lorenzo Valley Post at its inception.
Featured photo of the SLV High School public pool contributed by Cougar Swim School