By Ralph Storment, League Director
Our adult co/rec softball league just ended our 1st Spring League season since 2019. We had 6 playoff games at Michael Gray Field in Felton. For the B-Division the 1st playoff game was Nailers 12 vs Sharks 9, 2nd game was Mtn Mechanics 15 vs Bandits 3. Then for the B-Division Championship game Mtn Mechanics 17 vs Nailers 16 so the Mtn Mechanics (pictured above) won the B-Division Championship!
For the A-Division the 1st playoff game was Vagabonds 9 vs Redwood Renegades 7, 2nd game Steelheads 14 vs Beers 9. Then for the A-Division Championship game Steelheads 6 vs Vagabonds 3 with the Steelheads' Kaila hitting a 3-run homer over the fence in the 1st inning. Steelheads are the A-Division Champions.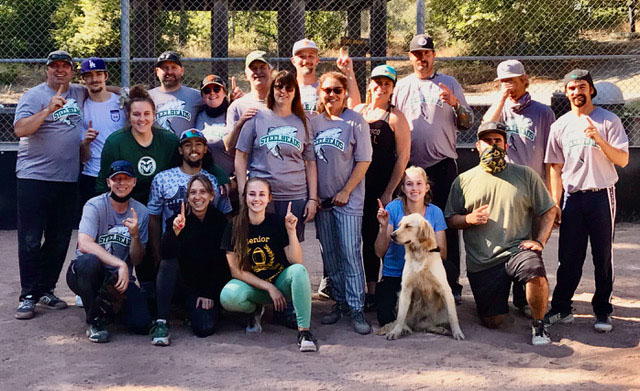 Co/rec Summer League starts Tuesday, June 15th and Men's Summer League starts Wednesday, June 16th at Highlands Park in Ben Lomond. More information, including schedules and signups at ioofslv.teamopolis.com.
Photos contributed by Ralph Storment