Community Meeting: Proposed Pump Track for Felton Covered Bridge Park
Santa Cruz Mountains Trail Stewardship (SCMTS) and Santa Cruz County Parks are proposing a new multi-use pump track for Felton Covered Bridge Park. They're hosting a public meeting and are looking for community input.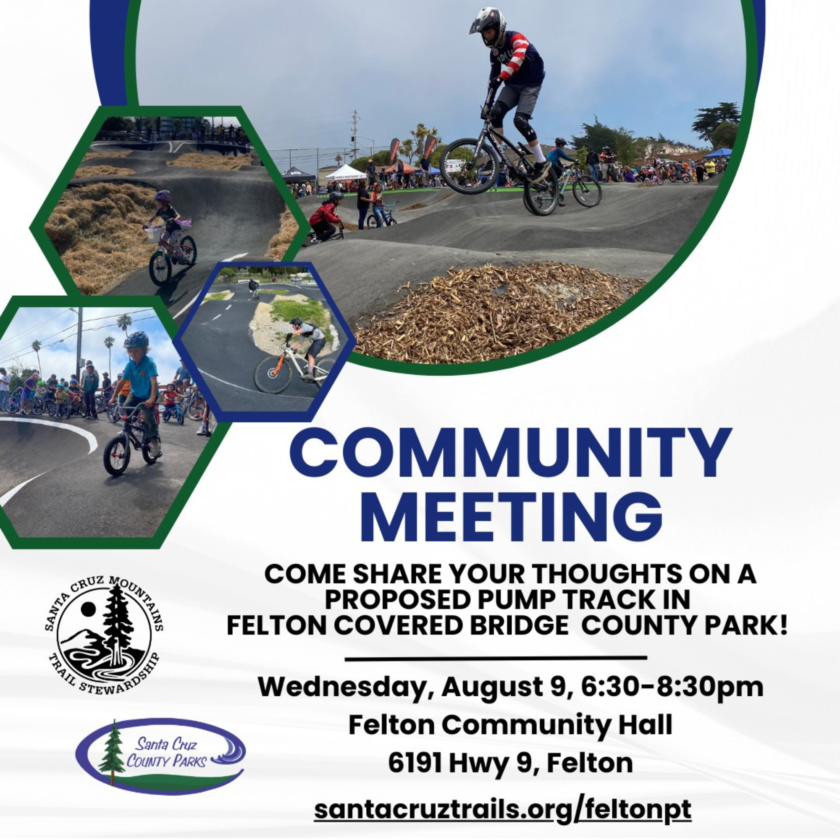 SCMTS describes the pump track as a paved surface with a series of rollers, jumps, and banked turns that connect in a closed loop. The track would be used for biking, skateboarding, or roller skating by both youth and adults. The proposed track would replace the volleyball court in the park and resemble the track at Harvey West Park in Santa Cruz in terms of size.
"This pump track would be the only resource of its kind in the San Lorenzo Valley," said Rebecca Hurley, deputy director of the Santa Cruz County Parks Department. "It would bring new value to an underutilized portion of Felton's Covered Bridge County Park. We look forward to greeting community members to share plans and discuss how we can create an exciting new outdoor recreation opportunity in the Felton area."
Participate in the discussion by attending the meeting at Felton Community Hall Wednesday, August 9 at 6:30 pm. RSVP for the meeting and learn more about the proposal at santacruztrails.org/feltonpt.
***
Community Meeting
Proposed Pump Track for Felton Covered Bridge Park
Organizers: Santa Cruz Mountains Trail Stewardship and Santa Cruz County Parks
Date: Wednesday, August 9
Time: 6:30 to 8:30 pm
Location: Felton Community Hall, 6191 Highway 9, Felton, San Lorenzo Valley
***
(Featured photo: adobe.com)