Brookdale Bluegrass Festival March 24, 25, 26
Santa Cruz Mountains Music Festival Returns to its Roots
By Julie Horner
Reeling in at the Santa Cruz Wharf, nothing in the creel, Eric Burman sighed and said, "You can't catch fish after a full moon." Burman and fellow KBCZ programmer and brother in bluegrass, Bruce Bellochio turned the conversation to the upcoming Brookdale Bluegrass Festival. Burman and Bellochio, along with Michael Hofer, are the team that puts on the grassroots gathering that got its start 23 years ago at the famously haunted Brookdale Lodge.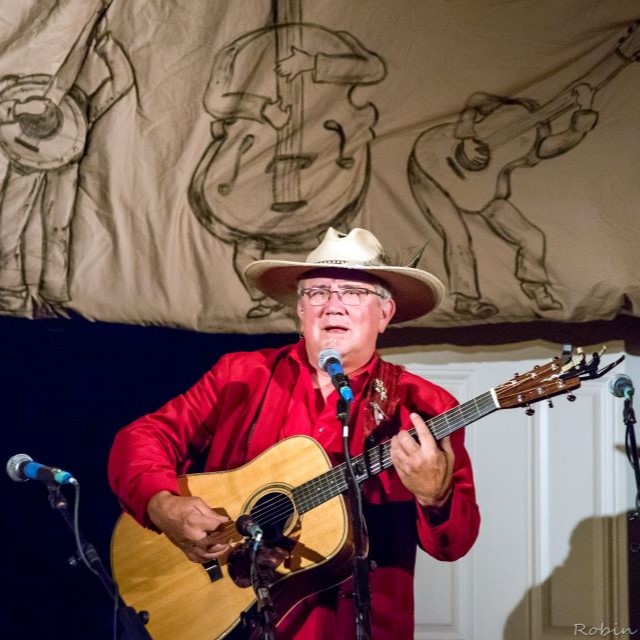 Bluegrass Breakdown
"Barbara and I got married at the Brookdale Lodge in 1999. After our dinner in the Brook Room, we went into the ballroom and had a bluegrass band that was all of the best bluegrass players from the area. Cousin Al from KPIG, he got up on stage and played banjo and sang. Diana Donnelly and all the members of Side Saddle. They got me up there to play. Anyone who wanted to, got up there and played. We danced. And we had so much fun." It was such a tremendous occasion that the staff encouraged them to think about doing it again sometime.
In those days, local musicians were gathering at the Lodge every Thursday to jam, something Santa Cruz Mountains singer-songwriter DamDave Gillett started. These Thursday night jams were extremely successful, people were lining up, Burman said, and everyone loved it. Bellochio, who provided the sound equipment for the jams and recorded all the sessions, got Burman involved with Community Television of Santa Cruz County Channel 27, and the musicians eventually earned their own bluegrass TV show on Wednesday nights prime time at 7:00.
The idea of a festival grew. Local music advocate and recording engineer Barry Tanner imagined a bluegrass takeover of the whole San Lorenzo Valley with musicians stationed in venues from Felton to Boulder Creek. The Brookdale Lodge, a village in itself, became the obvious halfway point. With initial sponsorship from the Northern California Bluegrass Society, the first Brookdale Bluegrass Festival took place over the weekend of December 1, 2000 featuring The Waybacks, Crooked Jades, Sonia Shell & Factor of Five, and Burman's own band at the time, The Birch Lake Ramblers, among many others.
Inaugural performer Sonia Shell returns this year with her new outfit, the Westside Willies, and Eric Burman and the Brookdale Bluegrass Band play host to the festival.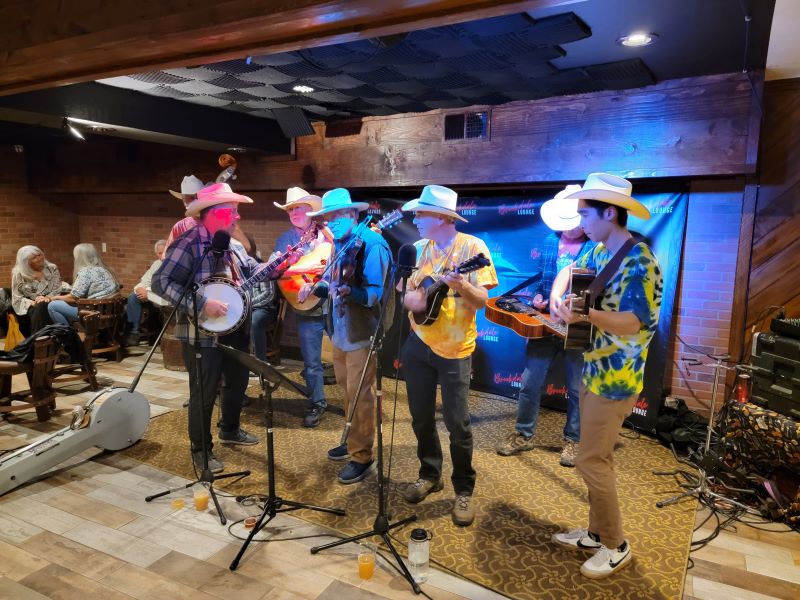 Dancing with Ghosts
There have been many adventures with the famed spirits that inhabit the historic hotel grounds. The ghost of 6-year-old Sarah Logan, said to be a relative of one of the Lodge's early owners, James Harvey Logan, is a notable example. The story has it that she perished after slipping on a rock along the banks of Clear Creek, which runs through the Brook Room. Her spirit is known to haunt the lobby, now called the Brookdale Lounge, wearing a white and blue Sunday dress. Burman said, youngsters especially see the apparition. He recalls a particular instance: "The lobby was filled with people singing and playing and dancing. I was standing there next to this lady who had kids and the two little kids came running over to her and said, 'Can we go play with that little girl over there?' And the mom said, 'What little girl?' The kids pointed, 'Oh, she's in the party dress, she's over there and asked us to go with her.' We're trying to look through the crowd but didn't see the little girl. That was the famous little girl. She's a trickster, she likes to play jokes."
Stuff of Legend
One year, Burman said, there was a scheduling snafu. A wedding party was on the way in, and the Brookdale Bluegrass Festival had to shift gears. Burman was offered the use of the pool room upstairs, which had a stage. He announced that the show would go on, but now the audience of 200 or so was milling about in disarray. Burman's wife Barbara arrived in her bathing suit and said, "Watch this!" She opened up several banjo cases, picked up an instrument, and jumped into the pool with it. That got everybody's attention.
It was decided that next year they'd have an official underwater banjo playing contest. Bold pickers would hold their breath, dive deep, and perform somersaults and other tricks while playing the banjo. Every contestant was expected to do a fancier trick than the first. Judges positioned in the observation area downstairs peered through the glass and marked their choices with a bar napkin and a pen, and from one to ten, would tally who had the best trick and determine whether the person with the banjo was actually playing a real tune. One year a woman approached Burman asking if she needed to wear a special outfit to go into the pool. Burman replied, "The rules are no scuba gear, no tanks, no weights. But you can wear goggles or fins." Okay, she said. So she took off all of her clothes, grabbed her banjo, and jumped into the pool. Burman said, "All she was wearing was a tattoo."
Bread and Butter
Burman, who also founded the Good Old Fashioned Bluegrass Festival held at San Benito Historical Park every August, has a soft spot for giving the new bands a break. Artists like Front Country and AJ Lee have cut their teeth at the Good Old Fashioned and the Brookdale Bluegrass Festival and have since exploded onto the world stage.
Bluegrass music has enjoyed a renaissance as hipsters have glommed onto anything with a banjo and standup bass, instruments and sounds that tend to fall outside of the mainstream. Traditionalists, who honor bread and butter stylings born of Bill Monroe and the Bluegrass Boys in the early 20th Century, have ushered the genre through the decades, approaching the art form diligently, melodies played exuberantly, and steady, like a rocking chair on the back porch. The joy for listener, dancer, and player alike is the sharing of a common language uniquely American.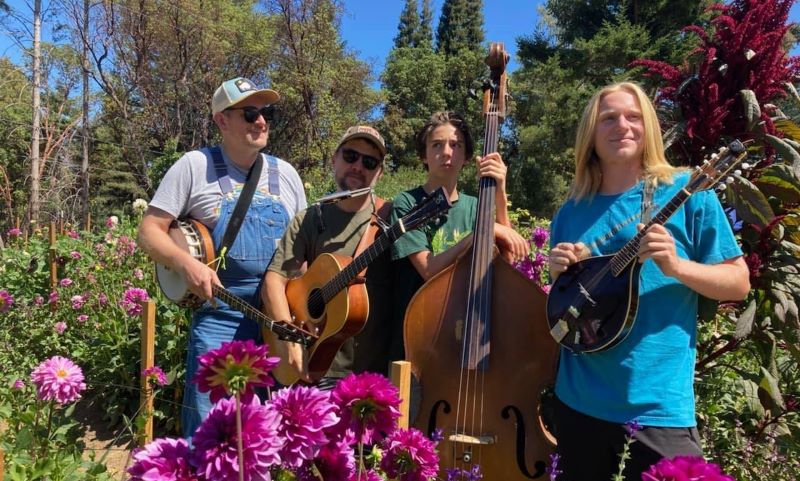 Remember the good times. Enjoy three days of great bluegrass and folk music, jams, food, and drink at the Brookdale Bluegrass Festival March 24 through March 26, 2023. Shows occur outdoors in the beer garden, on the main stage in the upstairs courtyard area, and indoors in the Brookdale Lounge. There's even a wild mechanical bull ride for those of you who are crazy enough for that!
Tickets at the door and in advance. Lodging packages available. brookdale-lodge.ticketleap.com/brookdale-bluegrass-festival | brookdalebluegrass.com
Friday, March 24
Main Stage
Jim Savarino 6:00 — 6:45 pm
West Side Willies w/ Sonia Shell 7:00 — 7:45 pm
Lucas Lawson and the Unturned Stones 8:00 — 8:45p pm
The Stoney Mountain Ramblers 9:00 — 9:45 pm
Brookdale Lounge
BanjerDan's Danger Band Open Jam w/ Jim Lewin and Bill Laymon 10:30 pm — 12:00 am
Saturday, March 25
Beer Garden
Jim Saravino 11:00 — 11:45 am
Post Folk Revivalists 12:00 — 12:45 pm
Gilroy Drifters 1:00 — 1:45 pm
Lucas Lawson and the Unturned Stones 2:00 — 2:45 pm
Sunny Side of the Mountain w/ Amy Warren and Friends 3:00 — 4:00 pm
~ Dinner break, bull riding, jamming on the Main Stage ~
Main Stage
What Cheer! w/ Cactus Bob, Prairie Flower, and Peg Leg Reza 6:00 — 6:45 pm
Eric Burman and the Brookdale Bluegrass Band 7:00 — 7:45 pm
Stoney Mountain Ramblers 8:00 — 8:45 pm
The Wildcat Mountain Ramblers 9:00 — 9:45 pm
Brookdale Lounge
BanjerDan's Danger Band Open Jam 10:00 pm — 12:00 am
Sunday, March 26
Main Stage
The Gilroy Drifters 10:00 — 10:45 am
The Brookdale Bluegrass Band 11:00 — 11:45 am
What Cheer! 12:00 — 1:00 pm
Acid Grass Boys 1:00 — 2:00
Julie Horner writes about art, music, and culture in the Santa Cruz Mountains. Reach out to Julie at leap2three@gmail.com.
Featured photo of the Brookdale Bluegrass Band by Robin Frenette