Big Basin: You Must Never Forget This Story
By Julie Horner
Traci Bliss' new book, Big Basin Redwood Forest, California's Oldest State Park chronicles the individuals and organizations over the generations who dedicated themselves to preserving Big Basin Redwoods State Park. Connected to the park through her own ancestors, William Jeter and Jennie Bliss Jeter, Bliss keeps a decades-old promise to her great-great-aunt to remember past conservation efforts and to champion ongoing ones. She also tears down the myths of the "origin stories," and through rare photographs and tales previously untold, invites a reimagining of the park for future generations.
"Up until a year ago this book had been a solitary adventure," Bliss told the gathering at a recent reception at the Chaminade Resort to celebrate the many contributors. The CZU fire changed the course of the narrative. Her publisher gave her a six-month extension to rework content. In her research, it became clear that she must tell the story of the Indigenous people who once lived in the Santa Cruz Mountains, unravel a bitter fraud, and make these truths integral to the restoration of the park. The trail was difficult to trace. "In all my years in and out of academia and elsewhere," Bliss said, "I've never done a harder piece of research."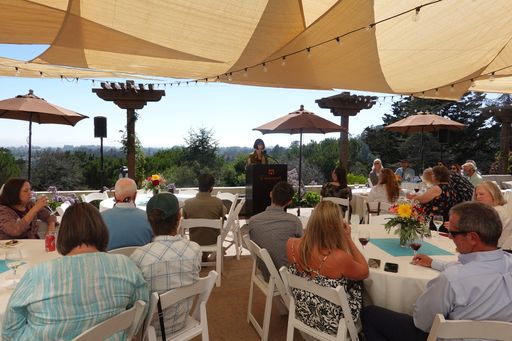 Included in the Epilogue is a series of personal accounts from State Parks staff who were in Big Basin while the park was burning. The story of Susan Blake, a 14-year park interpreter, and what she and her husband decided to rescue. Ranger and Operations Manager Alex Tabone, who had to evacuate a park filled to capacity with visitors. And the one historical artifact that survived the fire in pristine condition though all else was utterly destroyed. "Those are the stories that I wanted to tell," Bliss said.
She opened the book to a marked page to read Tabone's recounting of his return to Big Basin with the salvage and damage assessment team:
"The landscape in every direction was totally cooked. We continued on with fires all round us and trees falling too fast to count. But there were no firefighters anywhere. Maybe one or two engines that had been out all night on the way to get water and to refuel, but that was it. We used chainsaws to cut our way through the downed trees covering Highway 236. Once we got close enough to Park Headquarters we could see the historic building was just totally gone. The famous Auto Tree next to it had 60-foot high flames coming out of the top. Every building, all the history, completely gone. But I couldn't permit myself any emotions…
We still needed to assess Upper Sky Meadow, the maintenance yard, and Lower Sky Meadow. As we began the inspection of lower meadow, we were now on foot. When I rounded the corner turn in Sky Meadow Road, I looked ahead and saw there was nothing left. Falling to my knees, I had a sob. Our eight homes, our neighborhood, our community that gave me a sense of belonging, I would never see again…
In the weeks ahead I could cope only by throwing myself into the work of fighting the fires."
In Big Basin Redwood Forest, California's Oldest State Park, Bliss writes the stories of the early preservationists who never gave up on their fight to establish the first permanent park in California. Through exhaustive research, family photographs that have never been seen publicly, and firsthand accounts from inside the park, the book celebrates at every facet the victory of Big Basin. "This is what Big Basin was, this is what Big Basin will be again," Bliss said. "It is ineffable."
A book signing with Traci Bliss will be held at Mountain Parks Foundation's Nature Store inside Henry Cowell Redwoods State Park on Saturday and Sunday, October 23 and 24 from 12:00 noon to 4:00 pm. bit.ly/bigbasinbook
Julie Horner is a folk musician and writer living in the Santa Cruz Mountains, California. Email: leap2three at gmail.com
Photos by Julie Horner