Ben Lomond Neighborhood Seeks County Response on the Highway 9 Slide
By Mary Andersen
On New Year's Eve the first of a series of atmospheric rivers arrived in the Santa Cruz Mountains. The ensuing intense rainfall triggered a major landslide on Highway 9 in Ben Lomond near Glen Arbor Road.
Ongoing storms since then have exacerbated the slide with one resident saying, "It's been in motion virtually nonstop. Every rainstorm since January we have been told there is more movement and therefore they can't reopen the road."
The most recent atmospheric river spanning March 9 through 11 caused a significant slide on the same slope. Neighbors in the Lomond Terrace neighborhood above the slide had been keeping a wary eye on the situation as Park Drive, their main road into and out of the community, sits at the top of the impacted slope. Concerns escalated upon learning that a house at the top of the slide adjacent to Park Road had been red-tagged and that the residents of the home were told on Tuesday March 14 to evacuate immediately. The family has been given very little additional information from the county and there has been no communication to the road association. The neighborhood is home to approximately 40 families.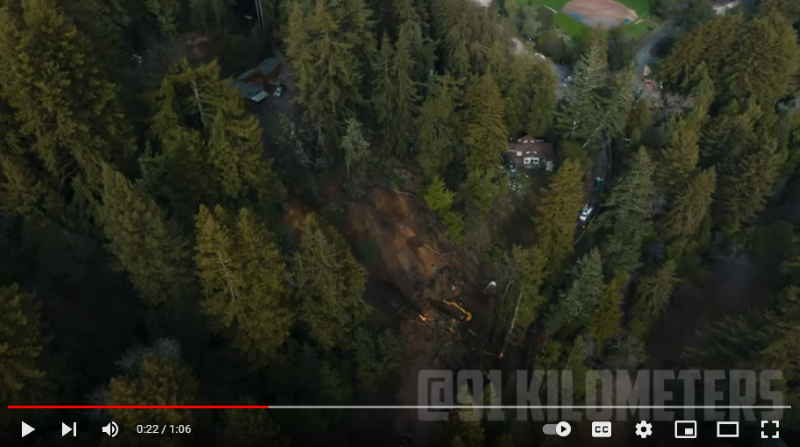 Lomond Terrace resident, and Post columnist, Jayme Ackemann said, "I live near this house that is sitting over the Highway 9 "Holiday" slide. We would love our community's support in requesting a meeting be held in our area to detail the long term plan to protect this hillside. We need to know what's happening here."
Ackemann sent the following letter to Supervisor Bruce McPherson, Caltrans, and the Santa Cruz County Regional Transportation Commission:
Dear Caltrans District 5, County District 5, and RTC Counterparts,
I am writing to ask if we could organize a meeting with our road association to discuss the ongoing slide onto Highway 9 on the hill side under Park Dr.
We are obviously concerned for our neighbors. We also have questions about whether additional drainage or other improvements in our neighborhood could help to mitigate this condition.
We would like to understand if Caltrans will be proposing longer term structural solutions to the hillside at this location and what those might look like. We'd be open to making this a broader community meeting and including the neighbors along Highway 9, Veterans' Village and the folks in the area of Highlands Park.
But given the unanticipated rainy season and the ongoing active nature of the slide – it would be great to have a follow up meeting to the one held in the immediate aftermath of the New Year's storms.
I look forward to finding a time that works for our communities.
Community members can reach out to the following to offer support for a county response to the impact of the slide on Lomond Terrace and surrounding neighborhoods:
Supervisor Bruce McPherson
bruce.mcpherson@santacruzcounty.us
Caltrans
info-d52@dot.ca.gof
Santa Cruz Regional Transportation Commission
schristensen@sccrtc.org
Featured photo contributed.