An Insider's Guide to Spring Wildflowers at Quail Hollow
By Pamela Morgan
April and May always remind me of renewal, birth, and the blooming calla lilies, forget-me-nots, daffodils, and tulips. I become giddy with the first sightings of native wildflowers!
I was introduced to coastal wildflowers while hiking with the Santa Cruz and Monterey chapters of the Sierra Club in the mid-80s, gravitating to hikers with an eye for native plants who loved to share their knowledge. In 2016, I attended a field trip with Randall Morgan, founder of the Santa Cruz Native Plant Society, who dedicated his life to conserving and protecting sensitive open space areas in the county. I'll never forget spending the morning with him on our hands and knees in a secret Boulder Creek meadow enticed by Purple Mouse Ears and White Meadowfoam.
I was inspired to botany after hiking with Rod Yeager, who wrote about and photographed wildflowers of the Central Coast. I still rely on his book every year for identification. Finding wildflowers gives me a chance to get close to something elusive and wonderous.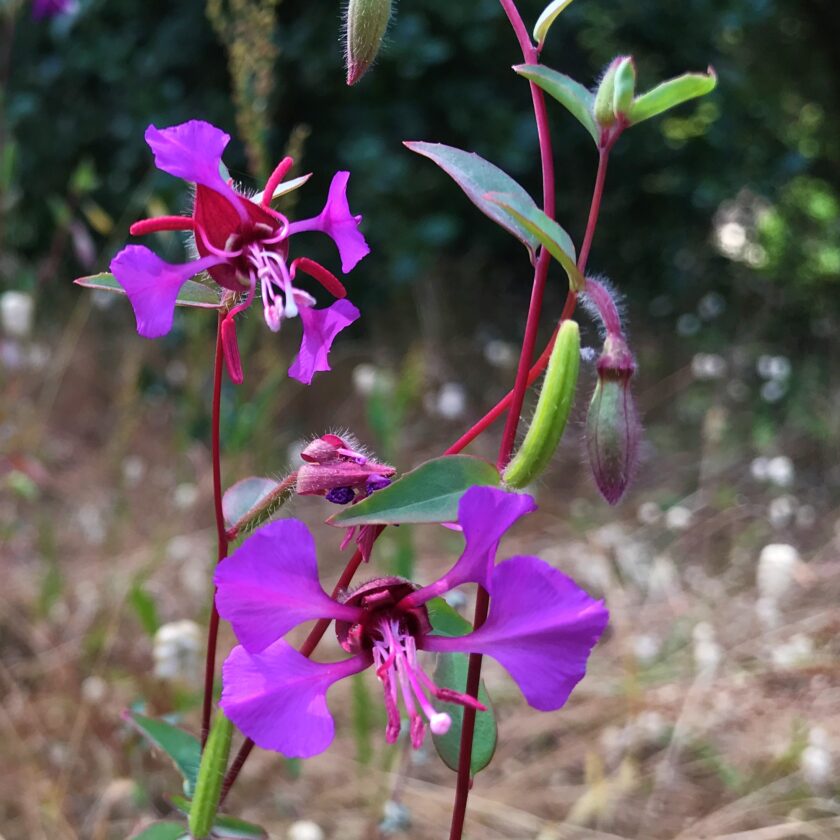 Quail Hollow Ranch
Once I started my family in Ben Lomond, it was convenient to hike Fall Creek, Henry Cowell, and Quail Hollow weekly. My favorite hike is the Woodrat Trail in Quail Hollow, where I've hiked for over 25 years. I know exactly where the rare checker lily, California chicory, honeysuckle, and wild roses bloom; where the Pacific hound's tongue sprouts and the walls of ceanothus and the manzanita stand. I love being up on the ridge where one can see "forever" across the Monterey Bay. Recently, the soft smell of blooming ceanothus stopped me in my tracks; such a fresh subtle aroma, and bees savor its nectar. It's a joy seeing trillium growing under the redwoods and the Solomon Seal, which smell like a Hawaiian botanical garden, sprouting up trailside.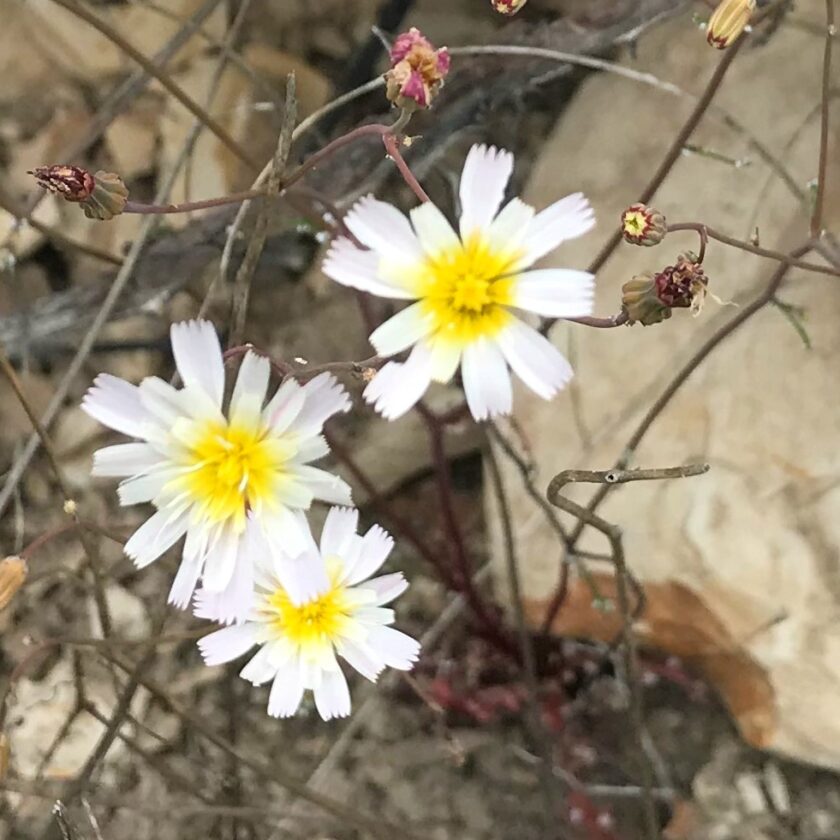 For many years, the Yellow Bush Lupin bloomed along the Italian Trail, but now stand as dead bushes in the sand. At the top of the ridge, the Yellow Bush Poppies have failed to thrive this year due to low rainfall; they're hanging on by a thread, brittle branches with no buds. Along the lower Italian and Chaparral Trails keep your eyes open for the Douglas Iris to be blooming soon, along with Sticky Monkeyflower and Scarlet Pimpernel. The Blue Lupin might surprise us in the coming months, but I am not holding my breath. Walking down along the sandhills, I grab a leaf of Black Sage and rub it between my fingers for a scent of this medicinal plant that was used by the Ohlone and is a nectar for pollinators.
Next month Bonny Doon Preserve.
Pamela Morgan, long-time resident of the Santa Cruz Mountains, is a self-exploring writer, yogini, gardener, and lifelong activist and earth worshipper. She runs a small business assisting clients with Trusts, Wills & Deeds at ParalegalPam.com.
Photos by Pamela Morgan.
Featured Photo: the Checker Lily at Quail Hollow Ranch Park in Felton, California