San Vicente Redwoods Preserve to Open
By Julie Horner
Outdoor enthusiasts eager to explore fresh territory can look forward to setting boots down on 7.3 miles of ecologically integrated trail in the 8,852-acre San Vicente Redwoods Preserve starting on December 3, 2022. This new multi-use trail system traversing sensitive coastal redwood habitat supports hikers, walkers, bicyclists, and equestrians.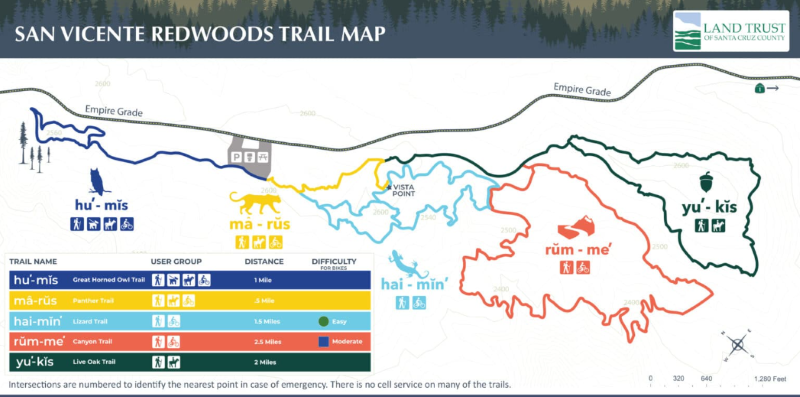 San Vicente Redwoods Preserve spans the seaward side of the Santa Cruz Mountains from near the southwestern border of Big Basin Redwoods State Park to Swanton Pacific Ranch. The Preserve also cradles the San Vicente Creek watershed, which descends the west-facing slopes from Ben Lomond Mountain into the California Coastal National Monument above the town of Davenport and from there to the sea. A tributary of San Vicente Creek, Mill Creek, is seeing the gradual return of Coho salmon to native nesting grounds with the removal in 2021 of a dam and tunnel system built at the turn of the century to redirect the creek to make way for a railroad. The Preserve is also home to steelhead trout, the marbled murrelet, peregrine falcons, pumas, coyote, and black-tailed deer.
Sempervirens Fund and the Peninsula Open Space Trust (POST) jointly own and manage the San Vicente Redwoods Preserve. The Land Trust of Santa Cruz County (LTSCC) manages the property's public access trail system. Environmentally proactive land management and sustainable timber harvesting practices will be employed and monitored in partnership with Save the Redwoods League and the Amah Mutsun Tribal Band, whose people originally inhabited the land. The new trails are named in the Awaswas language. Ultimately 38 miles of trails are envisioned. The initial phase of trail building was delayed by the impact of the CZU Lightning Complex Fire. The next phase could begin within three to five years depending on visitor impact and available funding.
Sarah Newkirk, Land Trust of Santa Cruz County executive director said, "When you're out on the trails, you'll be able to witness firsthand how nature is rebounding from the 2020 CZU Lightning Complex Fire. Looking to the future, our trails will be doing double duty—serving as part of a new fuel break to protect the community in the event of future wildfires."
For more information and to register for a trail pass, visit landtrustsantacruz.org/svr.
Julie Horner writes about art, music, and culture in the Santa Cruz Mountains. Reach out to Julie at leap2three@gmail.com.
Update from Laura Dannehl-Schickman, Communications Director at Land Trust of Santa Cruz County:
We've had a lot of questions about the grand opening of the trails at San Vicente Redwoods this coming weekend, December 3! We are so glad everyone is excited to visit the property. In fact, we've already had over 2,000 people sign up for trail passes!

If you are planning to join us this weekend, please note that there is no reservation system. Parking is limited to 72 spaces and will be available on a first, come first served basis.

Want to avoid the crowds? No worries! You can use your free lifetime trail pass any day of the week, (year round!) from 9:00 am – 5:00 pm beginning December 3rd! About the Trail Pass To use the trails, visitors are required to register for a free, permanent pass. Pass holders will be notified of property closures, heavy storms, red flag days, conservation harvest events, and private community events. Once you register, nothing else is needed! You can visit the trail system any time, seven days week, during our open hours. Please click the link below for seasonal hours of operation.

Pre-Registered Trail Pass Update
Did we mention that over 2,000 people have registered for a pass?
If you have already pre-registered for your trail pass, please keep in mind we are working hard to get them mailed out to everyone as soon as we can. If you would like to visit the property before receiving your pass in the mail, please bring the confirmation email you received upon registering. Even a screenshot of the email on your phone is fine!

We will be mailing you a sticker pass and key chain pass so that you can carry your pass on the property (on your keys, lanyard, water bottle, a picture on your phone, you decide!). Please carry your pass with you every time you visit the trails. You can use whichever pass option works best for you – no need to place a pass on your dashboard.

Your pass gives you lifetime access to the property, but it can be revoked if the trails are being misused. We are encouraging anyone over the age of 18 who will regularly utilize the trails to register for a pass.If you are bringing guests who will not regularly visit the property, there will be an option to register for a day pass via a QR code or at the on-site kiosk. There is no maximum number of guests. Children accompanied by their parents do not need to register for a pass.

Address
12001 Empire Grade Santa Cruz, CA

Directions
From Santa Cruz, take High Street, which becomes Empire Grade near the UC Santa Cruz Arboretum & Botanic Garden. The entrance to San Vicente Redwoods is about 12.5 miles up Empire Grade on the left.

Forecast
There is a 60% chance of rain forecasted for Saturday and Sunday. We are prepared to welcome you to the trails rain or shine, but if you'd rather wait for fairer weather, feel free to visit any day of the week beginning December 3, 2022!