New Septic Regulations Taking Effect July 2023
By M.C. Dwyer
The Santa Cruz Association of REALTORS recently held an educational event about point-of-sale septic regulations taking effect in Santa Cruz County in July 2023. Mark Kinder of Affordable Septic, who's installed thousands of systems, explained everything we need to know about septic system repair and the new regulations.    
The State Water Resources Control Board oversees all California septic systems. They're in charge of our Local Agency Management Plan (LAMP) for Onsite Wastewater Treatment Systems (OWTS) and can tell the Santa Cruz County Department of Environmental Health (DEH) what to do because the DEH failed to provide the state with required information for years. California is increasingly concerned about water quality; when soils are saturated by storms, inevitably many septic systems can't function properly.     
You can reduce your household's load on your system! Fix leaky toilets and sinks. Don't do "laundry day" when you live on a septic system. Do "laundry week!" Spreading loads is less likely to overburden your system. Better yet, install a gray water system for laundry — they cost about $2,000.
Maintenance tips include regular pumping every 3-5 years (depending on household size), avoiding garbage disposals (compost instead), Drano or Simple Green (anything that kills beneficial bacteria), and grease. Toilet paper is fine; baby wipes and sanitary products are not. Avoid salt from water softeners.
Systems fail from misuse, lack of maintenance, leaks, breaks, and blockages (tree roots) in the tank or leach field, or when the soil around leach fields is no longer absorbent. Leach fields last between 25-30 years, 40 maybe with low occupancy like a vacation home. Homes that got their septic permits in the 70s or 80s, depending on usage, may be at the end of their lifespan.   
Affordable Septic still gets repair permits to fix many existing systems. The septic repair ordinance is more flexible than new construction requirements, additions of 500+ square feet, or adding a bedroom.     
Point of Sale Inspection
The County Board of Supervisors (BOS) decided to add to the State's requirements — adding a point-of-sale septic inspection as part of our LAMP. Responsible local REALTORs have insisted on septic inspections for decades! Many of us take our clients to the DEH offices to discuss the system they're buying. But, many out-of-the-area agents don't understand septics. Sadly, someone I know who'd purchased their home using an out-of-the-area agent, never learned about the property's septic history (the information is available online), nor did they know maintenance procedures and frequency nor potential costs…now they're facing a large bill to repair a failed system.
REALTOR Greg Lukina, our LAMP point man, explained the second part of the BOS additional requirements will be a disclosure document,  yet to be defined. He said the DEH would like to replace all redwood tanks, which typically rot and leak.
The July 1 point-of-sale inspection will require buyer or seller to take responsibility for repairing or replacing a system that fails inspection. DEH will follow up until repairs or replacement are complete. They allow 90 days without imposing penalties, or longer if needed, since enhanced systems require months of preparation before permits.
Mark offered round number costs for a typical, gravity flow system: around $15,000 for a tank or leach field replacement, assuming there's enough unused soil elsewhere on the property to do that. A pump up system, required when the leach field is above the house, adds a 2nd storage tank to hold effluent when power is off – these start at $25,000.
With 30+ years' experience, Mark understands each neighborhood's soil types and drainage capacity, and can reliably estimate costs based on each property's unique circumstances including access, (hand dig or machine), lot size, bedroom count, slope, water table, sandhills, and distance from a seasonal or year-round stream.
It's shocking to discover one needs an engineered or enhanced system, now that costs have more than doubled to $85,000, as parts prices skyrocketed and reliable engineers are backlogged. The beauty of enhanced systems is, after they inject aeration to supercharge bacterial activity, the water leaving the system is so clear that a much smaller leach field is fine. Homeowners on small lots, sloped lots, near a creek or river, in the Sand Hills habitat, or with a high water table should budget for this eventuality: John Ricker at the DEH estimates 40% of our septic systems may require an enhanced/engineered system in the future.
Those homeowners who've experienced arbitrary DEH rulings — particularly hampering rebuilding after the 2020 CZU fire — may be reassured now that talented and competent San Lorenzo Valley field investigator Heather Reynolds was promoted. Previously obstructive personnel are gone.
Many SLV homeowners don't have money to pay for repairs or replacement. Fortunately, there are options to negotiate these costs between a home buyer and seller, and experienced REALTORs can help their clients figure out how to pay. eXp Realty agents have resources so sellers can borrow repair costs without interest, to help simplify and expedite home sales. Since I provide my clients with legal services, I can have an attorney draft septic repair agreements between buyer and seller for a low fee.
Our Rebuild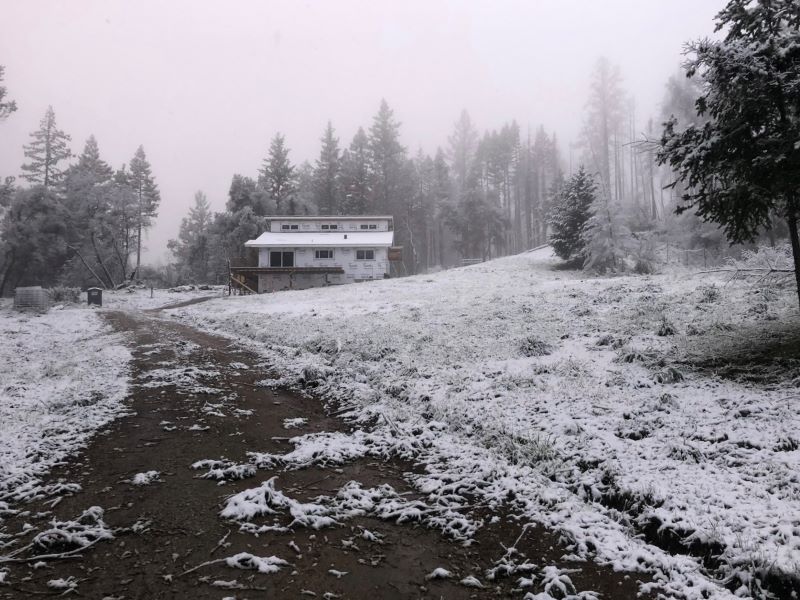 At our Boulder Creek rebuild, our contractor is grading for drainage around the house, which is finally "dried in." Plumbing and electrical is being installed. The SBA (government loans in conjunction with FEMA) still hasn't sent my husband any money towards rebuilding – it's been over a year. And still, only 24 of 911 homes lost in the CZU fire are completely rebuilt. 
More info:
Questions Authority: https://slvpost.com/question-authority
Supervisors Amend Septic Regulations: https://slvpost.com/supervisors-amend-septic-regulations
Send your questions & topic requests to "M.C." (MaryCatherine) Dwyer, MBA, REALTOR® 
(831) 419-9759    E-mail: mcd@mcdwyer.com   Website: https://mcdwyer.exprealty.com
CA DRE License 01468388   EXP Realty of California, Inc.
Serving San Lorenzo Valley and Scotts Valley since 2005                                                                                               
Sources: Mark Kinder, owner of Affordable Septic, and Greg Lukina, REALTOR®
The statements and opinions contained in this article are solely those of the individual author and her sources, and do not necessarily reflect the positions or opinions of eXp Realty, LLC, or its subsidiaries or affiliates (the "Company"). The Company does not assume any responsibility for, nor does it warrant the accuracy, completeness or quality of the information provided.