By Alison Steele
The elderberry tree (Sambucus nigra) is native and to both Virginia and California. It waves its abundant white flowers in processions along mountain roads and stands watch in the corners of cultivated gardens in early to mid summer. My mother's Mennonite Community cookbook, from 1950, offers recipes for pies, jams, jellies, vinegars, cordials, and wine including this forgotten wild food. It's too bad that foraging for native Elder is becoming a lost art considering its abundance and the health benefits it brings to the table at summer's end. High in vitamin C the flowers are a powerful immune booster along with having anti-inflammatory and antiviral properties. I have to head out early on excursions as I am easily lured by these voluptuous florets along the less trodden roads, my snips always at the ready, for in the blink of an eye, the season for elderflowers is gone. Tying a bright ribbon to her trunk, I'm on my way, but only to return in early fall when her deep black berries are ripe with a blanket of wild yeasts.
For this recipe, I've used the flowering heads from both cultivated and wild varieties of the black elder. Here are some foraging tips…
Make sure you are harvesting from Sambucus nigra. Use only flowers and the tiny parts of the stem, as the large stems, leaves, and bark are toxic. Tag your elder when she is blooming. When her blossoms become berries they are very hard to identify. Collect the berries when they are fully black and coated in white yeast. Green berries are toxic, and although the flowers can be used fresh, the berries must be cooked. As always, leave some for the animals!
(Wild ferment) Elderflower Soda
8-9 large elderflower heads
1 gallon unchlorinated warm water
1 cup local honey
Juice and peel of 3 lemons
1 T white wine vinegar
Stir the honey into two cups of warm water until dissolved. Pour the honey water, lemon peel, lemon juice, and vinegar into an immaculately clean mason jar, crock, or bucket along with the rest of the warm water. Turn the florets upside down and clip the flowers and small stems only, into the liquid. Discard the big stems and leaves. Gently stir, cover with butter muslin to keep out pests, and set out of the sun on the counter. Use a clean spoon to push the flowers down, submerging a few times a day.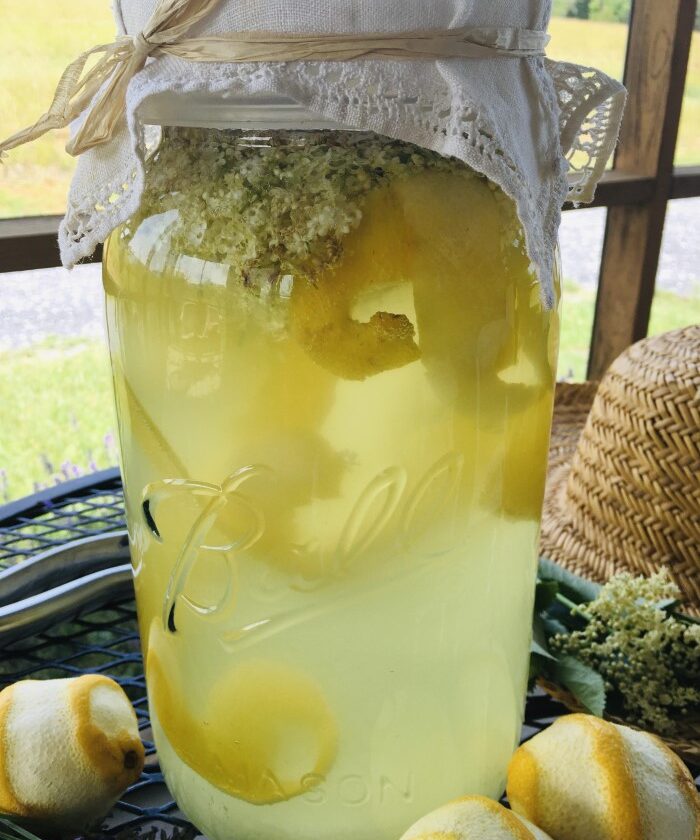 On the end of the second day, check to see if small bubbles are forming and the ferment process has begun. Depending on how warm your kitchen is, it can take 2-5 days. This batch took two days to begin bubbling in a 77-degree kitchen. Once effervescent, strain the plants through the butter muslin and discard into the compost pile. Pour the liquid into flip-top bottles or jars using a funnel or pitcher, leaving a few inches at the top, if you'd like to flavor your soda. I use a light simple syrup of whatever fruit is in season, or just a few sprigs of lavender or fresh mint will do! Here, wild black raspberries and Nanking bush cherries are exploding. Pour your fruit syrup in, or whatever you're using to flavor your soda, leaving an inch or two of airspace at the top. Place back on the counter, capped tightly, for an additional day or two for a fizzy soda, or in a cool cellar or refrigerator to slow fermentation for a light sparkle. Carefully open the flip tops to check your soda, and watch out, as the carbonation can really build! At this point, I let the kids have at it, before the alcohol has a chance to build. Be sure to check your soda before serving to little ones, and save the longer ferments for the big folks. Serve chilled over ice, and enjoy on the porch!
A native of Virginia, Alison Steele lives with her husband, two children, and cat in Boulder Creek where she raises quail, chickens, fruit trees, vegetables, and herbs. Alison plays banjo and sings in Sugar by the Pound
Featured photo: Elderflower Soda with cherry, lime, and elderflower garnish by Alison Steele