All About COVID Vaccination
By Chris Finnie
Here are some tips and resources to help you navigate the vaccination process.
Who's Vaccinating?
Jason Hoppin, Communications Manager for the County of Santa Cruz says that the county is 9th out of 61 regions in the state for per capita vaccinations. In fact, by mid-February, nearly 20% of county residents had already received the first dose of the covid-19 vaccine. Another 11,000 people have had their second shots.
Hoppin says this is largely due to health care plans like Sutter and Dignity, who are getting supplies directly through the State. Alternate supply chains prioritize uninsured and under-resourced communities. Hoppin said anyone having difficulty accessing a vaccination site in person should call the Santa Cruz County Health Department, which has strike teams for vulnerable people who are eligible but homebound. For phone numbers and additional information about eligibility and other vaccination support, go to santacruzhealth.org and navigate to HSA Home▸Coronavirus Home▸Vaccine.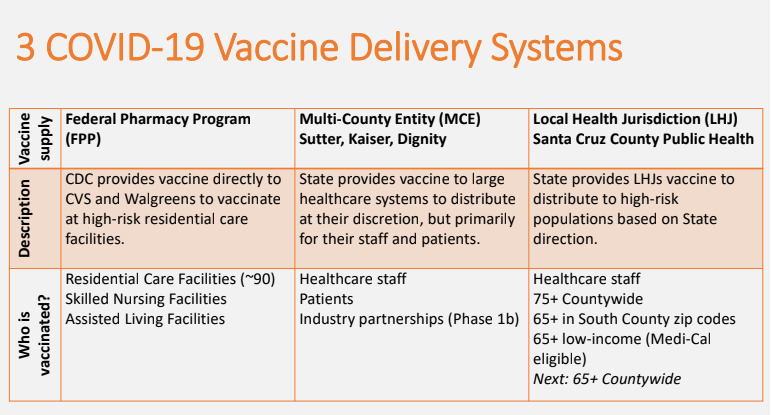 CVS Health is now administering vaccines across California by appointment only, though many sites are listed as "fully booked." The company says they intend to expand to more locations and offer additional appointments as the supply of vaccines increases. To register for shots at CVS, use the app, call (800) 746-7287, or go to: cvs.com/immunizations/covid-19-vaccine
Who Can Get a Shot?
Medical professionals and seniors over 75 were the first to get shots. Seniors over 65 are now eligible.
Christa Taylor, an Aptos senior who met the criteria, was one of the first Santa Cruz County residents to receive the Moderna vaccine at the new mass vaccination facility in Watsonville at the Old City Hall, 250 Main Street. "It takes about 15-20 minutes to register over the phone," Taylor said. "I got an appointment a day later, along with a 30-day follow-up appointment for the second dose of the vaccine." To find out about mass-vaccination sites throughout the county, visit the OptumServe link on the county Health Services Agency page or call (877) 218-0381 and select Option 7 to speak to a trained agent. You can also register online: myoptumserve.com/covid19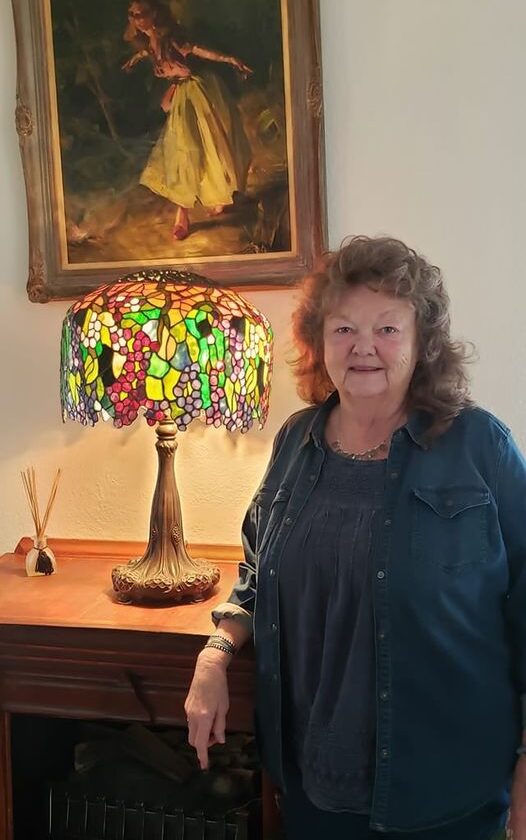 The Santa Cruz County School District is working with Dominican Hospital to vaccinate teachers. By the end of the first week, they hope to give first shots to 1,500 teachers, starting with preschool and kindergarten, then elementary school teachers.
The California Department of Public Health recently updated their vaccination framework, allowing severely disabled people and those with health conditions that put them at high risk to get shots in March. The list of conditions include: Cancer, pregnancy, Stage 4 kidney disease, oxygen-dependent lung disease, Down syndrome, sickle cell disease, coronary artery disease, severe diabetes, Type 2 diabetes, and a weakened immune system from a solid organ transplant. Go to: cdph.ca.gov
Why You Should Get Vaccinated
Dr. Rose Lovell, a doctor and San Lorenzo Valley resident, got her vaccination because she is a hospital resident physician treating covid patients. Dr. Lovell says she had the Pfizer vaccine. She described the first shot as very much like a flu vaccine. "A little discomfort with the actual injection but then I felt fine. After the second shot, I did feel tired and run down. But by the second day after the vaccine, I was back to normal."
Lovell said she believed the vast majority of her colleagues have gotten vaccinated as well and that other residents very much want the vaccine. "We are seeing first-hand the devastating effects of covid on individuals, families, and communities. Vaccines are the strongest shield we have to protect ourselves, our patients, our coworkers, and our communities against this virus." She adds, "I got vaccinated because I want this pandemic to end."
Lovell is a young physician who has seen the horror first hand. "I have seen healthy young people in their twenties with lungs so damaged they need a lung bypass machine. Multiple people from one family hospitalized… and only some survive. I saw more death in two weeks than I did in the first two years of my medical training."
​She's afraid that the relatively low case count in the San Lorenzo Valley has encouraged people to take the disease too lightly. She begs people to wear masks correctly. Get vaccinated as soon as you can. Follow all directives from the county and state health departments and CDC. And to not use covid tests as a measure of how safe it is to gather.
Chris Finnie has lived in the Santa Cruz Mountains for 25 years. She's worked as a marketing copywriter for more than 35 years. And has been a local, state, and national political activist for 17 years. She has contributed articles and columns to several local newspapers.
Facebook | Instagram | LinkedIn
Feature photo by Steven Cornfield