Streetwise: George Fetherston and the Felton Heritage Tree
By Lisa Robinson
Have you ever thought about how the street where you live got its name? In the Streetwise column, we look at street names in the San Lorenzo Valley and explore the history hidden in their names.
Fetherston Way just off Felton Empire Road is named for George Arthur Fetherston. His father was William John Fetherstonhaugh an Irishman who emigrated to Canada and became a benefactor and "one of the most successful farm owners" in his township. The "haugh" means valley and his father often dropped that portion of the name. His mother was Mary Ann Macaulay, also from Ireland, and a relative of the historian Thomas Macaulay. George's mother died when he was six years old shortly after the birth of her eighth child and George, along with six of his older siblings, was raised by his father and a "faithful servant" Curly Kate. (The baby was adopted by Mary Ann's sister.) His father died when he was fourteen and George left his home in Canada to come to California at the early age of 16 in 1888.
George became an astute businessman, owning the Cremer Hotel, 1000 acres from Felton to Empire Grade, the Felton Water Company, and the quarry above Felton. He also developed the Felton Acres tract.
When he passed away in 1947, he was remembered for fondly engaging in any sort of development program that he felt would be good for Felton, for his love of trees, and he was credited with "planting every tree in Felton."
Indeed, in 1923, he oversaw the planting of the trees at the Felton School, which was located where Rite Aid is today. Not satisfied with planting saplings, Fetherston acquired trees that were eight or nine feet tall so that the school would benefit from them immediately.
George Fetherston is also credited with planting the Felton Village Heritage Redwood, the town's beloved Christmas tree. The plaque on the tree was dedicated by his daughter Florence, it reads: "This Redwood Tree was planted in the early nineties by one of Felton's early settlers, George Featherstone [sic], who knew the beauty of these trees."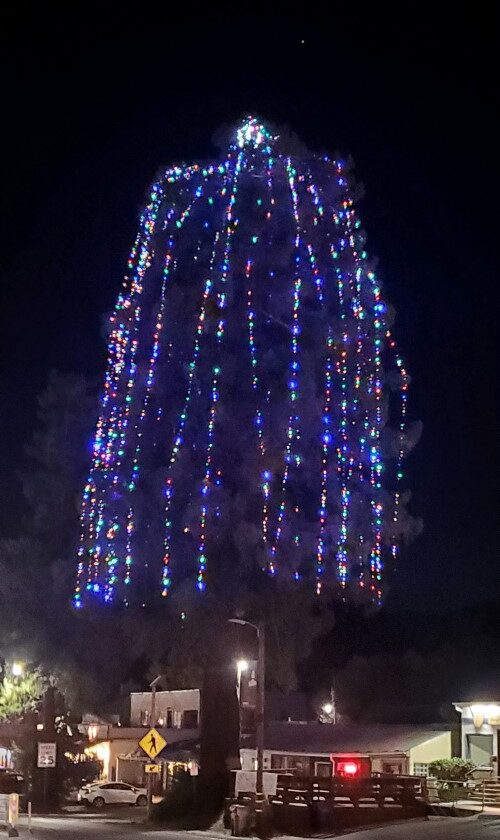 In 1987, the heritage tree was described in the Sentinel as "resembling an inverted punk hairdo." This was because for years the tree had been cropped, so as not to compromise the overhead power line that ran nearby. In 1987, the Felton Town Plan was adopted by the Board of Supervisors "to much applause and little dissent." It included plans to underground the utility lines and allow the tree to "grow in all directions again." In 1991, the heritage tree deck, also part of the town plan, was dedicated. Once more allowed to grow in all directions, in 2003, the Fetherston Tree won the "most improved" category in the "Light Up the Valley" contest sponsored by the Friends of the Felton Community Hall.
Lisa Robinson is the Collections and Exhibitions Curator at the San Lorenzo Valley Museum.
Featured photo: Felton's Heritage Tree in the 1940s | Photo contributed by SLV Museum