Here There be Monsters: The Al Astrella Monster Movie Memorabilia Collection
By Julie Horner
Albert Astrella started out as a kid who liked to draw pictures of cemeteries. "My mom didn't know what to make of me," he said. Astrella started collecting monster movie memorabilia as a pre-teen in the early 1960s. A faded snapshot kept safely in a folio of correspondence, handbills, and ticket stubs shows a 12-year-old Astrella posing with his collection of plastic monster figurines, gifts from his mother. "This Dracula was the first monster thing I ever got," Astrella said, pointing to the same grouping of toys from the photo now lovingly encased in a glass cabinet in his Ben Lomond home.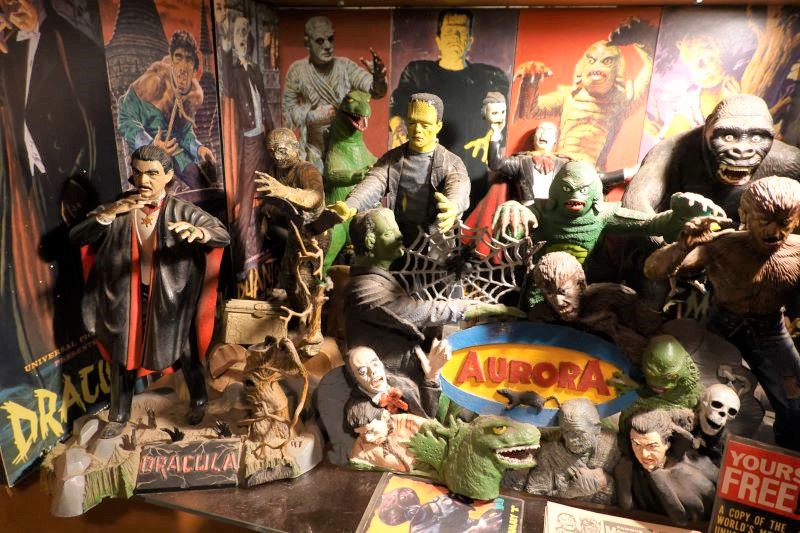 Most everything in the massive collection of figurines, books, posters, and framed art is from the late 1950s through the 1960s. The display fills a spare room from floor to ceiling and a closet; all the original boxes are also carefully preserved. One of his favorite pieces is a Frankenstein figurine from 1964. "A model that sold for $5 back then and parents wouldn't buy them. That was a lot of money for a toy back then. My mom bought me one; I had a cool mom."
It all started with Famous Monsters of Filmland magazine edited by Forrest J Ackerman, a first edition of which Astrella keeps proudly in his collection along with decades of issues published through the early 80s. "This is what set off the whole monster craze in 1958," Astrella said. "This was the Bible for monster kids."
Ackerman, the imminent science fiction proponent of his day, is credited with coining the term "sci-fi." His collections of sci-fi, horror, and fantasy film memorabilia included Hollywood's most iconic productions from the 1920s through mid-century, and beyond: Tod Browning's Dracula starring Bela Lugosi (1931); James Whale's adaptation of Mary Shelley's Frankenstein with Colin Clive as Dr. Frankenstein and Boris Karloff as the monster (1931); and Bride of Frankenstein (1935), the arguably improved sequel; Lon Chaney Jr. as The Wolf Man (1941); 1954's The Creature from the Black Lagoon with Julie Adams as Kay, the object of the creature's obsession; The Fly with Vincent Price (1958); and a cavalcade of frightening, tragic, and fantastical characters spanning the evolution of monster movie making and television.
"The old monsters were fun, they didn't show blood and gore," Astrella said. "It was the power of suggestion; what you didn't see could frighten you a lot more than what you can see. In the good movies they kind of let it be up to you what happened."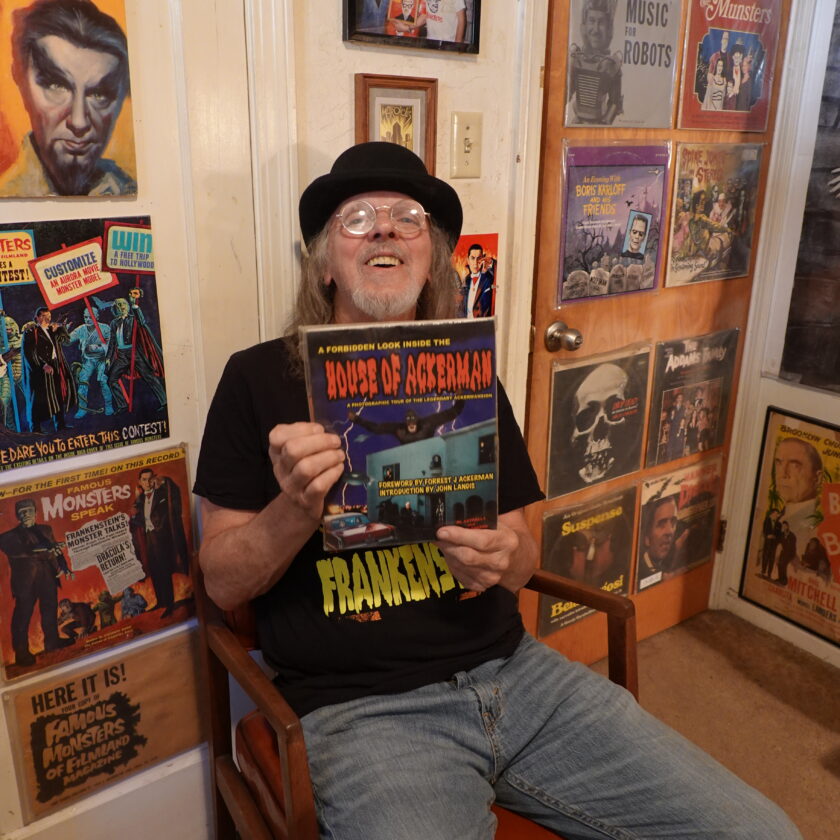 Ackerman became Astrella's childhood hero and the reason for his descent into the madness of collecting. Astrella's fandom eventually brought him into "Uncle Forry's" sphere, and the two formed a friendship that lasted until Ackerman's death in 2008. Astrella has acquired pieces from the Ackerman collection and has co-authored a book with fellow monster fan James Greene of Santa Cruz. A Forbidden Look Inside The House of Ackerman, a photographic tour of the legendary Ackermansion is out of print, but copies can sometimes be dug up on the Internet…for a price.
Photos by Julie Horner