12/31 New Year's Eve with THE COFFIS BROTHERS and AJ Lee & Blue Summit
Happy New Year's Eve, Santa Cruz! Come celebrate with The Coffis Brothers and AJ Lee & Blue Summit at Moe's Alley, Friday, December 31 at 9:00 pm.
Moe's Alley, 1535 Commercial Way, Santa Cruz. www.moesalley.com
Link to the invitation: https://fb.me/e/6PBUjTjz0
Jamie and Kellen Coffis, born and raised in the Santa Cruz Mountains of Northern California, don't tend to overthink their music. Nothing in their repertoire is overwrought or outstays its welcome. This is pure roots rock, focused on melody, harmony, rhythm, and mood. There are echoes of The Byrds, Tom Petty, and The Jayhawks, and from years of touring, they have honed their sound into shimmering, high-energy rock and roll. They're positioned in a long line of sibling duos that stretches back to the Delmores, Louvins and Everly Brothers.
In The Cuts, the band's fourth full-length installment is produced by none other than Tim Bluhm of The Mother Hips and will be released on April 24, 2020 on the Blue Rose Music label.. These twelve tracks highlight the fact that The Coffis Brothers stand out as one of the best songwriting and arranging outfits on the west coast and America. Songs like 'The Real Thing'
Each song was written and sung by Jamie (vocals and keys) and Kellen (vocals, guitar), and were performed by Kyle Poppen (lead guitar), Aidan Collins (bass, backing vocals), Sam Kellerman (drums and percussion), and Tim Bluhm (backing vocals, and guitar.)
The brothers, Jamie and Kellen formed the band in 2010 along with childhood friend and neighbor Kyle Poppen. In 2011 the band recorded and released their debut full-length self-titled album which was followed up with their single, "Waiting For You" in 2012 and their second full-length album in 2014 titled 'Wrong Side of The Road', all of which were produced by Andy Zenzcak at Gadgetbox Studios in Santa Cruz. Following the release of 'Wrong Side of The Road', Aidan Collins joined the band on bass guitar ahead of recording their third album, 'Roll With It' (produced by Andy Zenzcak at Barefoot Studios, 2017.) The following two years consisted of constant touring of the West Coast prior to recording of 'In The Cuts'.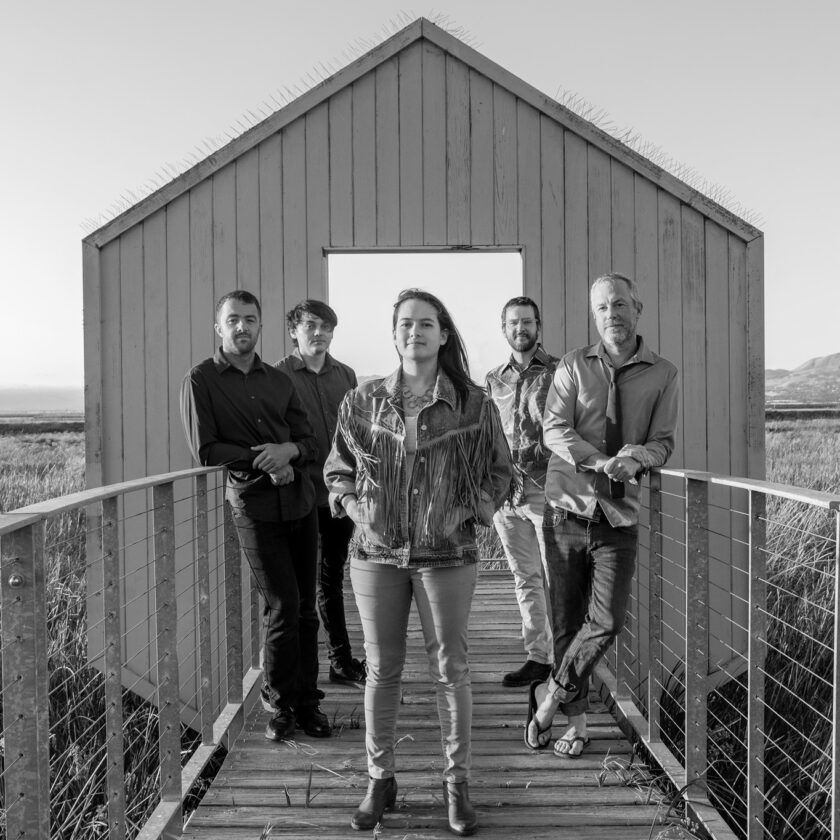 AJ Lee and Blue Summit, a bluegrass band led by singer, songwriter, and mandolinist, AJ Lee, has been the darling of the North Bay, California bluegrass scene since their first appearance in Santa Cruz. Drawing from influences such as swing, folk, blues, jazz, country, soul, and rock, their undeniable talent and insatiable passion for bluegrass harks back to traditional classics while remaining uniquely modern. Over the years, Blue Summit's performed all around the country as well as in the UK, Ireland, and France. They've accrued many devout followers and distinctions including the Freshgrass 2019 Band Contest Winner, IBMA 2019 Momentum Vocalist of the Year, 2nd Place at the 2019 Winfield Guitar Competition, and numerous awards in Northern California. In 2019, AJ Lee and Blue Summit came out with their debut album, "Like I Used To," which consists entirely of AJ's original songs. Equipped with these new songs and their archive of nostalgic tunes, they'll continue playing to both familiar and new audiences, endearing themselves to the country and the world.