Sublime Spring Lemon Meringue Pie
By Alison Steele
We know that Spring has truly arrived when the elements align and that first warm egg is discovered in the lay box. What a surprise! What a treasure! What a delight! On a small backwoods farm, it would've been cradled and admired before being whirled into a pudding or fluffed into a pie for all to share. Each person could savor a bite of the warm rich sustenance that eggs bestowed. Here, we do the same.
Animals are a vital part of a biodynamic garden. Consciously raising animals for food is important. Teaching that to our children is even more crucial. With the chickens now laying a frenzy of eggs and citrus still hanging on the tree this couldn't be a better time to whip up the freshest Lemon Meringue Pie that will ever grace your lips. Thumbing through the "Steele Cookin" family cookbook, a handwritten collection of the family's favorite fare, I paused to scan Anders' Grandmama's recipe. Written under the title,"Judy's mom makes this best!"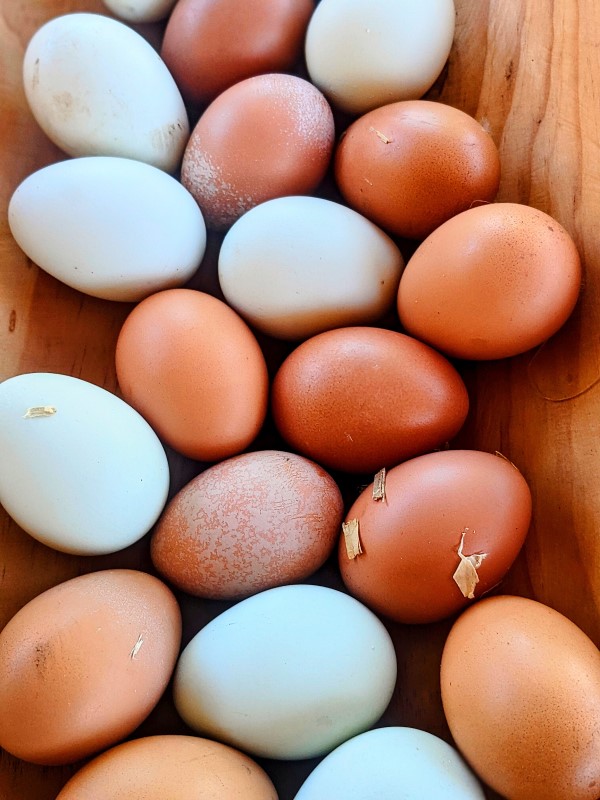 I would have to put this recipe to the test, or rather my pie making skills. As with many old recipes, there were very few directions. Pie making was a daily task in the old days, and tricks would've been shared in the kitchen from generation to generation. This recipe includes four generations of Steele bakers filling in between the lines for a fool-proof pie. Grandmama Juju, Aunt Eva, and Viola were thrilled to divulge these family secrets, along with Great grandmama Belcher looking down to chuckle over all these details. After making this once, you'll see how unfussy this recipe really is!
Make and bake the pie crust first.
Grandma Juju's Quick Pie Crust
Makes two crusts for an 8" pie plate
2 ¼ c all-purpose flour
¼ t salt
½ c plus 1-2 T oil
¼ c cold milk
Sift together flour and salt. Combine oil and milk. Pour into the middle of the flour. Toss with a fork until all the flour is coated with oil. Divide into two balls. Roll one ball between wax paper (floured). Invert over the pie plate. Bake 475°F for 10 minutes to prebake.
Tips: After rolling out the crust, slide into the fridge for 10-15 minutes before inverting over the pie plate. Trim the edges so you have a circle an inch or so larger than your pie plate, then invert, carefully peel away the wax paper and form your crust. If you don't have pie weights, use a fork to prick the bottom of your crust before baking.
Great Grandmama Belcher's Lemon Meringue Pie
"Judy's mom makes the best!"
1 c sugar
⅓ c flour
3 eggs
Mix in a saucepan.
Add
1 ½ c boiling water
1 t butter
⅓ c lemon juice
Cook over medium-low heat till thick & bubbly. (Stir often to avoid scorching. Let the custard cool.) Pour into a (cooled) cooked shell. Cover with meringue (all the way to the edges). Cook (on the middle rack) 12-15 min at 350°F.
Tips: If the meringue is browning too fast, move to the bottom rack of the oven.
I reduced the sugar to ¾ cup, used a gluten-free flour blend along with fresh Meyer's lemon juice and the custard worked beautifully. Even though I'm a big fan of coconut sugar, it really does injustice to the vibrant color of this pie, so stick with lightly colored fair-trade sugar with fresh orange yokes along with bright yellow grass-fed butter for a naturally neon yellow bottom layer.
Meringue
3 egg whites
¼ Cream of tartar
Beat till stiff peaks
½ c sugar Add gradually
Tips: Grandma Juju swears that room temperature eggs work best. My daughter, Viola, queen of French meringues, says that adding a pinch of cream of tartar at the frothy stage helps to firm the egg whites, so I added ¼ t CoT to the recipe and wow, were those egg whites stiff! I cut the sugar to 1/4 c to no detriment, and added it early on and little by little. This keeps the meringue from beading up with undissolved sugar crystals. Hot and humid Virginia weather is to blame when the meringue just won't fluff, Aunt Eva remembers Grandma Juju saying when baking her mom's pie.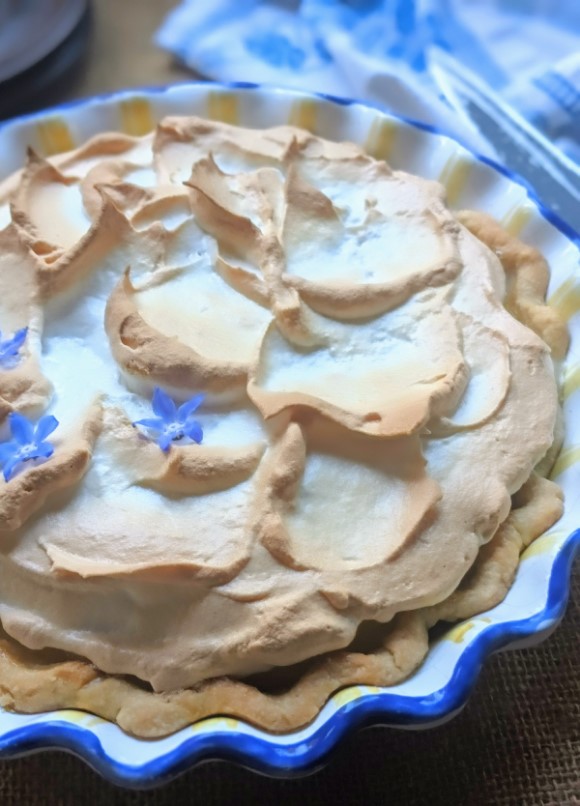 Once out of the oven, let the pie cool completely. Garnish with borage flowers, and savor every billowy bite!
A native of Virginia, Alison Steele lives with her husband, two children, and cat in Boulder Creek where she raises quail, chickens, fruit trees, vegetables, and herbs. Alison plays banjo and sings in Sugar by the Pound.
Photos by Alison Steele