Santa Cruz County Real Estate Update
By M.C. Dwyer
'Tis the season of mittens, hats, warm boots, heavy coats and (hopefully wet) umbrellas left by the front door. As we light the hearth this winter, the indistinct tinkling of children's laughter as they play outside reminds us to pay attention to how much smoke we're creating. A quick computer search will give you tips on how to reduce your smoke.
Renters may get some relief as rental prices have fallen over the past few months and are lower than a few years ago. However, apartment and home building have lagged behind what's needed for years, so there's limited supply.
The best recent housing news happened on November 10, when the inflation rate dropped significantly to 7.75%, from 9% this summer. (Historically, inflation averages +/- 3% per year.) Stock and bond markets rallied, and the 30-year fixed rate mortgage fell from about 7.2% down to 6.6%, where it stabilized over the last few days.*
The chart below shows Santa Cruz County and Santa Clara County average home sale prices holding relatively steady so far. Still, the number of home sales fell dramatically. This is measured against the same season last year, so it reflects the economy and consumer sentiment, not just the normal seasonal decline. New purchase loan applications are about 40% lower than this time last year. Meanwhile, the number of price reductions is higher than we've seen in years. Some reflect sellers who priced their homes too optimistically, but some reflect that homes are lingering on the market longer. Proper property preparation, prior to going on the market, is essential now, along with superb marketing.

Since affordability dropped when mortgage rates doubled, home prices may need to re-adjust to attract buyers facing higher payments. Depending on the situation, some sellers are helping buyers with their closing costs. Buyers can use that help to pay down their mortgage rate by paying what's called "points." And more buyers are using adjustable rate mortgages, which are fixed for the first 5 or 7 years. Their strategy is that rates are likely to come down over that period of time, so they'll refinance later.
Although the possibility of recession and reality of layoff announcements are concerning, home prices don't always fall during recessions. While no one can predict the future without some margin of error, Morgan Stanley recently estimated 2023 global growth at about 2%. The California Association of REALTORS®' predicts about an 8% drop in single family home prices statewide, in tandem with sales dropping around 7%. Still, each local market will perform differently, based on supply and demand.
Who is buying now? The share of first-time buyers is about 40% as millennials form households. People with secure jobs, investors, and all cash buyers are shopping, understanding real estate provides an inflation hedge. Savvy buyers, some of whom didn't want to buy while bidding wars were rampant, recognize an opportunity to take advantage of this pause. Now, they have more time to shop and less competition from other buyers. I'm reminded of the contrarian investment philosophy: buy on the dips. It takes courage to invest when it's unpopular. But those that bought homes during the last real estate downturn have done well.
Regardless of whether you rent or own, the majority of us are blessed to have warm dry homes — at a time when homelessness remains an unsolved problem and millions of people around the world have lost their homes to war and the effects of a changing climate.
Our Rebuild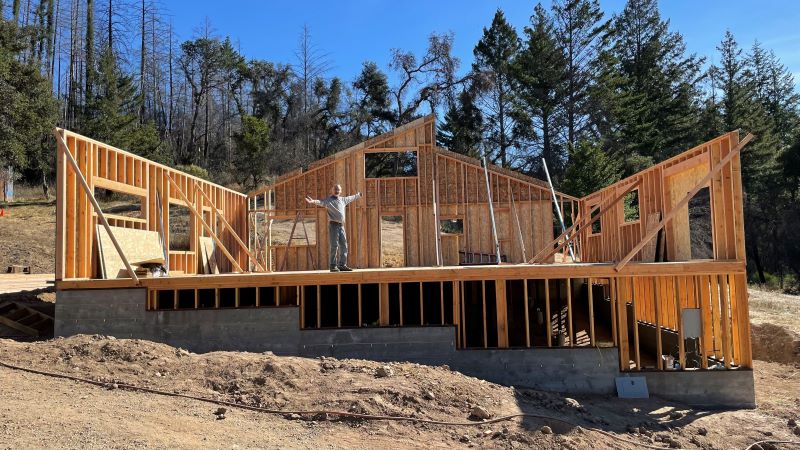 We have been struggling with the SBA (Small Business Administration) to get a loan for about a year now. Even though my husband found this year that he was hundreds of thousands of dollars underinsured to rebuild, made worse by inflation, they've denied his disaster loss loan application multiple times. Most recently, they said it was because they'd called us three times but we didn't answer. This rings hollow in the age of smartphones. Meanwhile, our contractor and team made a great start last month, but they've turned their focus toward finishing work on another rebuild.
"M.C." (MaryCatherine) Dwyer, MBA, REALTOR®
CA DRE License 01468388 EXP Realty of California, Inc.
Serving San Lorenzo Valley and Scotts Valley since 2005
(831) 419-9759 E-mail: mcd@mcdwyer.com Website: mcdwyer.exprealty.com
*Sources: MLSListings.com, Santa Cruz County Association of REALTORS®, Washington Post, S&P Dow Jones Indices LLC, S&P/Case-Shiller CA-San Francisco Home Price Index [SFXRSA], retrieved from FRED, Federal Reserve Bank of St. Louis; https://fred.stlouisfed.org/series/SFXRSA, October 21, 2022, and Santa Cruz County Board of Supervisors
The statements and opinions contained in this article are solely those of the individual author and do not necessarily reflect the positions or opinions of eXp Realty, LLC, or its subsidiaries or affiliates (the "Company"). The Company does not assume any responsibility for, nor does it warrant the accuracy, completeness or quality of the information provided.
Featured photo by Thomas Le