Reducing Water Use in the Summer Garden
By Josh Reilly
It's June in the SLV. The Winter rainy season is over. Short of a miracle or a biblical apocalypse, there will be no rain from now until at least late September. Water, as everybody is now telling you, is scarce. The meaning of "average rainfall" keeps changing. With less water, can we still garden and enjoy the serenity we feel amid the greenery? Absolutely.
Why let the Winter rain go to waste? Rooves shed 1000s of gallons of rainwater every Winter. It's too easy to capture a few 100 gallons and not particularly expensive. Prepare for next season by installing a tank. Try it, but bear in mind, 100 gallons of water weighs 850 lbs. Install your tank on a structure that can bear this weight. I used a homemade framework of recycled 4 x 8 deck joists over a 2-inch concrete pad (I highly recommend a 4-inch concrete pad for greater stability). A 4-inch gravel pad probably works just as well, but consult with whoever sells you the water tank regarding the size and weight-bearing constraints of your system. Also, you'll need to elevate the tap or outflow valve on the tank. A tank can be connected to a hose or other delivery system, but I just fill my watering cans at the tap. 100 gallons, of course, isn't very much in a garden. I use my rainwater selectively on potted plants and in raised beds in April or May. By mid-June, it's gone. But it's 100 gallons I don't have to pay for every year, as water supplies dwindle and costs rise.
A rainwater system helps with supply. What about conservation of existing soil water? I have been oddly successful in this regard by compulsively mulching for years. My mulch of choice is redwood bark mini-mulch, available at most garden centers. I also had a tree removed and major surgery done on a mature oak on the fence line. I had them chipped, creating a massive pile, which I spread almost everywhere in the yard. The soil under my mulch mixture stays moist until well into July. I only water containers and raised beds before that. Starting in July I drip-irrigate mulched areas once per month for about 25 minutes. There is one section, in full sun, deeply mulched and planted with mature, drought-tolerant species that got no water at all last Summer. Six inches down, the soil was still dark and moist, even during the hottest days of August.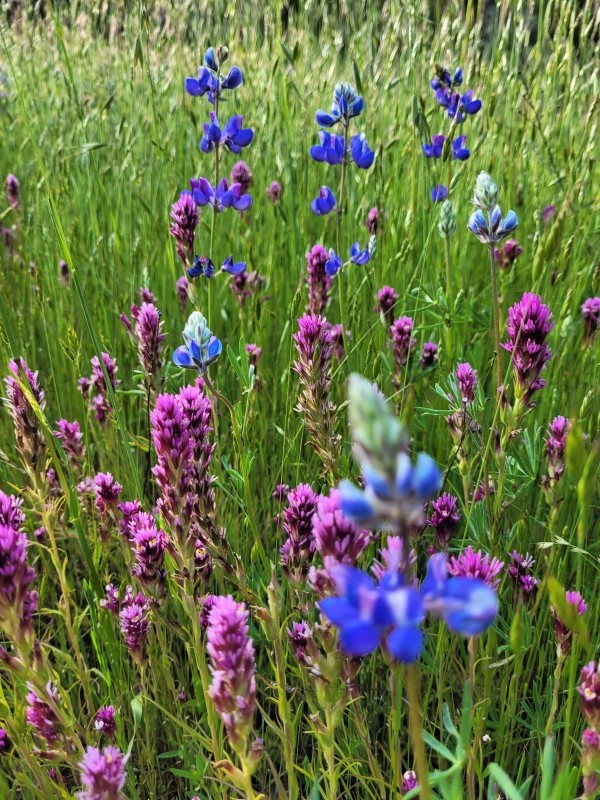 Wood chips are a superb mulch for weed control and soil water conservation. Unfortunately, in the very act of retaining water, they may not be ideal for drought-tolerant plants, including natives. Look around our slopes and meadows here in the Valley. All those gorgeous, fragrant, flowering natives grow in dry, rocky, sandy soil. Often these soils are somewhat alkaline and high in minerals. Plants that thrive in this type of soil are going to be less enthusiastic in a rich, damp, organic soil covered with decaying plant matter (mulch). Drought-tolerant plants tend to have small leaves, often laden with sap, which produces the spicey, pungent aromas characteristic of California chaparral. Small, sticky leaves help the plant conserve water and thus thrive in warm, dry air. Lavender, Salvia, Rosemary, Rock Rose, Lupine and California Sagebrush (Artemisia) are examples of such plants. Mulching is still a good idea, but if you use wood chips, cover the soil up to the base of the plant and leave it bare around the crown. Alternatively, mulch with gravel, which dries quickly and reflects light and heat up into the plant. If you happen to have this kind of unimproved native soil in your garden, a light screed of very small rock (1/4") and regular weeding may be all you need to grow Mediterranean, native, and other drought-tolerant plants.
Josh Reilly, aka Uncle Skip, writes about seasonal gardening from his home in beautiful Ben Lomond, California.
Photos by David Chadwick, Boulder Creek