May 20, 2021
By Antonia Bradford
Today is nine months to the day that my home burned to the ground. I will never forget the moment that I found out she was gone. I have never experienced grief like that. Deep. Painful. I screamed and sobbed in my husband's arms for an hour. I would wake up in our hotel as the sun rose in the smoke-filled skies of Santa Cruz, and before opening my eyes, would tell myself that it had just been a dream.
Nine months feels like a lifetime ago. Oftentimes I still can't believe this happened to my family and our community. When I talk to people now about what it means to have lost a home to fire, I tell them that losing the house wasn't the worst of it. It's the after. Fighting the insurance companies, the SBA, and of course Santa Cruz County. These are the things that truly break you. So many fire victims right now are deep in despair fighting daily battles that make us feel that rebuilding our homes, reclaiming the lifestyles we once had, is an impossible dream. There have been days that I am so worn down by it all that I feel hopeless. My husband reminds me that it's not hopeless, it's just way harder than it should be.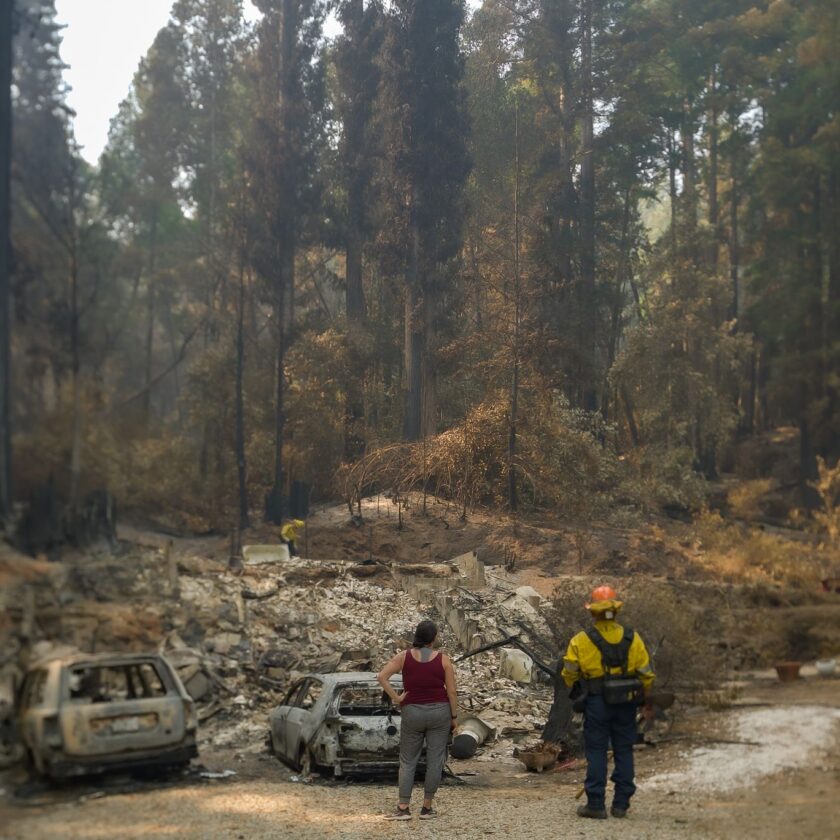 At this point in my recovery, I am doing my best to pay attention to the things the fire gave me rather than what it took. I have met amazing activist women in my community. Powerful women. I have found my own voice and strength, which are stronger than I ever imagined. My connection to this wonderful place we live in is so strong, I can't imagine living anywhere else. The fire has changed me in very positive ways, for which I am eternally grateful.
I am often asked by non-fire people how they can help. First, show up when we need you. Join our local support page for updates. Help us press the county for authentic help rather than lip service. Write to our supervisors to express support for the fire community's rebuilding efforts. The struggles to build in Santa Cruz County are widely known, and many fire victims are being treated unfairly and experiencing costs and processes that are unfair and prohibitive.
Here are some examples: Geological survey requirements costing tens of thousands of dollars. Unknown and inconsistent permit fees. Huge costs for temporary dwelling permits. Broken promises. The list goes on and on and on.
Second, listen without judgment or thinking that we should be over it by now or that time has healed some of our pain. This process and this grief are unlike anything I've ever experienced. It is layer upon layer, and the process of recovery and healing is complicated. Life has largely returned to normal for the vast majority of our community, but for those of us who lost everything, we are re-traumatized every day in our efforts to just get back home. Our lives are not easy right now. I won't call myself a "survivor" until I am back home on my land in my rebuilt house. Until then, I haven't survived anything.
If there is any place to experience this loss, it is San Lorenzo Valley. I have been so humbled and amazed at the coming together of our beautiful mountain communities. The generosity and grace that complete strangers have shown my family and other fire families has moved me to tears so many times in the last nine months. Sometimes tragedies can show you what you are really made of, and this fire has shown that this mountain, in the hardest of times, has an abundance of love, strength, and community that will help us get through this.
Thank you for standing with us. We couldn't do this without you.
Facebook Group: SLV Support Group for Home Loss
June 5 Meeting for Fire Families: Community Driven Development for CZU Fire Recovery
Antonia Bradford lives in Boulder Creek with her husband and five children. She is a writer, artist, and business owner. She is an advocate for fire families in the area, having lost her own home in Boulder Creek. She is committed to making contributions to the San Lorenzo Valley community wherever and however she can.
Featured photo of Christopher Bradford at his property in Boulder Creek. Photo by Antonia Bradford.