Love Apple Farms: Earthbound in Scotts Valley
By J. A. Romanoff with Julie Horner
"Only two things that money can't buy, that's true love and homegrown tomatoes" – Guy Clark
You might find it hard to believe that the tomatoes you eat on your pizza or pasta were once believed to be an aphrodisiac. Tomatoes are native to Central and South America. When they were brought to Europe in the 16th century, they acquired the nickname "love apple," possibly stemming from a very old legend that implied that the seeds of a tomato resemble the seeds of the apple mentioned in the Old Testament story of Adam and Eve in the Garden of Eden. The name may also come from the French, known for their penchant pour l'amour.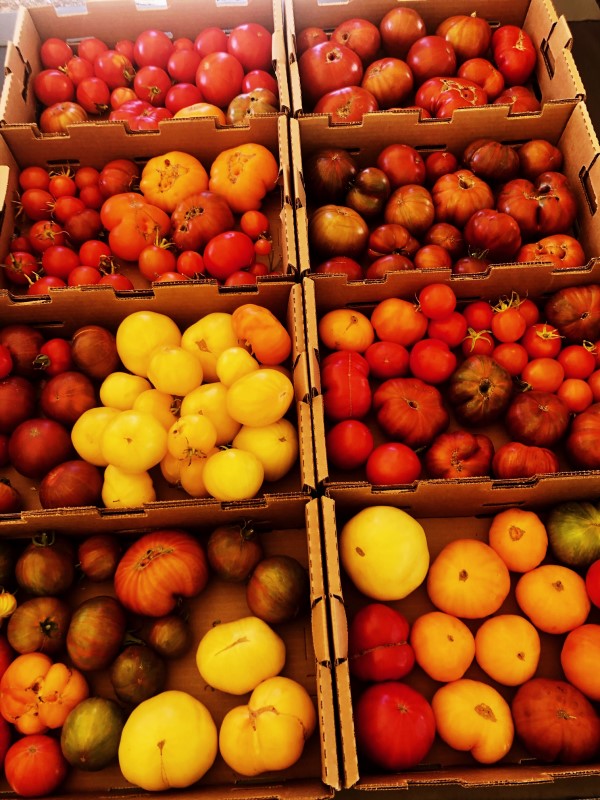 Hold a plump, vine-ripened tomato in your hand warm from the sun and breathe in that familiar, seductive aroma. Oh temptation!
Most tomato lovers find Love Apple Farms by word-of-mouth. Initially, owner Cynthia Sandberg grew tomatoes and sold them at a small fruit stand on her Ben Lomond property. She and her son Zachary Geske founded Love Apple Farms in 2000, and in 2010 purchased 22 acres on the former site of the Smothers Brothers Winery on Vine Hill Road in Santa Cruz. The retail greenhouse is located at Ivy's Porch in Scotts Valley (5311 Scotts Valley Dr).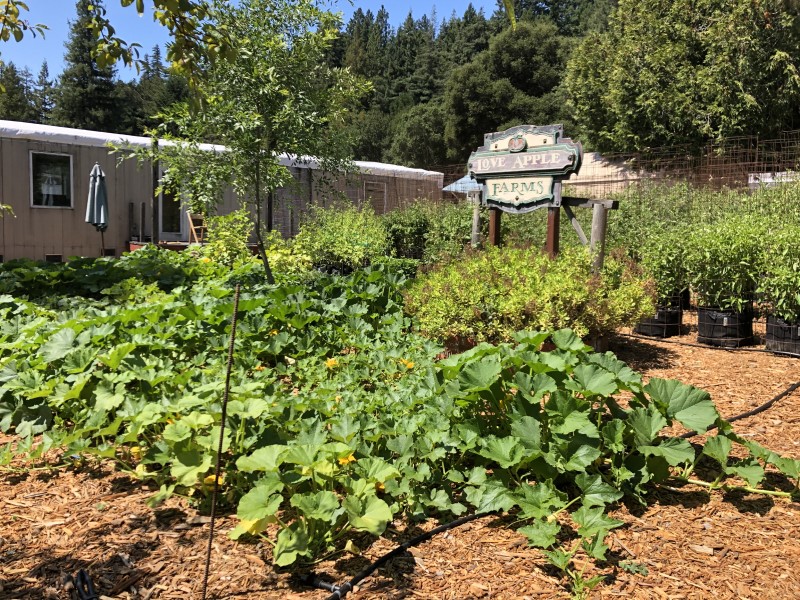 Love Apple Farm cultivates rare, non-hybrid heirloom tomatoes, some of them very old varieties that are especially suited to small home gardens. These heirlooms come in many fantastic colors, shapes, and sizes, and promise a range of flavors sweet on the tongue. Heirloom tomatoes tend to be more tasty and nutritious than some of their commercial cousins in the supermarkets and are a delight to discover at local farmers markets. Studies have shown that organically grown tomatoes picked ripe are high in healthy nutrients, including vitamin C, carotenes, vitamin K and lycopene, a nutrient that is known to be protective against cancer, heart disease, cataracts, and macular degeneration. Savor them sliced fresh and eaten unadorned.
According to Geske, "Our whole business is born out of a love for the tomato fruit," and he and his mother share a passion for preserving the many old varieties. They have also created their own new varieties, with catchy names like "Sexy Beast," "Summer Love," and of course, "Love Apple."
In addition to tomatoes, Love Apple Farms provides seedlings for a variety of vegetables, herbs, and several types of melon. You can also check out their classes in cheese-making and wreath-making, or purchase fresh produce at their occasional produce sales. Since the beginning of the COVID pandemic, their business has roughly doubled, due to an increased interest in home gardening.
Visit loveapplefarms.com for details on upcoming classes
Photos by J.A. Romanoff
Featured photo of Love Apple Farms in Scotts Valley by J.A. Romanoff