Lola Finds Shelter From the Storm: Animal Advocate Ryan Okrant Facilitates Dog Rescue
By Julie Horner
They found "Lola" wandering alone near Hollister's flood-ravaged Lover's Lane neighborhood in January. Boulder Creek animal rescue advocate Ryan Okrant got the text to help search for missing animals, and he and volunteer Omar Harasis made the trek. While surveying the scene, a woman flagged the two down: would they take a cold, shivering pup with a limp in for help? They bundled up the 23-pound terrier mix and took her to Dr. Jeff Fankhauser in Salinas. The 12-18 month-old dog was un-chipped and had an untreated injury in her front shoulder that had healed badly; she'd been living with the limp but was otherwise healthy, if somewhat underweight, and eager for reassuring company. It was Okrant's first rescue of 2023.
Okrant became a household name during the CZU fire in August of 2020 and the months afterward by creating a role for himself locating lost pets. Using a hand-written Cal Fire right-to-pass, Okrant gained access to burned-out neighborhoods and parkland to install and maintain feeding and watering stations for displaced domestic animals and wildlife that had become disoriented. Many of the pets Okrant recovered did not have a home to return to. With Okrant's diligence and support from a team of volunteers, many domestic cats were successfully trapped and sent on to shelters for their owners to retrieve or to be adopted out if owners had lost homes and could no longer care for the animals.
In partnership with Lompico local and co-founder Dan Dela Rocha, Okrant went on to form the 501(c)(3) non-profit Animal Survival and Safety Emergency Response Team (ASSERT), now called ASSERT Drone Animal Rescue. Okrant and his team are in demand across the United States to seek out at-risk animals affected by disaster. Since the CZU, Okrant has been deployed with his team to the 2021 western Kentucky tornados where 41 animals were rescued. Then to Colorado later that year to locate domestic cats by drone after the Marshall Fire, which destroyed 1,000 homes in Superior, Louisville, and Boulder Counties.
The infrared technology mounted to the drone allows rescuers to locate an animal's heat signature. Pinpointing the GPS coordinates from the air, the team on the ground then moves in to hand capture the animal or set up a live trap.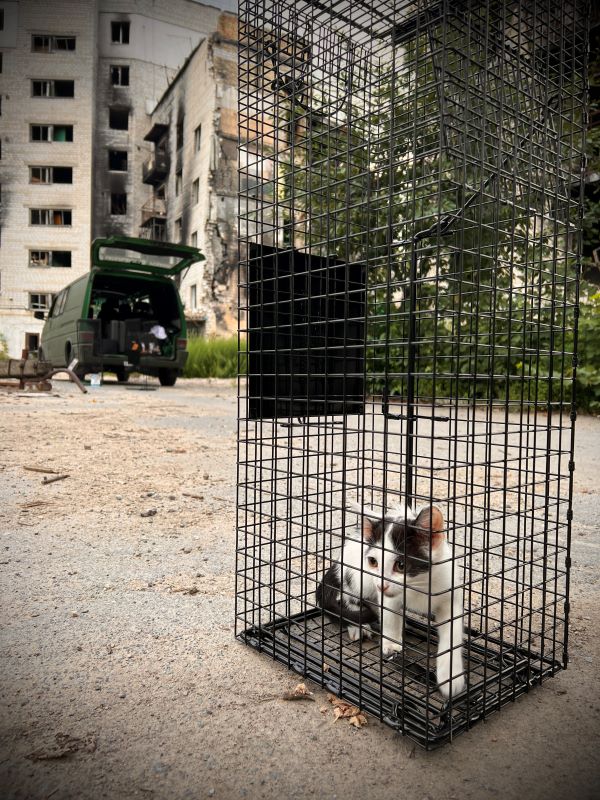 Okrant and team have most recently been working in Borodyanka and Irpin, heavily bombed suburbs of Kyiv, Ukraine alongside other specialized nonprofits feeding and tending to the countless animals that have been left to survive on their own. Monitoring calls for assistance on social media, Okrant was able to connect with Ukrainian armed forces through Facebook advocacy groups to obtain a security escort. During an exploratory trip in June last year, the team rescued over 20 animals, mostly cats. Okrant and team returned to Ukraine in August for an abbreviated 8-day trip in advance of an escalation in violence. Okrant procured an apartment where he was approved to set up a temporary shelter. They were able to rescue 56 cats from the streets. Through a network of volunteers, the cats were given medical attention, spayed or neutered, chipped, vaccinated, and with a passing bill of health, transported out of the country to be fostered and adopted.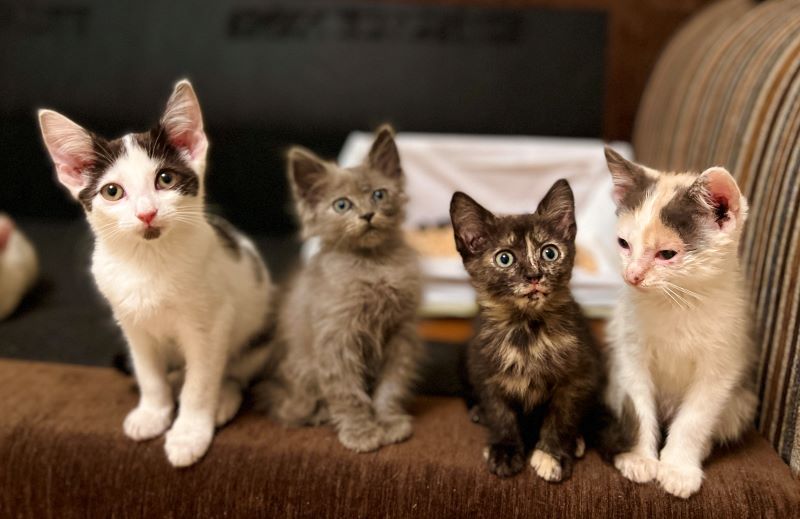 "Our most epic rescue there," Okrant said, "was a mother cat and four kittens from the 8th story of a bombed-out apartment building." They'd found the mother by using the infrared drone and then set a live trap. They found out about the kittens when they returned to find one of the kittens sitting atop the live trap, mama inside. Okrant set up an infrared trail camera. The next day the camera's memory card showed an additional three kittens. Okrant set drop traps, and eventually, all of the kittens were secured. "It was quite an event sitting there in the bombed building in utter silence with a pull cord watching and waiting for these little kittens to come out."
Lola's New Home
ASSERT's Boulder Creek volunteers Shelby Wright and Travis Furia wanted to adopt a dog and had just put in an application. Along came Lola. Able to give full attention to the new family member, Lola is settled in, answers to commands in English and Spanish, loves dinnertime, and is incredibly well-behaved. "She just wants to hang out and be loved," Okrant said. Lola's original owner did not come forward to claim her, so Wright and Furia made the adoption official. "My dad always sang the song Lola, L-O-L-A Lola," Wright explained. She looked up the meaning of the name "Lola" and discovered that it means that you have to understand the sorrows in life in order to experience joy.
ASSERT animal rescue accepts donations and volunteers, and you can fill out a missing animal report online. The website also contains a fascinating collection of rescue stories and videos: assert.earth.
Follow ASSERT at facebook.com/ASSERTDroneAnimalRescue.
Julie Horner writes about the people and cultures of the Santa Cruz Mountains. Reach out to Julie at leap2three@gmail.com.
Featured photo of Ryan Okrant and Lola by Julie Horner