How Do We Talk About Water in the San Lorenzo Valley?
By Jayme Ackemann
This is a column I write each month without compensation. It is entirely my personal opinion. I am a San Lorenzo Valley Water District Board Member but the opinions contained herein are completely my own.
The United States has been failing to maintain its roads, bridges, and utilities for decades. A report known as the "Infrastructure Report Card" tracks the state of the nation's disrepair and rates it. Last year we got a C-minus. California's water and roadways are barely passing with Cs and Ds. This isn't a surprise to anyone living in San Lorenzo Valley. 
The roads are in a continuous state of disrepair and the county is "robbing Peter to pay Paul" in order to try to catch up with its backlog of road maintenance.
Increasing regulations around well and septic systems are making it harder for some CZU fire victims to rebuild, while lack of sewage and access to water infrastructure throughout the valley compounds the problem.
Significant portions of our water infrastructure remain to be rebuilt post-CZU fire.
Understanding the size and scope of the problem means recognizing that these are generational investments that were initially constructed in the post-WWII industrial boom, though in the Valley much of the infrastructure is even older than that. Our highways, bridges, and water systems are nearing the century mark, and Santa Cruz County has done a historically poor job of planning for the next generation of investments, not unlike the rest of the country.
I'm advocating for an SLV Water District workshop where Valley residents can learn about the specific recovery challenges we are facing and weigh in on the best and most cost-effective ways to approach them.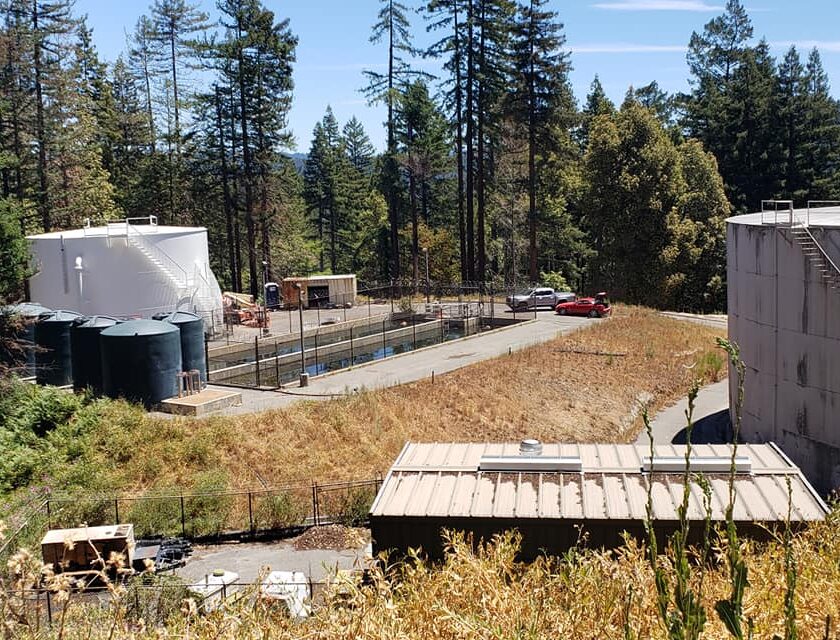 Changing Valley
San Lorenzo Valley was a rural mountain community that hosted hearty locals and summer vacationers. When the local timber business slowed, most of the new growth came from families building summer vacation cabins. Many Santa Cruz Mountain cabins were only used for part of the year. Septic systems, wells, and roads saw less year-round demand and so didn't require the same maintenance costs and investments that other communities might.
In unincorporated communities where new residential neighborhoods were considered, private road associations were often required in order to receive local approval to build. Costs to maintain the roads grew as more full-time residents moved into these homes, but in neighborhoods where there is a mix of summer homes and regular residents, recovering road maintenance costs can be challenging.
Unincorporated communities have a far greater percentage of privately maintained roads than do cities like Scotts Valley and Santa Cruz. The burden falls to the residents in these parts of the county who are often also absorbing additional costs related to septic maintenance and repair and private well ownership.
Some of the delays CZU families are experiencing in rebuilding their homes can be traced to the lack of San Lorenzo Valley utility infrastructure. Changing regulatory policy around septic systems and access to the Water District are now creating barriers to reconstruction that simply didn't exist when some Valley homes were originally constructed in the last 100 years.
These regulations are a double-edged sword that protects our watershed but is causing cost and delay for the fire families navigating an already onerous rebuilding process. These are the kinds of trade-offs that exist in communities like ours that need to be discussed.
SLV Water District directors are grappling with these questions as we consider how to repair our longest 5-mile pipeline. The above-ground pipe and many of its intakes were destroyed during the 2020 wildfire. Without it, the District is unable to process much of its surface water, which means that we've been relying on limited groundwater resources. That's not a sustainable solution.
We want to move as quickly as possible to identify a replacement but we have to consider the following:
Cost & Fire Hardening — The previous pipeline was above-ground. Federal Emergency Management Agency (FEMA) funding will replace 'in-kind' infrastructure, meaning they will help pay to restore what you had. But if you want an upgrade — burying a pipe that was previously above ground, for example — the Water District and its ratepayers must cover those costs. That could leave San Lorenzo Valley Water District customers looking for tens of millions of additional dollars for the pipeline replacement project.
Environmental Impacts — Burying five miles of infrastructure through the San Lorenzo Valley Mountains will require the construction of an access road and retaining walls through the SLV watershed and would require the Water District to remove several football fields worth of trees. These impacts to the watershed would require study before we could move forward.
San Lorenzo Valley Water District customers should have a voice in these important decisions just as all Santa Cruz County residents should have the opportunity to weigh in on how we invest our infrastructure dollars.
That's why I support investing in a community outreach process that will look at the decisions that will determine how quickly we can move the recovery process forward. The speed with which we restore our water infrastructure affects the speed at which some fire families can complete their rebuilding process. But, these decisions also affect the water resiliency of our entire community.
We're fortunate to have engaged and educated advocacy organizations in the San Lorenzo Valley. But these solutions will take a community-led discussion around the priorities that should drive the next phase of the Water District's fire recovery process.
Jayme Ackemann is a public affairs consultant, freelance writer, and member of the Board of Directors of the San Lorenzo Valley Water District. She has worked on major capital investments and water infrastructure construction projects in the Bay Area. Jayme is a resident of Ben Lomond.