Heirloom Fig Bread Pudding
By Alison Steele
Baking season has officially arrived, along with the first ripe figs in the garden. I have resisted most temptation to buy figs at the farmers market knowing that these two heirloom trees produce enough fruit for vinegars, jams, cakes, salads, teas, puddings, pizzas, and brandy for the coming winter.
Not only are they loaded with minerals and antioxidants, but fiber to balance blood sugar levels, feed the gut microbiome, and ultimately nourish the winter psyche. One of the earliest cultivated trees, Ficus caria is indigenous to the Mediterranean. It's no surprise they still thrive here in Georgina Locatelli's garden in Boulder Creek, along with her garlic, rosemary, and the olive trees we planted a few years back.
Bread pudding is the perfect treat for the first cold days of the season with longer baking times to warm the home, the hens still laying a few eggs, and late-season fruit to enjoy. These,  partnered with a few pantry staples, make it a quick and easy delight!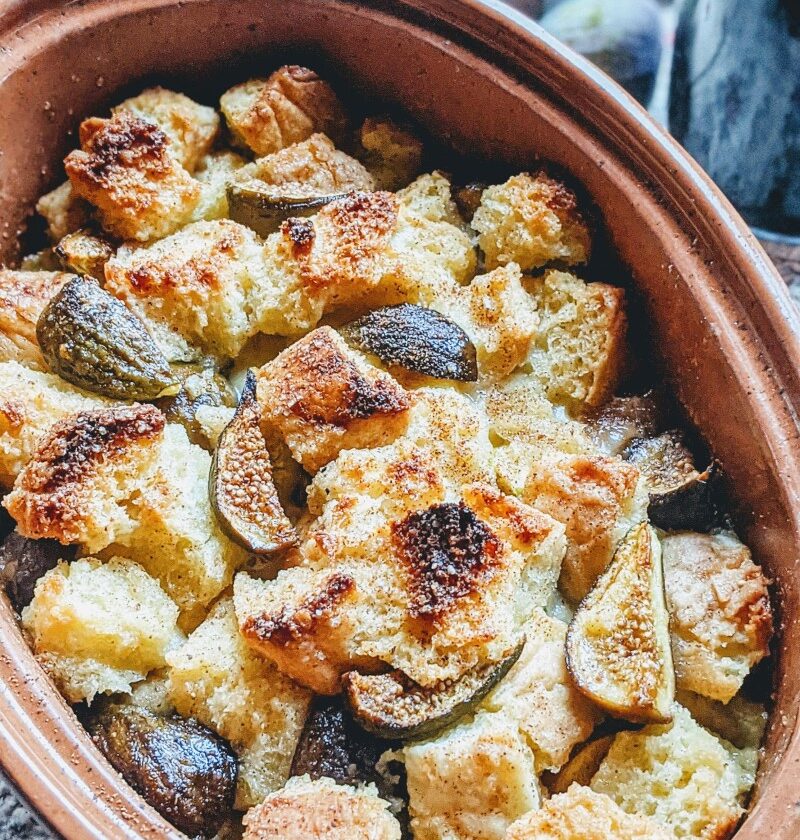 Heirloom Fig Bread Pudding
1 pint fresh figs, quartered lengthwise
½ loaf day old bread
3 T butter
½ c sugar*
3 cups full fat milk**
3 fresh eggs
3 T cultured butter
1/2 t salt
1 teaspoon vanilla
3 large fig leaves, optional
¼ teaspoon freshly grated nutmeg
½ cup dark chocolate chunks, optional
*coconut sugar works well with this recipe
**coconut milk can be used for the custard. Add 10 minutes to bake time.
Preheat the oven to 350°F. Grease a 9" x 9" baking dish or cast iron skillet. Cut day old bread into 1 inch cubes. Crumple fig leaves. Scald milk with the leaves, then squeeze every drop into the milk and discard to the compost pile. Stir in butter and sugar until dissolved. Beat eggs slightly in a large bowl adding vanilla extract and salt. Slowly pour scalded milk over beaten eggs while stirring. Mix thoroughly. Add the bread cubes and toss until coated with the liquid. Fold the fresh figs into the mixture along with the chocolate. Pour into a greased baking dish or skillet. Bake for about 1 hour or until a knife inserted in the center comes out clean. Can be made a day ahead. Serve hot or cold with freshly whipped cream or vanilla ice cream. Serves 6-8.
A native of Virginia, Alison Steele lives with her husband, two children, and cat in Boulder Creek where she raises quail, chickens, fruit trees, vegetables, and herbs. Alison plays banjo and sings in Sugar by the Pound.
Photo by Alison Steele