Felton SantaCon Celebrates a Decade of Absurdity
Jolly Annual Flash Mob Kicks off the Season with a *Hic!*
By Julie Horner
Brigit Zent has always been someone who dresses up. "My dad was a reenactor. He did mountain man reenactments and then Civil War." A member of the Society for Creative Anachronism (SCA) for the last 20 years, Zent said, "I've always liked costuming." You'll find her at Burning Man, the Great Dickens Christmas Fair, the annual Santa Cruz Mountains Steampunk Picnic, and the Felton SantaCon.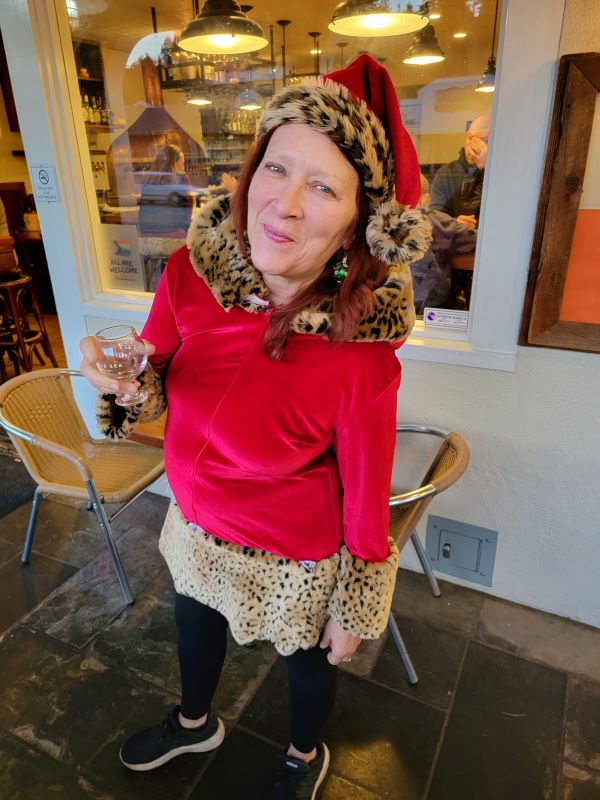 A Proper Steampunk Picnic
Zent is a former State Park Interpreter and Naturalist who spent many years assisting visitors at Henry Cowell Redwoods State Park. The Felton resident is also a longtime follower of "Steampunk," a reenactment genre where sci-fi meets the madcap mechanics of the Victorian past. Zent has created her own Steampunk Picnic, a hat tip to the Handcar Regatta maker festival in San Francisco. The gathering involves lunch and lawn games dressed in bustles and waistcoats and held at historically appropriate locations like Wilder Ranch, Felton Covered Bridge, Roaring Camp, Henry Cowell, and most recently, Evergreen Cemetery. She and a like minded group of vintage fashion enthusiasts — who also enjoy a well pulled pint on occasion — welcome revelers to join them every late September.
What on Earth is SantaCon?
Viewed as performance art, the extremes of the holiday season can make good theater. Zent said, "I had gone to the San Francisco SantaCons several times but thought this is getting too big, it's just a drunken pub crawl, so I'll just have one in Felton."
According to vox.com, "SantaCon is a roving, loosely organized event where people dress like Santa Claus, elves, or other holiday figures and parade around a city in varying states of sobriety." Zent said the Felton SantaCon definitely involves a scaled down pub crawl in full Santa themed regalia, plus the group sings bawdy songs from a naughty caroling book, and hands out candy canes to unsuspecting passersby. "We try to do interactive stuff, in the traditional spirit of the event," Zent said. This year would have been the group's 10th SantaCon, but the pandemic put the Grinch on 2020.
The origins of SantaCon harken back to 1970s Denmark.
In the December 1977 issue of Mother Jones, Ellen Frank wrote that the basic elements of SantaCon were inspired by a revolution of sorts. A guerilla performance group called Solvognen had descended upon a department store in Copenhagen just before Christmas, all dressed as Santa, and gifting shoppers with merchandise that hadn't been paid for. The action was meant to be a poke at American consumerism. While this anarchist behavior did not sit well with the authorities, the group's objective, the article states, was to inject public demonstration — most notably political expression — with an animated exuberance that helped clearly convey the message.
The SantaCon events website, Santarchy, puts the first officially named "SantaCon" on the record book circa San Francisco 1994. Gary Warne, who headed up an underground creative group at the time called The Suicide Club, was inspired by the Mother Jones article and pictured an amiable, non-political, and psychedelically surreal Santa prank event featuring scores of costumed revelers appearing simultaneously at various locations for the fun of it. When Warne passed away, the newly formed San Francisco Cacophony Society took up the mass performance piece, and by 2000, SantaCon had gone international. For a list of locations visit santacon.info.
Jolly Adult Fun
The Felton SantaCon involves a little good-natured mayhem as the group positions itself at the intersection of Graham Hill Road and Highway 9 and along the median in downtown Felton handing out candy canes. If you're going, meet in front of Humble Sea Tavern at 6256 Highway 9 at 3:00 pm on Saturday, December 3. The group will make its way among town shops singing songs and pausing for libation along the way. The Community Deck, Redwood Pizza, and Monty's are usual stops. This adult-only event winds up by 6:00 pm, but you can linger as long as you like. Zent said, "Join us as we bring a bit of Christmas cheer with the smallest SantaCon in California!" A Santa hat of some kind is de rigueur.
Note: Santa Cruz has its own SantaCon on Friday, December 2 starting at 6:30 at Abbott Square. Welcome good natured Santas!
Read more about the evolution of SantaCon: santarchy.com
Julie Horner writes about art, music, and culture in the Santa Cruz Mountains. Reach out to Julie at leap2three@gmail.com.
Featured photo contributed by Brigit Zent