Felton Music Hall SLV Strong!
By Michele Murphy
Some good news is on the menu at Felton Music Hall! Music! And terrific food!
Now that the county is doing better with its COVID-19 numbers, it has been deemed safe to attend live music events and indoor dining, with limited capacity. Management at the music hall is closely following all state guidelines regarding mask wearing, social distancing, and sanitization; they say keeping patrons safe is their highest priority, and so far, folks have been able adapt in order to enjoy the new scene.
Officially opening on July 3rd featuring Wolfmother as the first act, followed by Paul Thorn & local favorites, The Coffis Brothers in July, they were just getting rolling under new ownership when music venues were forced to shut down. Fast-forward a couple months, and that's a long time to be shuttered when the main piece of your business is dependent on live events.
Despite the setbacks and the current limitations, the future looks bright for Felton Music Hall, and local music lovers have a lot to look forward to.
A Passion for Music
The updated décor harkens back to the days of beloved local music venue, Don Quixote's. If you look hard enough at the new logo, you will see Don Quixote's image, homage to a venue that has hosted some of the world's finest talent, and has been perceived as SLV's living room to many, including one of the new owners, Thomas Cussins. A passionate music fan, promoter, agent, venue operator, and President of Ineffable Music, Mr. Cussins cut his teeth booking shows at the Catalyst in the mid-2000s while attending UC Santa Cruz, often heading up to the redwoods to catch bands at Don Quixote's. He loves the place. When it went up for sale, the future of the property's use was in question, which was of great concern to the live music loving community here. The current mission is to keep it what it is: one of the greatest live music venues anywhere, and Cussins and his partners are fully committed to its success and longevity.
Local bands and touring acts alike have gravitated to this magical spot and throngs of people have danced until they had to retreat to the outdoors to cool down. Many have missed cutting a rug on what some say is the best dance floor in all of Santa Cruz.
Become a Member of Felton Music Hall
In the long months since venues were forced to shut down, many things have been done to support this treasured local establishment, for instance through their membership program, a unique, innovative approach to accessing the live music scene, Felton Music Hall has maintained a revenue stream making it possible to stay afloat. They offer three levels of membership, giving folks everything from tickets to every show to discounts on food and band swag. Many members have continued to pay their dues despite the inability of the venue to host indoor events. We like our live music around here. The staff and management sincerely appreciate that support and are encouraged to carry onward and upward as uncertainty looms over the industry because of the pandemic.
Ordering Something to Go
A delicious way to support Felton Music Hall is to order food to go. FMH has carryout cocktail kits, and Steve Geyer is in the kitchen creating mouthwatering menu items and weekly specials like Taco/Thirsty Thursdays and Fried Chicken Fridays. Just so you know, Fried Chicken Fridays have sold out the past four weeks straight!
Now that music is allowed on a limited basis, until further notice, they are hosting small local bands and solo performances for a limited seated dinner crowd on Thursdays, Saturdays, and Sundays. Table reservations can be made by emailing feltonmusichall@gmail.com.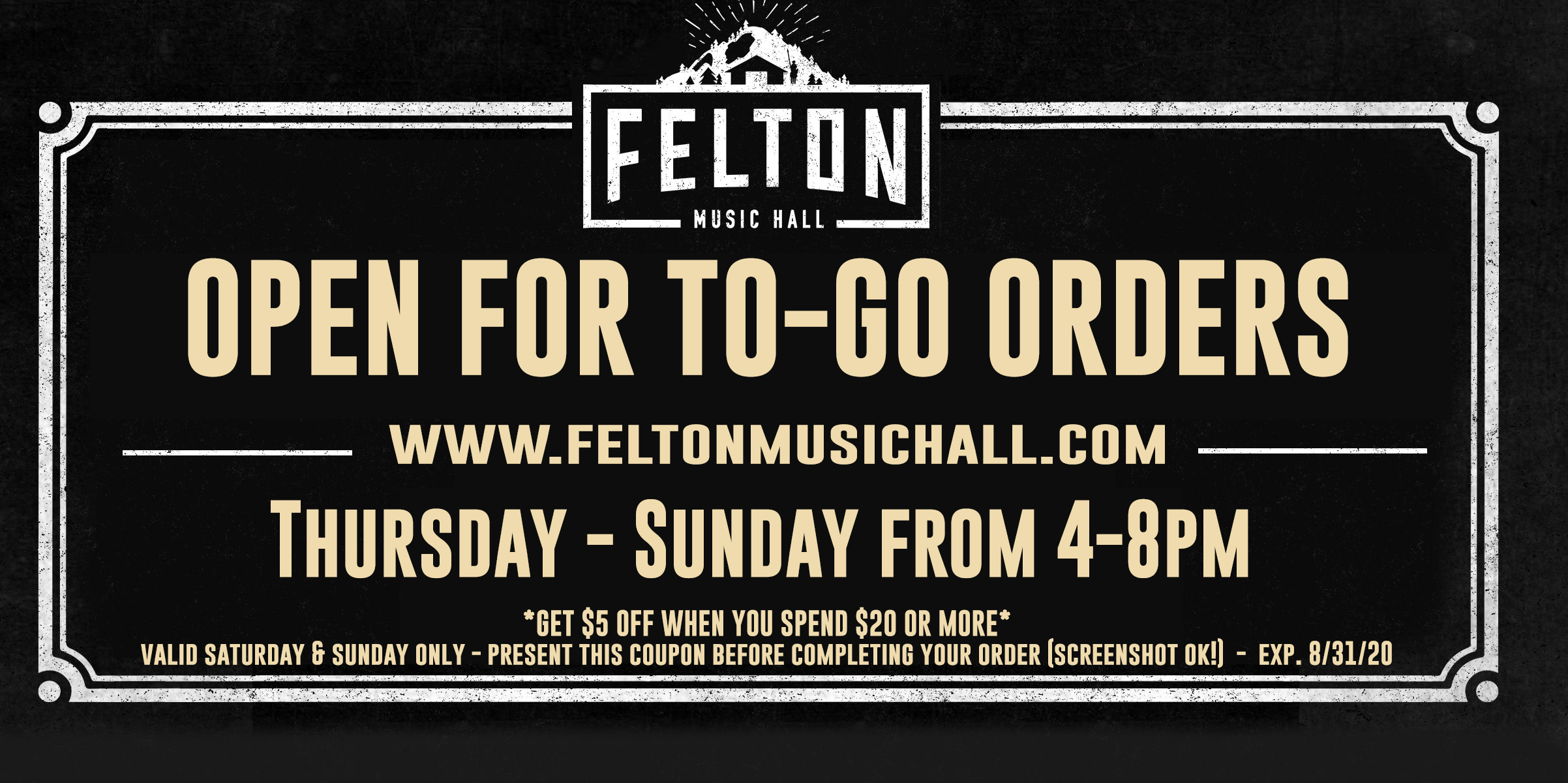 Felton Music Hall, 6275 Hwy. 9, Felton. 704-7113, feltonmusichall.com
Michele Murphy is a writer, Energy Efficiency Consultant, and singer-songwriter who has lived in the Santa Cruz area since 2005 when she migrated West from Buffalo NY to the beautiful San Lorenzo Valley, never looking back. An avid music lover, she is entrenched in the local music scene both as a performer and a fan, with her finger on the pulse of what is happening at the terrific selection of local music venues and with the bounty of local musical talent in the Santa Cruz area.