Early Summer Gardens in Full Riot
By Josh Reilly
It's peak season in San Lorenzo Valley gardens. Roses, salvias, Jerusalem sage, irises, poppies, lavenders, yuccas, succulents, penstemons, sedums, Peruvian lilies and ground covers like creeping Thyme are all in full riot. Azaleas and rhododendrons are lighting up shady corners. Pelargoniums and geraniums (often confused) are going off like fireworks. Long blooming standbys like Erigeron will be in full bloom for another month at least. Shrubs like Viburnum, Spirea and Weigela are flowering or tapering off. Annual and perennial Lupines are taking their final bows after a month on center stage. Self-sowing annuals like Nigella, borage, Cerinthe, and poppies are back again. California poppy and Mimulus (sticky monkey flower) are running amuck on every hillside. Valerian and feverfew are back whether you like it or not!
Hardscape — paths, rock features, and bed edgings amid this lush explosion of color and texture — give your landscape a comforting sense of form and purpose. Even a "meadow" type planting benefits from a path or two. Regarding meadows: they are difficult to establish in the SLV. Here, invasive weeds dominate throughout Winter and in Summer, many native meadow plants go dormant. The rare garden wizard can pull all this off with exquisitely timed mowing, sowing, watering, and preparation (solarizing, herbicides, etc). For the rest of us, hardscape features like paths allow better access for weeding, watering, and management of plantings and pest control, including gopher protection. How far do you want to have to reach into your beds to set gopher traps?
Larger boulders, carefully arranged, can be bold and eye-catching and introduce a sense of untamed natural beauty. Just remember that their installation requires teamwork, tools, and much mechanical leverage. River rock or beach pebbles are superb ground covers close to the house. They can also be used to install faux "creek beds." Rock walls can define changes in elevation (no shortage of those here).  Pro-tip: ¼" – ½" pea gravel is actually a superb mulch and growing medium for succulents and drought-tolerant plants. Even if you don't replace them with rock beds, you still benefit by removing ALL plantings adjacent to the house. These "foundation plantings" were a big fad in the 50s, 60s and 70s.  Juniper, Euonymus, privet and, God help us, English Ivy, were crowded into narrow beds right next to foundations as a kind of landscape afterthought. They are effective fire bridges. They hold moisture next to your house all winter long. They harbor rats and are a maintenance nuisance. Do yourself a favor and yank them out. Replace them with a bed of gravel, river rock, or beach pebble, all the way around the house. Even regularly weeded dirt around the house beats foundation plantings in appearance, function, and fire safety.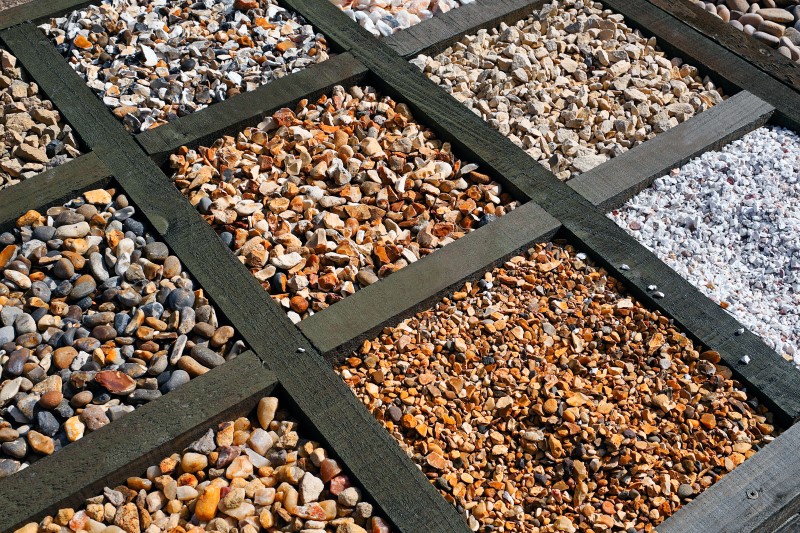 Gravel paths between beds and planting areas act as fire breaks and greet your feet with a soothing crunch, like brushes on a snare. The eye naturally follows a path into your garden, ordering the experience in time and space. Gravel paths should be about 4" deep. A 2" layer of base rock first will help with long-term maintenance. You will need to weed these rock beds and paths (and even concrete paths eventually). Avoid "landscape fabric." This annoying synthetic sheeting is not biodegradable. It eventually surfaces its frayed edges peeking out through your paths and borders. It doesn't really help much either. Instead, consider cardboard or a paper landscape fabric. This material will break down between 2 and 5 years after installation but will prevent weed growth under the path for the first couple of years. After that, weed seeds will blow in from off site and no kind of weed barrier will help. So weed, you must. Think of it as karma yoga, giving you a way to enjoy the beauty of multi-colored rock up close, in light and shade, wet or dry.
Josh Reilly, aka Uncle Skip, writes about seasonal gardening from his home in beautiful Ben Lomond, California.
Featured photo: Gravel path in a summer garden
Photos by depositphotos.com