Downtown Boulder Creek Launches Bench Adoption Program
By Julie Horner
Members of the BCBA, a representative from 5th District Supervisor Bruce McPherson's office, and community advocates met in front of Scarborough Lumber at Boulder Creek Hardware on Wednesday morning, September 21, 2022 to celebrate Boulder Creek's first permanently installed bench in the downtown district. The bench was assembled and anchored into concrete by Jordan Booth and Kevin Foster in August 2022. The bench is a gift to the community from the BCBA funded by donations representing local businesses and individuals. The celebration on Wednesday also marks the project launch for the installation of additional benches. 
Project lead and BCBA Vice President Tamara O'Kelly said, "This ribbon cutting isn't just about a bench. It's about how the community came together to make it possible."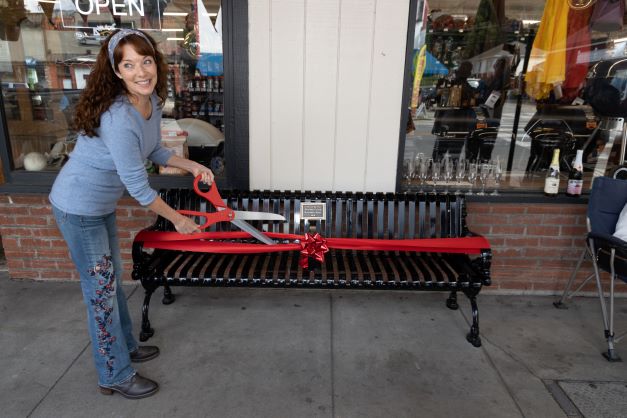 When O'Kelly moved to Boulder Creek in the early 2000s, she found a downtown district worn with time but rich in character. She approached the BCBA and proposed the idea of restoring and beautifying main street — Central Avenue or Highway 9 — with its weathered facades and horse hitches embedded in the sidewalks. O'Kelly joined the board, and with guidance from Santa Cruz County's then Economic Development Officer Barbara Mason, the Main Street Boulder Creek project was launched. O'Kelly is now joint Chairwoman of the Boulder Creek Main Street America™ Program. She shares the chairmanship role with Karen Edwards under the BCBA umbrella.
The Main Street program is a national grassroots effort to revitalize older and historic commercial districts into inviting public spaces to shop, dine, and spend time exploring. O'Kelly's first project under the program was to install strings of lights to frame the building fronts spanning the entire downtown district, from the 1892-era Women's Christian Temperance Union building near the corner of Highway 9 and East Lomond Street to the Tree House Cafe building at Middleton Avenue known for its live redwood tree growing out of the dining room. Since then, O'Kelly and the BCBA have introduced old-world acorn-style street lamps and vintage-looking waste receptacles to help meet Main Street goals to reinvigorate the economy while preserving Boulder Creek's uniquely historic charm. The idea for installing matching iron benches throughout downtown Boulder Creek has been in the works all along.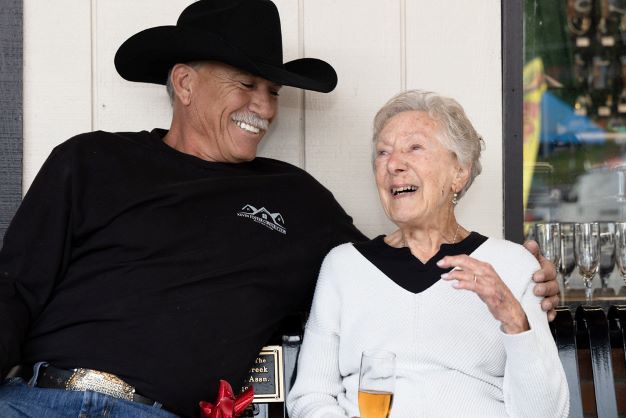 "This is just one of those projects we've been working on so hard over the years," O'Kelly said. "Each one of these benches means something very special to the person who has adopted it. We have four additional benches adopted that will be placed at multiple locations throughout town."
The project depended upon approval and permitting from the State and the County.
Present at the ribbon cutting, Steve Wiesner, Public Works Assistant Director of Community Development & Infrastructure & Transportation said the bench has rustic appeal and is absolutely appropriate for the historic downtown. The installation depended on meeting CalTrans rules, and the Board of Supervisors had to pass a resolution to oversee the installation. Wiesner said the County is happy to support the effort. "It's monumental to do something like this," Wiesner said. And he promises continued support.
J.M. Brown, Analyst for Supervisror Bruce McPherson's office said, "It's remarkably challenging to get anything done on Highway 9. So whether it's garbage cans or benches, any incremental improvements in the beauty of this amazing town, we're going to support 110%."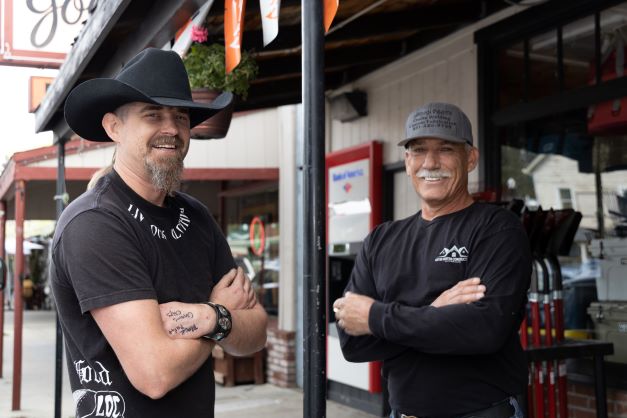 Jordan Booth, a licensed welding contractor who lives nearby and who helped install the bench said, "We got the easy part; we just did the nuts and bolts and assembled it. Tamara really had to do the hard stuff, dealing with the State and all the red tape; I know it took a couple of years. Hats go off to her." Fellow installer and General Contractor Kevin Foster reiterated that getting County approval is extremely difficult. "It takes a village," he said. "Anything that involves making this town a little bit better, we're all for it."
Organizer O'Kelly said, "These benches will be spread throughout town not only to beautify our district and add historic ambiance but also to provide a much needed place for our community to gather and linger downtown in comfort." If you are interested in adopting a park bench through the Main Street beautification program, contact the BCBA at info@bcba.net.
Photos by Sean McLean