Djangatos: Spreading the Gospel of Hot Club Jazz
By Julie Horner
Djangatos is a Los Gatos based acoustic trio that plays in the improvisational, fiercely rhythmic and lyrical style of Jean "Django" Reinhardt, the Belgian-born guitarist and composer who is celebrated for elevating so-called "gypsy jazz" to a wildly popular dance music form. Raised in an encampment straddling the gentrified streets of Paris and the medieval world of the Manouche nomadic tribes, Reinhardt's interpretation of American jazz combined with Romani traditions and dance hall influences of the 1920s and 30s is also referred to as "jazz Manouche" or simply "hot club jazz," so named because of Reinhardt's musical collaboration with violinist Stéphane Grappelli and their Quintette du Hot Club de France established in 1934.
As a young man, Reinhardt suffered the loss of use of several fingers on his left hand after a catastrophic caravan fire. A survivor of Nazi-era Europe, the music bloomed through extreme hardship. The Djangatos have dedicated themselves to this niche musical genre to preserve the art form, share the joy of the sound, and to honor those who have overcome inconceivable adversity.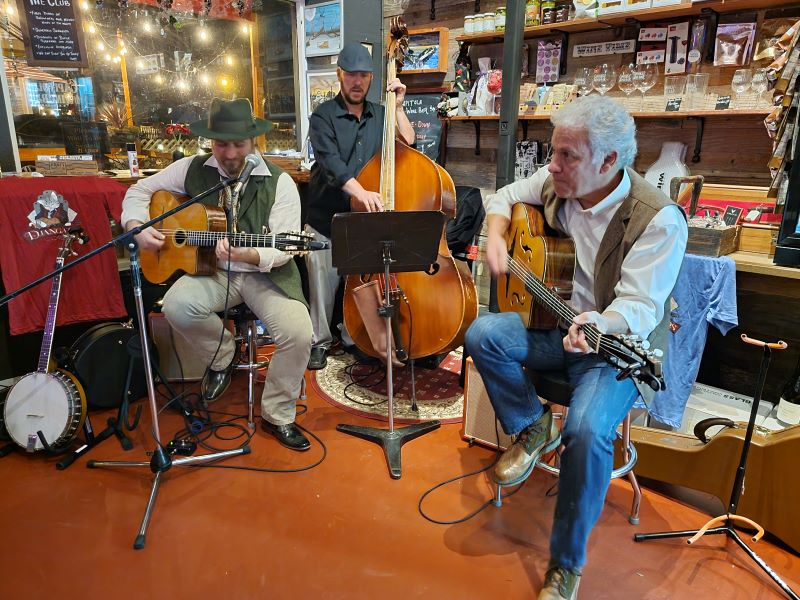 The Djangatos trio features two acoustic guitars, Robert Alan Witmeyer on lead and Ron La France on rhythm, and standup bass featuring some of the area's best musicians including go-to pro Dan Robbins and star pupil Tanner Hallinan. Tom Langan, Marley Edwards, and Andrew "Weasel Bleu" Lawrence have also jumped in with the band on bass. The Djangatos ultra traditional hot club sound is a banquet of complimentary nuances, warm and smooth, the lead guitar plectrum-forward, technically exquisite, expressive and nimble. The rhythm role serves up the bounce, the driving cadence that puts the thang in the swang. The bass sews the melody and rhythm together providing the heartbeat, occasionally occupying the fast lane with hard-swinging leads. Playing lively sets at familiar venues throughout the San Francisco Bay Area and Santa Cruz as a way to preserve the music and memory of Django, Stéphane, and the Quintett, these hep cats lay down some shimmering sharps and flats.
Adding more yum to the strum, Witmeyer also owns Keith Holland Guitars and School of Music in Los Gatos. Comfortable playing a number of instruments, he also teaches lessons. With multiple film scores and two critically acclaimed albums under his belt, he has released original music as Martini Max and the Swing Kats on iTunes and Amazon through his record label Blue Skool Records. Rhythm guitarist La France is founder of the Los Gatos Gypsy Swing Club and is an in-house luthier at Keith Holland Guitars. He hand-builds custom guitars, ukuleles, and mandolins and works part-time in the shop's Guitar Hospital repairing stringed instruments. Dan Robbins is an educator and veteran accompanist masterful in multiple musical styles on a variety of bass instruments. Hallinan is "a force of nature…someone to keep an eye on," according to Whitmeyer. Langan, Edwards, and Lawrence are all accomplished instrumentalists with extensive musical pedigrees.
Dress in your finest vintage attire and treat yourself to a night on the town with the Djangatos:
Capitola Wine Bar
Friday, April 15 | 6:00 to 10:00
Follow the band's Facebook page FB: @Djangatos for news about additional shows.
Djangatos@gmail.com | (408) 373-0533
********************
Julie Horner writes about art, music, and culture in the Santa Cruz Mountains. Reach out to Julie at leap2three@gmail.com.
Photos by Julie Horner