Without Permission: SLVHS Youth Leaders Host Peaceful Protest
By Julie Horner
On June 20, 2020, a group of current and former students from San Lorenzo Valley High School hosted a peaceful march in honor of Black Lives Matter from the high school in Felton to Highlands Park in Ben Lomond. There was an open mic at the park where approximately 150 people of all ages gathered on the green to listen, advocate, and for the bold, to take turns addressing the crowd.
At one point, the marchers occupied Highway 9, followed for protection by law enforcement vehicles. The group had reached out to local agencies in advance of the march with none sanctioning the students' activities along a public throughway. The march had been broadly announced on social media and motorists were encouraged to take alternate routes. Residents and businesses along the march route were invited to offer water and snacks to the marchers as they passed by.
Faith Brown, organized the event. She just turned 17 in May. "We marched from SLV High to Highlands Park with an open mic session where anyone could speak and share their story. There were cops behind us blocking traffic, but they definitely weren't happy about it. They asked us if we were really going to do this, and we said yes, we're going to do this, even without your permission."
Faith said overall the march went smoothly. "It was great how many people showed up." At one point a pickup truck tried to drive through the marchers but was blocked by a law enforcement vehicle.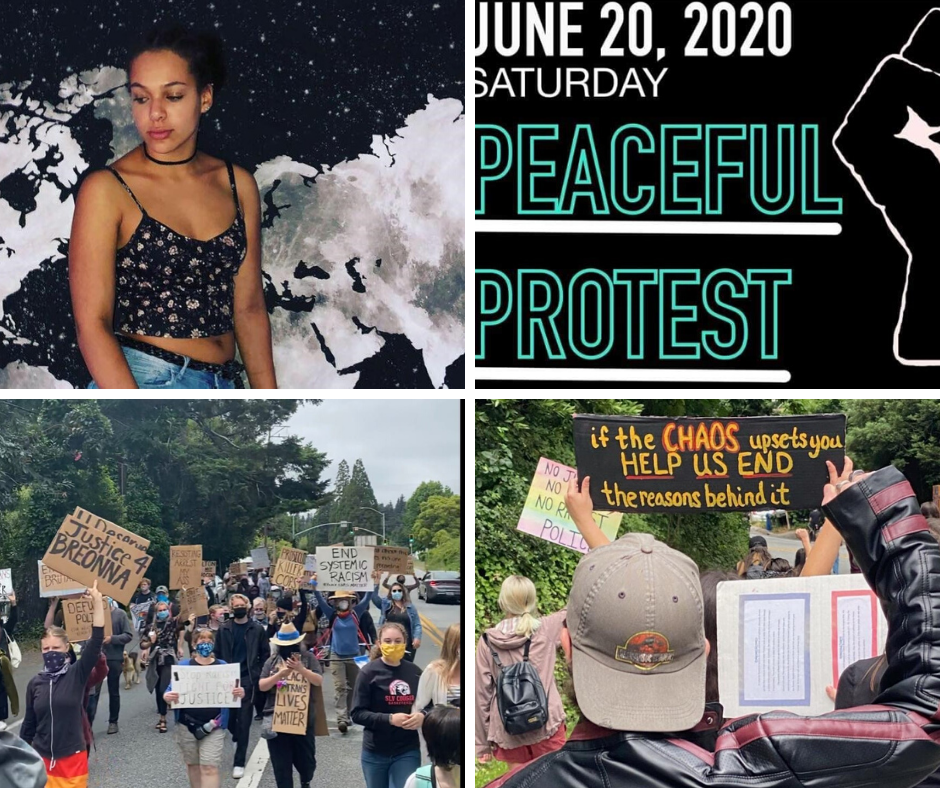 The decision to hold the march in San Lorenzo Valley was deliberate. She said Martin Luther King picked Selma for a reason. "As a mixed race girl, I've experienced a lot of racism up here. I'm trying to make a difference, and I think it's really important that we don't let the movement slow down." She points out that even when race discrimination isn't in the news, it's still happening. "They're going to try to put a cap on it again. We all bleed the same, we all have the same organs, we all have two arms, two legs. We're all human."
She met with some resistance as organizer, including negative commentary and death threats. "I had a lot of people say that I was just some stupid kid. But I've been through a lot, even not race-wise. This was a group of teenagers, but I think we did a great job of pulling it off. People need to realize that we're not stupid kids. We're going to grow up in this world and live in this world; this is our time."
Even as she has had to come to her own defense at times, "It reminds me why I'm doing this and why I'm doing it in SLV." There are plans for a similar march in Boulder Creek later this summer.
Faith said Castelli's Deli prepared 400 sandwiches for the marchers and gave the leftovers to local homeless and others in need. In turn, the marchers gave Castelli's all their donated money. "People gave food and water and Gatorade along the way." And as long as donations keep coming in for safety equipment, she says, they'll keep marching. "We had about 20 gas masks with us, and I'm certified in CPR and first aid. Safety was our first concern."
"There are a lot of young people there, I think that's the most powerful thing. I think we can make a difference. I want to educate people, I want people to ask me questions." Everything about the march was intentional. "People need to realize that even if you don't experience racism here, it's up here, and you need to fight it, for everyone around you, for absolutely everyone."
Follow Faith on Instagram @_faith.yeah_