We Will Dance and Smile Again
By Jon Payne
This house, this land, this community was at the center of the universe to me. It was a special house, built and designed in a 70s lodge style by a family who lived in it for decades. It dawns on me, as it has before, that other people have held this home deeply in their hearts and memories. Life's ups and downs were there before I inhabited this lovely home. But it was always more than a home. It was a slice of absolute paradise in a sunny pasture deep in the redwood forest, at the edge of an ancient sandstone ecosystem. Never did I take any day for granted here. I knew how special this place was, and how lucky I was to wake up here everyday. Our living room windows overlooked one of the tallest peaks in the Santa Cruz mountains, and tallest in the Big Basin mountain range, Eagle Rock. The wildlife loved the sunny field below my living room window and every day I watched animals grazing and raising their young. Rabbits, bobcats, deer, quail, and even mountain lions were regulars in the pasture below my house. And I had a front row seat. I lived where people would vacation.
I bought this place with the vision of building a community of friends. With the plans of hosting music events, recording albums, making a ceramics studio, cob house, and having a small farm with chickens, ducks, and edible gardens. And I did all of this. As a musician, I am connected with fantastic musicians around the state. I hosted them in my living room. Community members attended these shows. Touring musicians stayed here for free so they could save some money while out on the road. Bands would rehearse and retreat here. I made albums in the living room with my bands Wolf Jett and The Painted Horses.
Before the fire we completed a fully functioning recording studio and one album. I was hoping to offer bands a place to record on their own, covid safe and away from people. The next project was to build an outdoor stage and to host covid safe outdoor shows.
I drove up to the house with a fireman friend. My heart was pounding as we passed through the charred forest, burned down houses, and active fires. We pulled up and my heart sank. Confirmation of what I already knew. I was happy to find my chickens frolicking around happy to see me. I gave them feed and pears, and filled their water by tapping into a mostly-melted above ground swimming pool. A brisk walk around the property revealed some hot spots and smoldering fires. I put water on some of the flames and shoveled dirt over others. There seemed to be evidence that the melted pooI had emptied and put out some hot spots. Trailers and a small cabin were still standing. This was a victory.
I love the Santa Cruz Mountains. It's where I feel the most alive. I can't imagine making a home elsewhere. I'm not going to leave. I will rebuild.
Yesterday we played music for one last time "in" my old house. It felt right to have one final swan song before the rubble gets removed. Thanks to my bandmates Wolf Jett, the T Sisters, and John Gnorski for playing us, Denys Kozakis for recording the audio, Justin Kohlberg and Joshua Pausanos for filming. It was a very special experience, and I'm so grateful that we'll be able to share it with you all soon.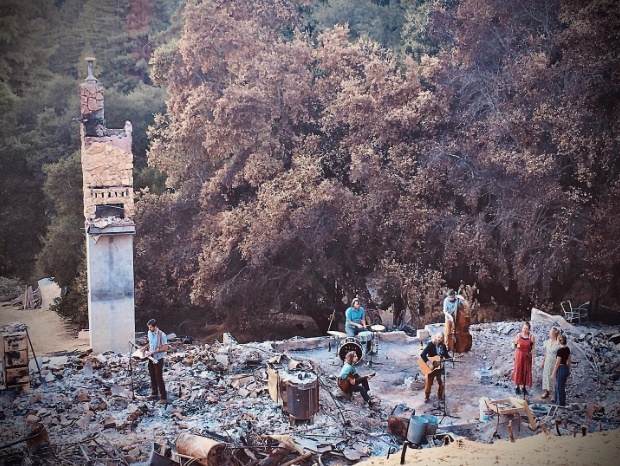 In the words of my bandmate Chris Jones/Wolf Jett, we will "build up a dream from the dead remains, and we will dance and smile again."
Stay tuned. @houseonahill_bc