Tech Backwoods: Steve Mead's Robotics
By Julie Horner
Steve Mead confesses that he is not necessarily a high tech guy. "I was doing LEGOs to have something in common with my sons, and I started volunteering at the library," he said. "The library approached me asking if I knew anything about robotics, and I said I could try." So with some research Mead put together a robotics program within the library system using LEGOs.
In Robo Basics, "The kids learn how to program ultrasonic and touch sensors, and it's all done with pictorial programming, wordplay, and sight and sound recognition so that they start to learn the terminology of programming," he said. In the more advanced Robo Sumo class, the kids are paired up in teams and they have to design, build, and program a LEGO robot to battle other teams' robots in a ring like Sumo wrestlers. The next level is Robo X-Games where the kids face sets of mobility challenges with their LEGO bots. Mead's library robotics curriculum pairs students with kids they don't know "to overcome just meeting somebody" and allows them to "work together through the obstacles of building and programming robotics."
Five years into the program that he teaches at the Santa Cruz Main Library and at Boulder Creek, Felton, and Scotts Valley Branch Libraries, Mead is affectionately known as LEGO Steve.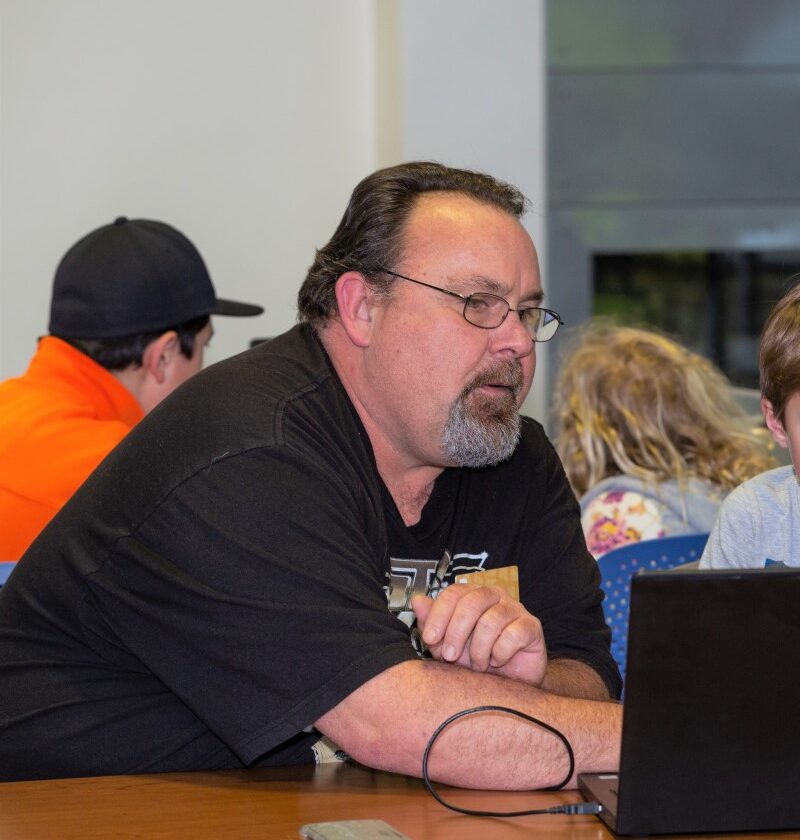 May the 4th Be With You
With a foothold in robotics, Mead started thinking "after my sons grew up and I didn't," that he'd get back into Star Wars, and what would be better than to have an actual robot come into the classroom. "After 13 months of woodworking and metalworking and programming and coming up with different sensors and motors that would work right, R2-D2 was born." The anatomically correct replica of Lucasfilm's iconic droid, called "Artoosc" (R2 Santa Cruz) to avoid copyright difficulties, became so popular with students and their parents that he was asked to make public appearances in other places in the community. So Mead introduced Artoo at Star Wars Day, May 4th, in downtown Santa Cruz. Attended by Stormtroopers and Jedis of all ages, the event now attracts upwards of 500 kids each year and continues to grow.
Built to Spec
Part of Mead's drive involves getting kids excited about building something themselves, following the concept that you can't just buy it from a box. Mead's Artoosc is built of wood from official blueprints available online. True Star Wars fans know that the original R2-D2 in the movies was painted Ford metallic blue and Chevrolet pure white. "I originally used the right colors," he said, "but I didn't like the way the blue came out so I went with Toyota blue." Mead said the only person who noticed was C. Andrew Nelson, one of the actors who played Darth Vader.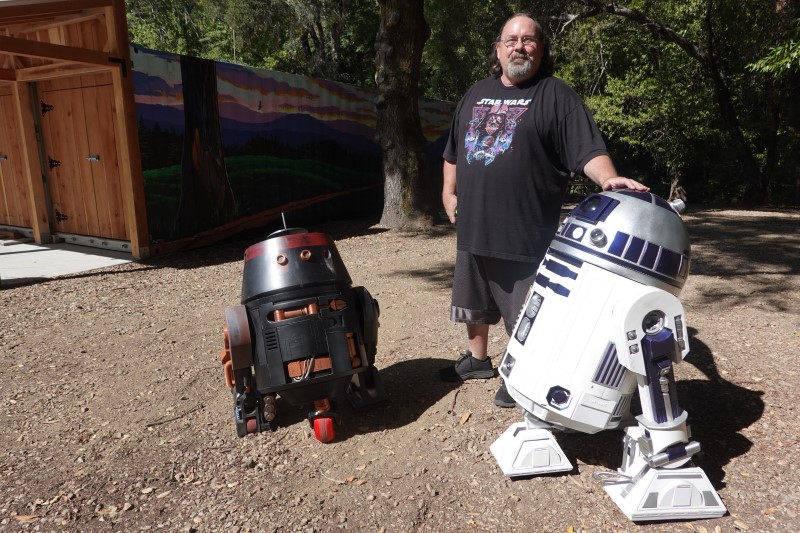 "ChopperBC," a C1-10P replica from the Star Wars Rebels television series complete with "Boulder Creek attitude," was created on Mead's Ender-3 3D printer. Sourcing a more eco-friendly polyethylene terephthalate glycol (PETG) 3D printer filament, he said "it's taken me three years to figure it out and get the printer to do what I want it to."
Both Artoosc and ChopperBC have MP3-enabled voices, and both are operated by a PlayStation PS2 remote. Mead noted that parents worried about their kids spending too much time with their consoles might actually be learning something after all. Mead's robots have been all the rage at special events throughout the Bay Area and are in demand at Comic-Cons and gatherings of all kinds. There's no charge for Mead or his droids; it's all volunteer for the fun of it.
"In our generation, we went from dot matrix to 3D printing plastic — making objects. That is such a leap in technology. Now you can do anything you want." Mead's love of science fiction is the catalyst that sparks kids' imaginations. It's like the future come true.
Follow Steve Mead and his robots: on Instagram @Artoosc
Photos by Julie Horner