Santa Cruz Latin Collective – Suavecito!
By Julie Horner
The Santa Cruz Latin Collective has its roots deep in the Latin rock and Afro-Cuban dance music genre with simmering rhythm-forward salsa, mamba, and brown-eyed soul influences. Lead guitarist, vocalist, and co-founder Oscar Estrella is an originating member of Sapo, the legendary Latin rock band that came out of the 1970s Chicano music scene in the San Francisco Mission District. Still a member of the groundbreaking old-school Latino, rock, jazz, and blues outfit, Malo, Estrella is a pioneer.
Co-founder and percussionist/timbales player Jimmy Palafox kicked off his first Latin music project right out of high school with the working title Sounds of Aztlán, a band and album concept celebrating his heritage and the post-Chicano aesthetic. Through mutual connections Palafox was introduced to Estrella and the two of them began collaborating on originals with vintage Latin street dance appeal.
"People in the Santa Cruz community want to hear different colors."
– Jimmy Palafox
Estrella and Palafox met core member and keyboardist Aidan Santa Cruz while playing as a pickup band at a gig on Branciforte. Joined by go-to sax player Everett Moody; Tom Bartolero on congas; David Clark-Riddell (Tubbyz) on percussion and bongos; David George, also a veteran of Malo, on drums; Noah Mogor on bass; Luis Felipe Argueta on lead vocals; Rick Brown on trombone; and guest vocalist (Malo, Foreverland), Aki Starr, the Santa Cruz Latin Collective was officially launched late in the summer of 2021. "It just took getting a band together to present this music," Palafox said. "People in the Santa Cruz community want to hear different colors."
Estrella went to Mission High School in San Francisco with Carlos Santana and spent a lot of time hanging out together playing soccer in Dolores Park. At the time Estrella didn't play more than the traditional folk music his mother had taught him on guitar, but when his parents moved the family out to The Avenues, that's when he started playing the blues. Then he got drafted into the U.S. Army. "I was in Vietnam when someone brought in a Santana album. I said, wow! Look at this guy, he made it! Carlos was at Woodstock and I was in Vietnam, luck of the draw, I guess."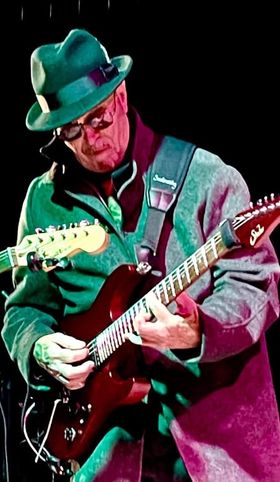 When he got back to the States, Estrella joined Richard Bean (vocals), Raul Rekow (percussion), Jose Simon (bass), and Kincaid Miller (piano) to form Sapo. Estrella was also with the seminal supergroup Malo, which earned a ride on the national top ten charts with the song Suavecito ⁠— meaning smooth, nice and easy ⁠— and often referred to as the "Chicano National Anthem." These bands are now considered fundamental touchpoints for upcoming Chicano/Latino generations who are reaching back to their heritage and for anyone whose heart races when they hear evocative dance beats. 
Palafox cut his teeth with Woodstock alum Adolfo "Fito" de la Parra, the drummer for Canned Heat, and Jose "Chepito" Areas, percussionist for Santana. Both are family friends and inspired Palafox into songwriting. On the way to creating the Santa Cruz Latin Collective, Palafox also played with members of Malo: percussionist Leo Rosales, Malo founder and Suavecito songwriter Richard Bean, bassist Pablo Tellez, and the late congero Tony Menjivar. By 2017 Palafox had formed his own band, The New Horizons, bending genres and coloring outside the lines.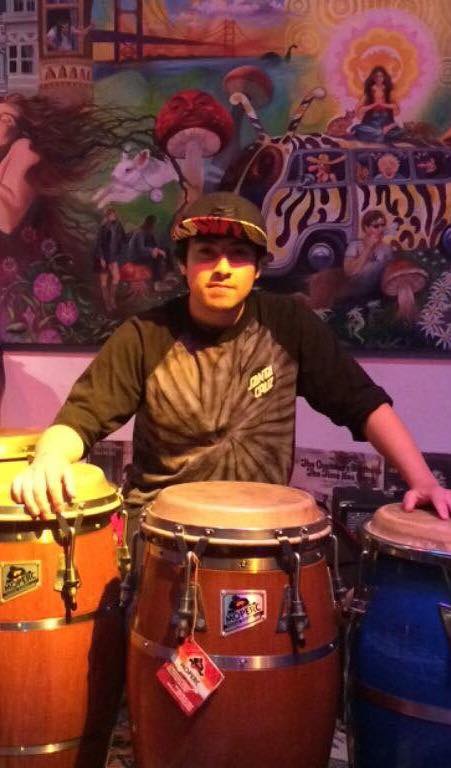 Fresh for the new year, The Santa Cruz Latin Collective brings local flavor to classic Latin rock oldies and hipster Mission District style Latin jazz. An album is in the works that includes originals written by Estrella and Palafox and a nod to the legends that have come before. Suavecito, mis niñas.
The group performs at Shanty Shack Brewing Company on Saturday, February 5, 2022 at 6:00 pm and ongoing in 2022 at Capitola Bar & Grill.
FB: @SCLatinCollective | IG: @santacruzlatincollective
santacruzlatincollective@gmail.com (831) 247-0283
Video: Santa Cruz Latin Collective Live at Felton Music Hall 2021
Cover photo by Julie Horner. Other photos contributed by the artists.