Laughter is Medicine: Sandy Hackett's New Comedy Series at the Brookdale Lodge
By Michele Murphy
We could all use a laugh these days, or a couple. Luckily, lots of laughs are on their way to the historic Brookdale Lodge. The storied resort was once a hotbed of entertainment, where the rich, famous, and infamous would come to dine, swim, and soak in the big bands of the era, well-known comedians, and a wide array of variety acts. The jewel of the San Lorenzo Valley is once again blooming into a unique and rustic entertainment hotspot, and comedy shows are a welcome addition to the mix. Since the lounge, beer garden, and a portion of the mermaid room, have reopened for live performances, there have been sold-out murder mystery nights, burlesque shows, and loads of terrific bands playing to enthusiastic crowds of locals and travelers alike.
Sandy Hackett, son of legendary American actor and comedian Buddy Hackett will bring two exciting nights of comedy to the Lodge in July. Catching up with Sandy to talk about his upcoming appearances, we learned about his experience making people laugh. "As a young boy, I used to watch my father on stage. He would stand there holding the audience in the palm of his hand taking them on his magical journey of laughter." He said, "It looked like so much fun, I wanted to do what he was doing, and eventually I did."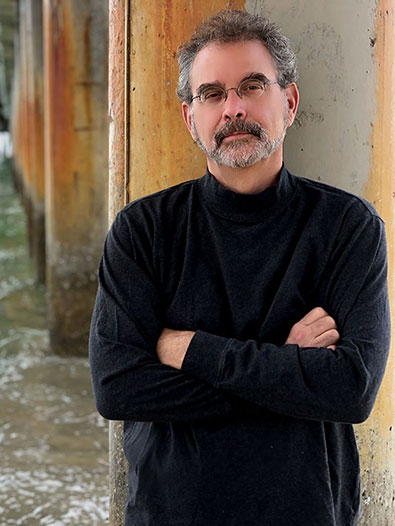 Sandy was on Rowan & Martin's popular TV show, Laugh-In, when he was just 11 years old and on The Tonight Show with Johnny Carson at 15. His influences are that of comedic royalty. Working in the entertainment department at the Sahara Hotel & Casino for a decade, Sandy spent time watching and studying all of the iconic comedians who regularly appeared there, like Jack Benny, Johnny Carson, Joey Bishop, Richard Pryor, Shecky Greene, Pete Barbutti, Jackie Gayle, Jerry Lewis, Richard Pryor, George Burns, Larry Storch, George Carlin, Redd Foxx, Rip Taylor, and of course, his biggest influence was his father.
Was his famous father supportive of his choice to go into show business? "My father was always supportive of me," Hackett says, "but when I told him I wanted to follow in his footsteps, he wept, because he knew how tough a road I was choosing to follow." Using the family name on stage carries a big responsibility. His dad said, "All these years I worked so hard to make a name for myself, I hate to see you screw it up in one outing." If you were a fan of Buddy Hackett (and who wasn't?!) you can just hear that wry humor and sheepish silly lilt. Sandy said, "I was blessed to tour with him for 10 years. He was the best teacher and my best friend."
Hackett gets his material from everyday life: challenges, news, family, relationships; the world is a fountain of material for a good comic. He describes his sense of humor as being very real saying, "I'm not a fan of contrived comedy. I like when jokes come from a place of honesty. I can twist it around to enhance it as long as the foundation is real."
When asked what his favorite part about being a comic is he said, "Reader's Digest has a humor section entitled Laughter is the Best Medicine. Laughter releases endorphins that make the laugher feel better. Being able to create that for people is so rewarding and so much fun."
He's looking forward to making the trip from LA to visit our mountain community and checking out the burgeoning scene at the Historic Brookdale Lodge. Come out and be part of the entertainment revival and catch Sandy Hackett on July 29th and 30th for a few laughs. It's good medicine!
Tickets: https://brookdale-lodge.ticketleap.com/sandy-hackett

Michele Murphy is a singer-songwriter who has lived in the Santa Cruz area since 2005 when she migrated West from Buffalo NY to the beautiful San Lorenzo Valley. An avid music lover, she is entrenched in the local music & events scene both as a performer and a fan.