Henry! They're All Girls! Pickin' and Grinnin' with The Goat Hill Girls Bluegrass Band
By Julie Horner
The Goat Hill Girls are five longtime friends who have been making music together for over 40 years. They started out as Side Saddle, born in the Bay Area and breaking from the all-male bluegrass tradition. Back in the day some of their guys were in an outfit called The Bear Creek Boys. The girls said, "You know? We can do this too!" So, they went and made their own way.
Scarlett La Rue's in Los Gatos was one of their first long-term gigs. They also played regularly at the Winchester Wagon House where patrons enjoyed dining at tables made up like covered wagons, complete with fake campfires. With Lee Anne Welch on fiddle, Kim Elking on mandolin, Linda Maki on guitar, Sonya Shell on banjo, and Lisa Burns on bass, Elking said, "I always remember people poking their heads around in surprise to hear an all-girl bluegrass band. "Henry!" she remembers one patron shouting, "They're all girls!"
From there it didn't take long before Side Saddle were regulars at bluegrass festivals across the U.S. where Elking recalls they always seemed to make a splash. "We were playing at the Bill Grant and Delia Bell festival back in 1986. Us California girls are not used to Oklahoma in August." She said, "People started staring. We're not showing that much leg," she thought. They didn't know about chiggers. "We put pants on." Later, an old man in overalls leaned over, "You girls from California?" Yes, they said. "I thought I smelled soap." Another old man in overalls said, "You girls sound really good, but some bad grammar would help."
They made friends with The Country Gentlemen. They opened for Bill Monroe. Decades later Elking says she still feels pretty original.
With Side Saddle put to pasture except when they play with the boys as Side Saddle and Company, they decided a few years ago to form a new outfit they call The Goat Hill Girls. The name is a nod to the Goat Hill Fair, a shabby chic antique extravaganza at the Santa Cruz County Fairgrounds (scheduled for May 15 and 16 this year) where band members have regularly played, and Goat Hill Farm off Summit Road near where fellow bluegrass musicians Robert Cornelius and Suzanne Suwanda reside.
The Goat Hill Girls play classic bluegrass and quite a bit of original material. Everybody brought in their own style, Elking said. Fiddle player Lee Anne Welch said, "The glue is the friendship." They actually enjoy each other's company and that's what keeps them together. "I think we're all having a blast playing in the band, it's been a lifesaver for all of us especially this last year," Welch added.
Unable to do regular gigs at Sam's BBQ and Los Gatos Coffee Roasting Company or any of the usual music festivals because of the pandemic, The Goat Hill Girls have become a mainstay of the distanced outdoor entertainment scene at the Summit House atop Highway 17 in the Santa Cruz Mountains where Cornelius is booking bluegrass performances every Saturday afternoon. Lee Anne said, "When I play at the Summit House I feel really appreciated. People are beginning to realize how wonderful live music is, almost necessary."
Elking encourages folks to take up bluegrass. "It's very attainable," she said. The music is like a common language. "You can go anywhere and find songs you all know so easily." Start with a slow jam, she said, and ask, "Wanna pick?"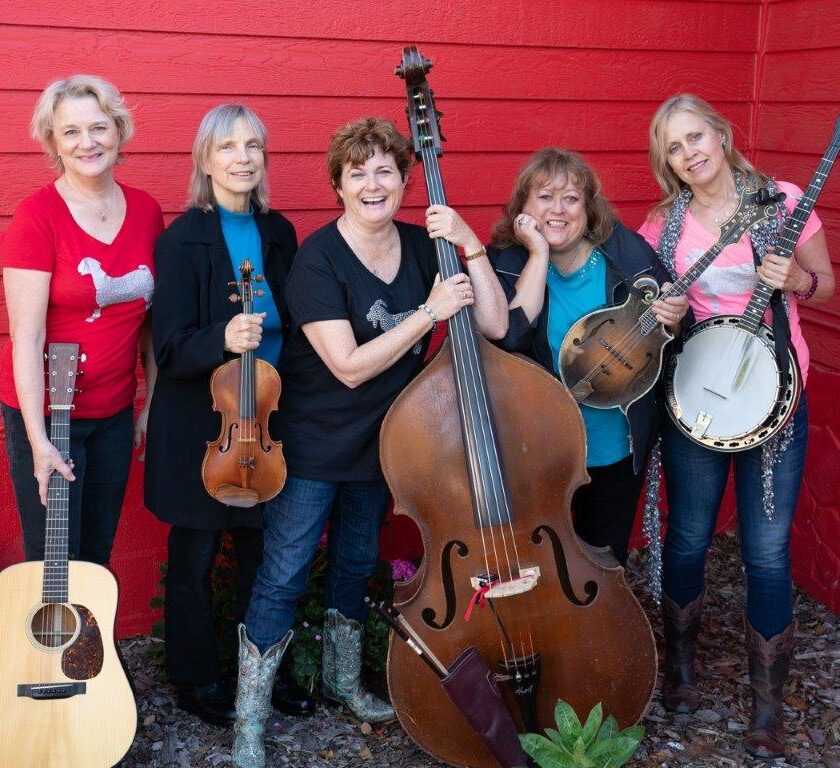 The Goat Hill Girls perform first Saturdays at The Summit House Beer Garden and Grill atop Highway 17. Find them on Facebook. Their recent recording, "The Goat Hill Girls Live," is available wherever you download your music. Visit the girls' recording catalog: sidesaddleandco.com
Featured photo: The Goat Hill Girls, l to r: Sonya Shell, Lee Anne Welch, Linda Maki, Kim Elking, Lisa Burns