Astrology: Taurus and Gemini Season and a Total Eclipse
By Catie Cadge PhD
We start in the heart of Taurus season. Summer seems on the horizon, a little rain mixed with lots of sunshine, flowers and buds about to bloom. The Sun midway through the sign of the bull centers us to be more in tune with our core creature comforts. Take time to walk in the woods, feel the earth and grass below your feet and seek out what the Japanese call, "shinrin-yoku," forest bathing. Recall the old children's book character, Ferdinand the Bull. Time to smell the flowers!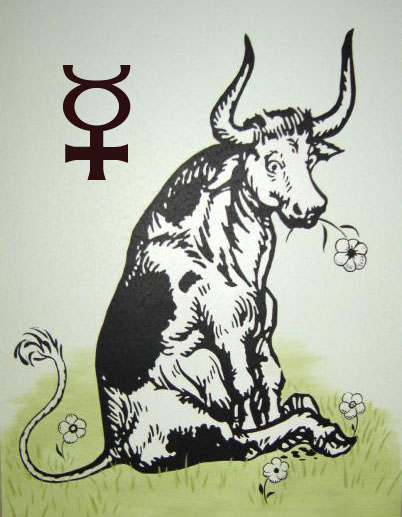 Mercury retrograde starts early morning, May 10th, , when the planet stations retrograde at 04°52' Gemini. A fairly frequent event, Mercury typically goes retrograde about three times a year. This year the trickster goes retrograde for a fourth time right at the end of the year. Writers sometimes exaggerate the impact of Mercury in its perceived backward dance in the sky, so it is important to remember it does happen frequently.
Mercury retrograde periods are times when we should be cautious signing important documents or engaging in critical communication. Letter writing and emails can get muddled or lost in transit. Computer or other mechanical glitches occur. The main reason is because people get distracted easily. Because we are more reflective at this time, mistakes and oversights can happen. It is a good time to be introspective, rework our ideas and plans internally, preparing for the planet's eventual push forward. Use the time constructively to reconsider where you are going. In fact, any word with the prefix "re" may be a useful strategy throughout the last three weeks of May and into June. Mercury stations direct June 3rd. Mercury is in its "shadow" until June 18th; this is a great time to sum up your plans in terms of what to do next. Fine-tune them and then put into place later in June.
The month features a Total Lunar Eclipse, May 15th at 9:14 pm, Pacific time. If you like to watch eclipses, this one starts about 7:40 in the evening and lasts until just before midnight. The Full Moon is in Scorpio at 25°18', the 'Blood Moon.' Passionate, penetrating and deeply intuitive, Scorpio can expose some buried secrets and psychological dramas under the surface of our psyches. Hidden truths and power plays may be revealed. For some, money issues may arise. How do we engage others concerning "our" money or "theirs"? What resources do we truly need and who do we share such resources with? It is a good time to focus upon what really drives our quests for what we think we are owed or what we deserve. Shamanic or psychic gifts might also surface; the veil between worlds can be thin. Because this is a Total Eclipse, it carries more weight and events can surface roughly six months before and after for those people whose birthchart is directly triggered. Look to see where 22°-28° Scorpio and Taurus fall in your chart. On May 17th, Mars conjuncts Neptune, 25° Pisces, underscoring the psychic, mystical vibe and recalling the visions and dreams we may have had during last month's big Jupiter and Neptune meetup.
Both Venus and Jupiter enter Aries this month; Venus May 2nd, Jupiter May 10th. There's a push to jump into action now! A fiery enthusiasm and urge to take chances will color how we relate to others, our money, and our creative projects. Spring feels like full steam ahead! Check to see where early Aries degrees fall in your chart. Here you can trust what you can accomplish. DO IT! With the Sun's entrance into Gemini May 20th and then Mars joining the Aries party May 24th, ideas will be flying in a great time to converse and exchange plans with others. Assert your needs and willpower. Mars is strong in the 1st sign of the zodiac. Just remember to take time to let Mercury finish its "shadow" dance and get ready for June. The New Moon in Gemini, 09°03', closes the month early morning, May 30th. Plant seeds of inspiration and explore a multiplicity of ideas!
Catie Cadge is Dean of the Forrest Center for Evolutionary Astrology. Classes and more information: forrestastrology.center. Read about Catie and her work at caraeveolutionaryastrology.com.
Images contributed by Catie Cadge
Featured image: Scorpio's Full Moon