The Redwood Mountain Faire, Deep Roots in the Valley
By Michele Murphy
The "Redwood Mountains Fine Arts & Crafts Faire and Music Festival" delighted valley residents for nearly 20 years at its original home at Highlands County Park in Ben Lomond. Between 1980 and 1996 it was hosted by the Valley Women's Club and raised over $300,000 for local nonprofits. Revived and relocated in 2010 to Roaring Camp in Felton, the Redwood Mountain Faire is organized by a steering committee of five volunteers from the Valley Women's Club and a team of approximately 200 volunteers from 18 local nonprofits who do everything from serving beer to painting signs and coordinating parking.
Organizer Hallie Greene said, "We rely on our volunteers to do all it takes to make the Faire happen; in return they earn money for their beneficiary groups."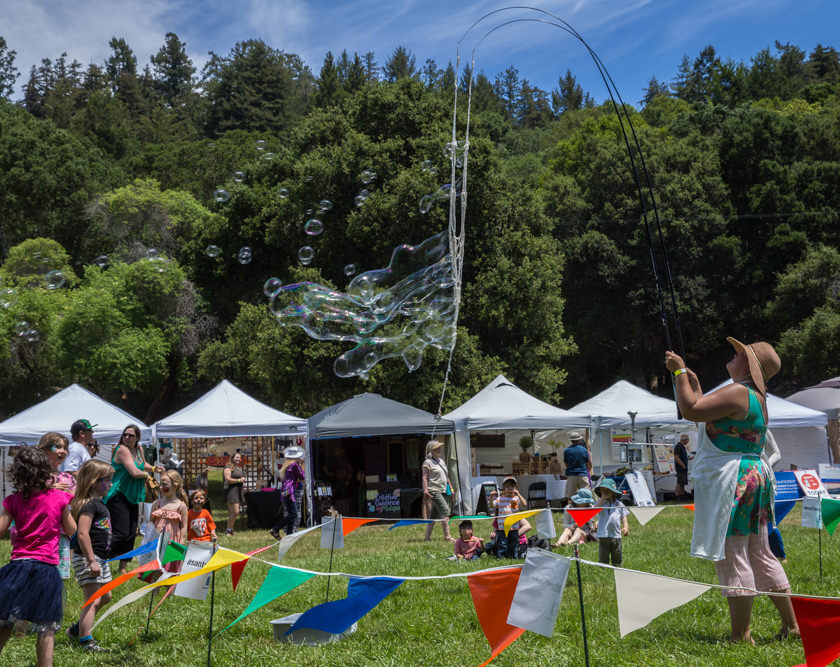 The Sounds
Redwood Mountain Faire is a two-day festival (June 4 and 5, 2022) featuring 20 bands on two stages. Showcasing both local and nationally touring artists, organizer Traci-lin Buntz said, "Some of the bands have played at the Faire before and the audience loved them, so we brought them back. Others are chosen because someone has seen them play at a venue or another festival and thought they would be a good fit." While over 200 band applicants from near and far are interested in playing the Faire, the committee prides itself on giving many local talented bands the chance to perform in and for their community. This year they are featuring Wolf Jett with special guest Marty O'Reilly, The China Cats, and The Carolyn Sills Combo all on the main stage.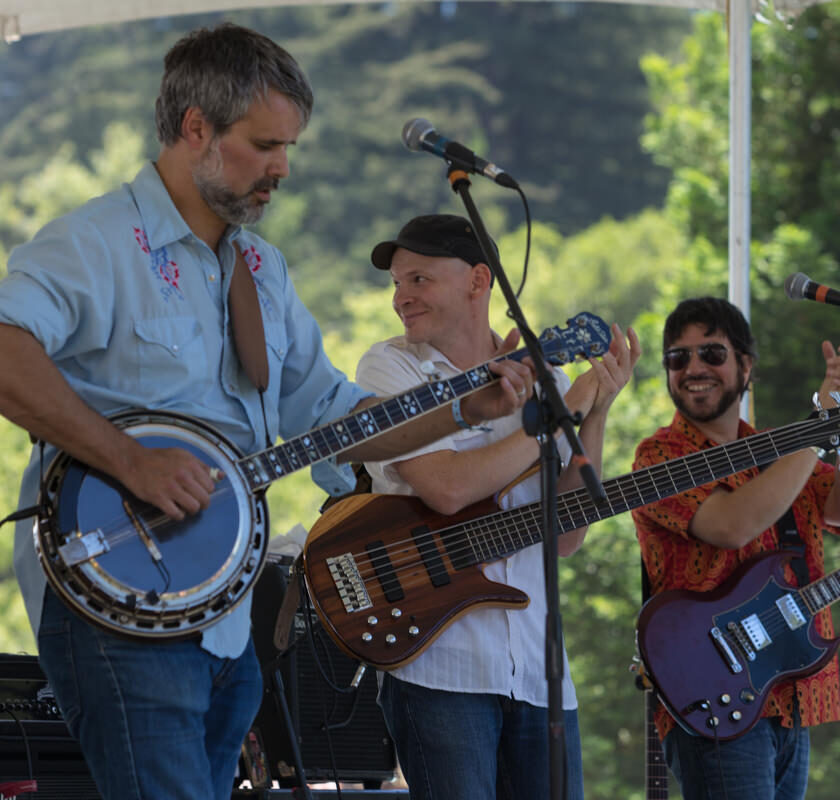 The Sights
In addition to fabulous entertainment in an idyllic setting, more than 50 art and craft vendors encircle the main festival area like colorful sparkling jewels on a crown. Attendees will find unique apparel, handmade jewelry, home décor art pieces, musical instruments, and more.
The Tastes
Almost a dozen food vendors offer a wide array of options like gyros, Mexican cuisine, garlic fries, and fruit smoothies. There are always veggie options, and there's never a problem finding something tasty to eat.
Approximately 5,000 people attend the Faire each year. About 75% of the audience is local and roughly 25% come from out of town, the latter growing each year as word spreads about this iconic festival.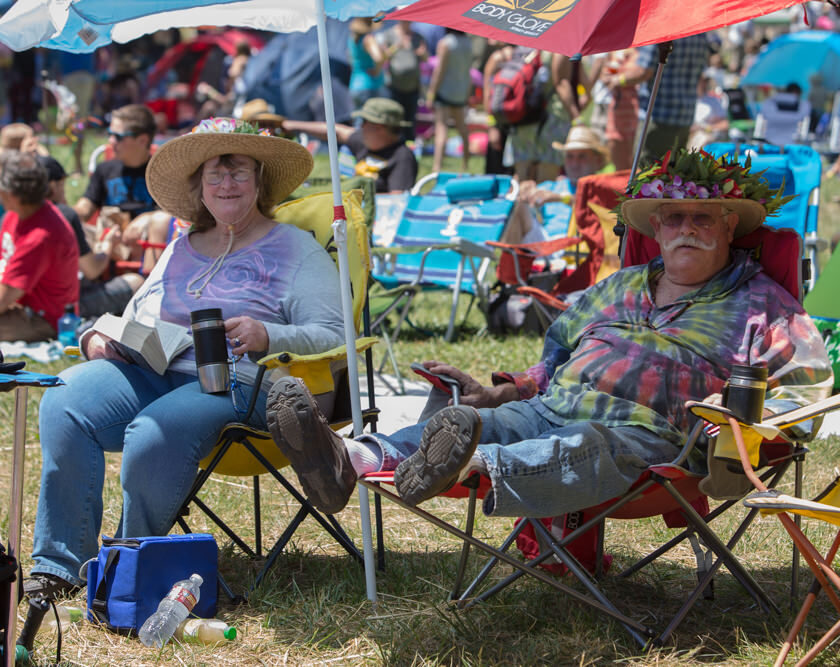 A family friendly event, the fantastic "Kids' Area" is coordinated by the South Street Centre, whose volunteers help kids with various crafts, lots of fun kid activities, and a bounce house. This all takes place at the back of the meadow with a view of the stage, so parents can be with their children while enjoying the music.
Traci-lin reports that 100% of the proceeds from the Faire go directly to local nonprofits such as the Valley Women's Club, Rotary Club of San Lorenzo Valley, Boulder Creek Rec & Parks Foundation, Mountain Community Resources, and local school groups. A list of beneficiary groups can be found at redwoodmountainfaire.com/beneficiaries.
It's a lot of work to put an event of this magnitude together and it takes months of planning. "From mapping out and coordinating everything that goes into making the site safe and functional, to booking the music, craft and food vendors, and organizing the beer, wine and cider, parking, merchandise……the list goes on and on…….," Traci-lin said. Springing into action to face each challenge as it arises, Traci-lin added, "It keeps you on your toes!"
The Redwood Mountain Faire promises a great time with friends and family while benefiting the San Lorenzo Valley community. Saturday and Sunday, June 4 and 5 from noon to 8:00 pm. redwoodmountainfaire.com/tickets
Michele Murphy is a singer-songwriter who has lived in the Santa Cruz area since 2005 when she migrated West from Buffalo NY to the beautiful San Lorenzo Valley. An avid music lover, she is entrenched in the local music scene both as a performer and a fan.
Photos from Redwood Mountain Faire
Featured photo by SLV Steve