By Kirstin Martin
Gardens and farmers markets are bursting with the best of the growing season. Here are two late summer cocktails that take tasty advantage of the bounty.
Watermelon Mint Cooler
The key to a flavorful cocktail is selecting the ripest watermelon. Listen for a deep hollow sound when you thump the rind.
2 cups of diced watermelon
¼ to ½ cup simple syrup depending on the sweetness of the watermelon
½ cup vodka
1 cup club soda
1 bunch fresh mint
Make the simple syrup by blending equal parts sugar and water and ¼ cup chopped mint leaves. Bring to a gentle boil, then allow to simmer for 2 minutes or until all of the sugar is dissolved. Set aside to cool.
Blend watermelon into a puree, then strain to remove the pulp. Add the vodka, cooled simple syrup, and club soda.
Pour over ice and garnish with watermelon wedges and fresh sprigs of mint.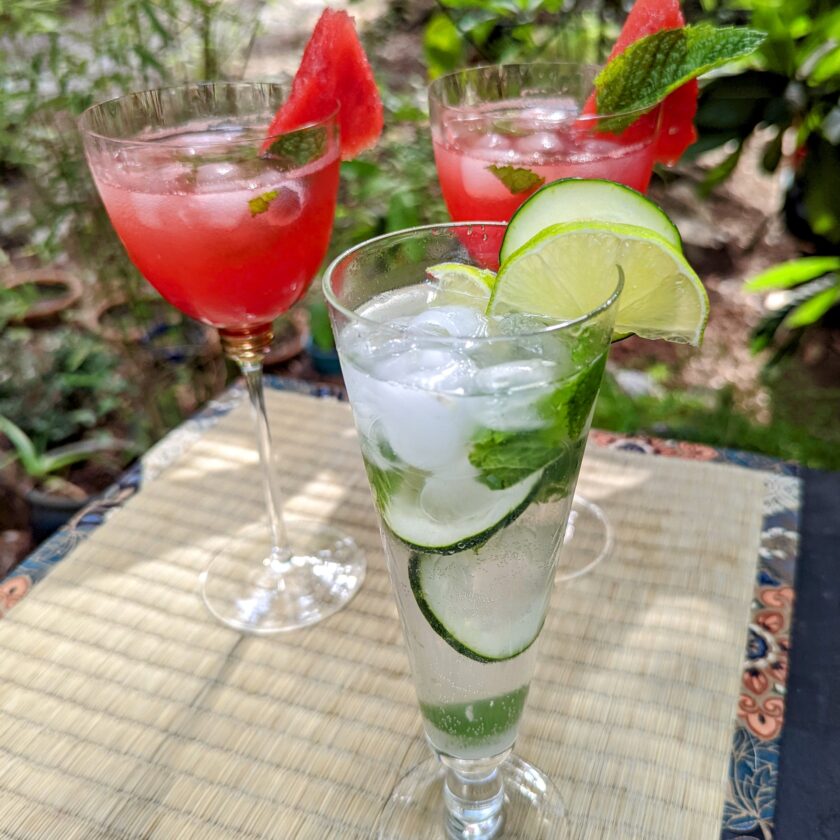 Cucumber Lime Gin & Tonic
The flavors of summer in one delicious cocktail.
1 ½ oz gin
½ cup tonic water
1 tsp sugar
3 slices of cucumber
3 slices of lime
1 bunch fresh mint
In the bottom of a glass, muddle the lime slices, 3 to 4 sprigs of mint, and sugar with the gin. Add ice and cucumber slices. Top off with tonic water. Garnish with a slice of lime and fresh sprigs of mint.